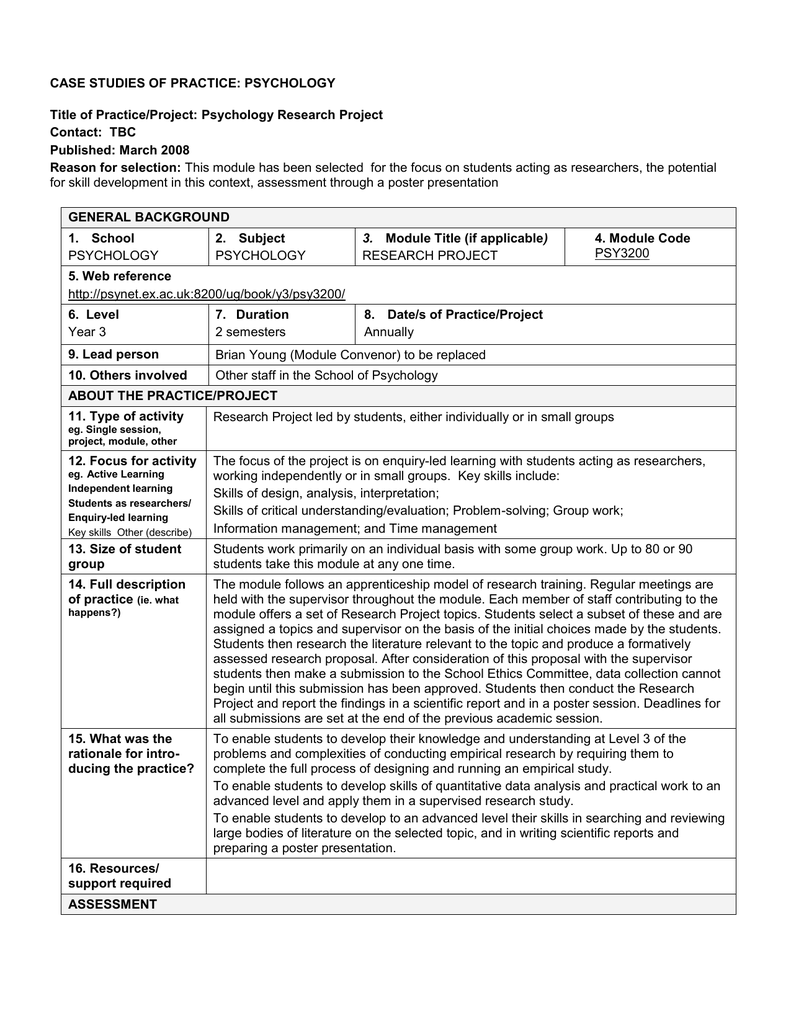 CASE STUDIES OF PRACTICE: PSYCHOLOGY
Title of Practice/Project: Psychology Research Project
Contact: TBC
Published: March 2008
Reason for selection: This module has been selected for the focus on students acting as researchers, the potential
for skill development in this context, assessment through a poster presentation
GENERAL BACKGROUND
1. School
PSYCHOLOGY
2. Subject
PSYCHOLOGY
3. Module Title (if applicable)
RESEARCH PROJECT
4. Module Code
PSY3200
5. Web reference
http://psynet.ex.ac.uk:8200/ug/book/y3/psy3200/
6. Level
Year 3
7. Duration
2 semesters
8. Date/s of Practice/Project
Annually
9. Lead person
Brian Young (Module Convenor) to be replaced
10. Others involved
Other staff in the School of Psychology
ABOUT THE PRACTICE/PROJECT
11. Type of activity
Research Project led by students, either individually or in small groups
eg. Single session,
project, module, other
12. Focus for activity
eg. Active Learning
Independent learning
Students as researchers/
Enquiry-led learning
Key skills Other (describe)
The focus of the project is on enquiry-led learning with students acting as researchers,
working independently or in small groups. Key skills include:
Skills of design, analysis, interpretation;
Skills of critical understanding/evaluation; Problem-solving; Group work;
Information management; and Time management
13. Size of student
group
Students work primarily on an individual basis with some group work. Up to 80 or 90
students take this module at any one time.
14. Full description
of practice (ie. what
The module follows an apprenticeship model of research training. Regular meetings are
held with the supervisor throughout the module. Each member of staff contributing to the
module offers a set of Research Project topics. Students select a subset of these and are
assigned a topics and supervisor on the basis of the initial choices made by the students.
Students then research the literature relevant to the topic and produce a formatively
assessed research proposal. After consideration of this proposal with the supervisor
students then make a submission to the School Ethics Committee, data collection cannot
begin until this submission has been approved. Students then conduct the Research
Project and report the findings in a scientific report and in a poster session. Deadlines for
all submissions are set at the end of the previous academic session.
happens?)
15. What was the
rationale for introducing the practice?
16. Resources/
support required
ASSESSMENT
To enable students to develop their knowledge and understanding at Level 3 of the
problems and complexities of conducting empirical research by requiring them to
complete the full process of designing and running an empirical study.
To enable students to develop skills of quantitative data analysis and practical work to an
advanced level and apply them in a supervised research study.
To enable students to develop to an advanced level their skills in searching and reviewing
large bodies of literature on the selected topic, and in writing scientific reports and
preparing a poster presentation.
17a. Assessment Formative
Project proposal, 1000 words
Submission to School Ethics Committee
17b. Assessment Summative
Research Project report, 8000 words maximum (89%)
Poster presentation (11%).
17c. Assessment
criteria (Web link if
Qualitative Descriptors for the marking Scale (Research Project) can be found at
http://psynet.ex.ac.uk:8200/ug/book/gen/assess/project_mark_scale_descrip.pdf
Qualitative Descriptors for the marking scale (Poster Presentation) can be found at
http://psynet.ex.ac.uk:8200/ug/book/gen/assess/markscale_poster.pdf
Assessment Procedures for Psychology can be found at
http://psynet.ex.ac.uk:8200/ug/book/gen/assess/copy_of_index_html
available)
FEEDBACK
18a. Feedback Student comments
Final year project evaluations report 2005/06
Means for the overall sample
Number of respondents: 83 (29 – individual project, 53 – team project)
Items about supervisor's help and handbook information were measured on 5- point scale
with 1 being the optimum. Item about supervisor's accessibility was measured on 4-point
scale with 1 being an optimum. The rest of the items were measured on 5-point scale with
5 being an optimum.
ITEM
OVERALL
MEAN
OWN
TEAM
Supervisor's help
1.83
1.89
1.79
Handbook Information
2.26
2.34
2.21
Supervisor's accessibility
1.60
1.93
1.42
Enjoyment
3.51
3.75
3.37
Reading guidance
3.78
3.79
3.77
Hypotheses guidance
3.79
3.75
3.81
Methodology guidance
4.16
3.89
4.30
Getting participants
3.51
3.25
3.64
Analysis guidance
3.59
3.62
3.56
Discussion guidance
3.34
3.23
3.40
In summary, the results are not counter-intuitive. It is easier to get participants and there
is better guidance on methodology if working as a team – it's easier to see your
supervisor and more enjoyable if on your own. (Unable to obtain significance measures
from this data).