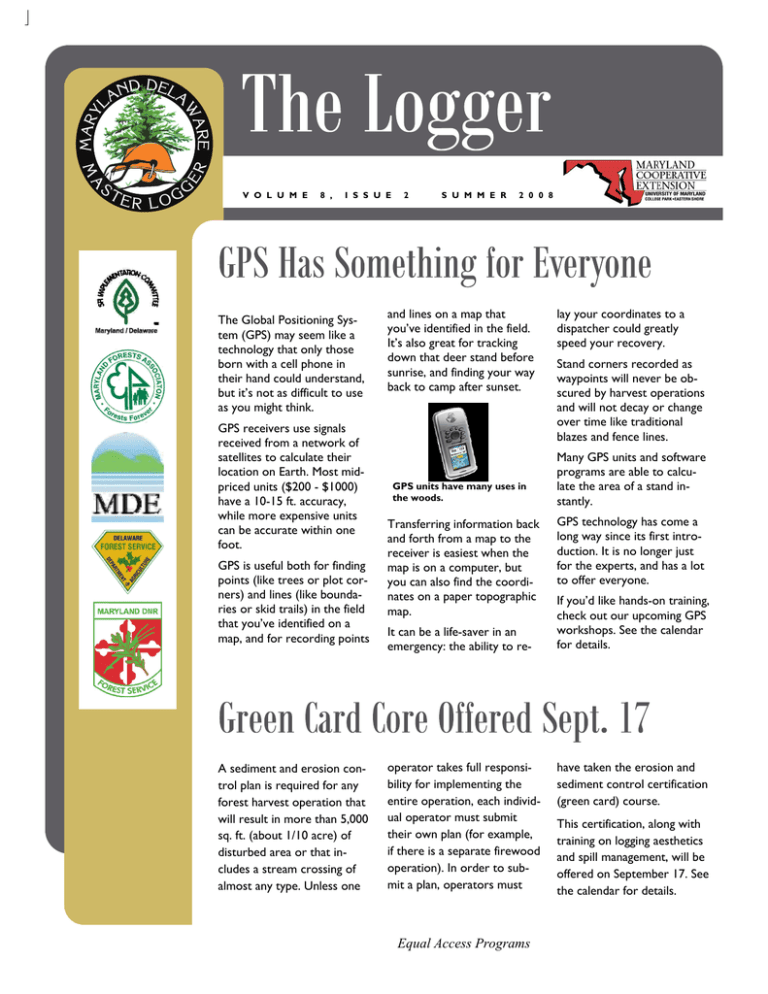 A
ER
M AR Y
A
A RE
M
ST
D DEL
W
N
LA
ER LOG
G
V O L U M E
8 ,
I S S U E
The Global Positioning System (GPS) may seem like a
technology that only those
born with a cell phone in
their hand could understand,
but it's not as difficult to use
as you might think.
GPS receivers use signals
received from a network of
satellites to calculate their
location on Earth. Most midpriced units ($200 - $1000)
have a 10-15 ft. accuracy,
while more expensive units
can be accurate within one
foot.
GPS is useful both for finding
points (like trees or plot corners) and lines (like boundaries or skid trails) in the field
that you've identified on a
map, and for recording points
A sediment and erosion control plan is required for any
forest harvest operation that
will result in more than 5,000
sq. ft. (about 1/10 acre) of
disturbed area or that includes a stream crossing of
almost any type. Unless one
2
S U M M E R
2 0 0 8
and lines on a map that
you've identified in the field.
It's also great for tracking
down that deer stand before
sunrise, and finding your way
back to camp after sunset.
GPS units have many uses in
the woods.
Transferring information back
and forth from a map to the
receiver is easiest when the
map is on a computer, but
you can also find the coordinates on a paper topographic
map.
It can be a life-saver in an
emergency: the ability to re-
operator takes full responsibility for implementing the
entire operation, each individual operator must submit
their own plan (for example,
if there is a separate firewood
operation). In order to submit a plan, operators must
Equal Access Programs
lay your coordinates to a
dispatcher could greatly
speed your recovery.
Stand corners recorded as
waypoints will never be obscured by harvest operations
and will not decay or change
over time like traditional
blazes and fence lines.
Many GPS units and software
programs are able to calculate the area of a stand instantly.
GPS technology has come a
long way since its first introduction. It is no longer just
for the experts, and has a lot
to offer everyone.
If you'd like hands-on training,
check out our upcoming GPS
workshops. See the calendar
for details.
have taken the erosion and
sediment control certification
(green card) course.
This certification, along with
training on logging aesthetics
and spill management, will be
offered on September 17. See
the calendar for details.
PAGE
2
New Loan Program for Logging Equipment
That new feller
doesn't have to be
just a dream.
plans to utilize more liberal
underwriting guidelines
than normal when making
loans under this program.
The maximum loan amount
is $150,000. Available funds
are limited, so act quickly.
Have you been eyeing that
new feller? MARBIDCO has
just announced a new program designed
especially to help
Maryland's forest
products-related
enterprises to
access capital for
business modernization on an
affordable basis. The Forestry Equipment and
Working Capital Loan Fund
is designed to help meet
the unique financing needs
of Maryland's smaller forestry-related businesses.
Dehydration, heat exhaustion, and heat stroke are
three real threats to the
health of loggers. There are
warning signs, though, and if
steps are taken early to
cool down and drink up,
most heat-related problems
can be avoided.
adequate amount of blood.
This can lead to dizziness,
nausea, pale and clammy
skin, and headache. This
level of heat-related illness
is called heat exhaustion
The consequences if left
untreated are severe, but
heat-related illnesses cost
almost nothing to prevent
and treat in the early
stages.
Without rest and recovery,
heat exhaustion can lead to
heat stroke, which is a serious medical emergency that
can cause permanent brain
damage if not treated immediately. Heat stroke happens when the body doesn't have enough water to
function properly, vital organs begin to lose their
supply of oxygen (shock),
and your body temperature
goes above 104°F. Call 911
if this happens. Remember
that heat stroke affects
brain function, and the victim may not realize how
bad off he is.
With the goal to rehydrate
and to cool down your
body, sip sports drinks with
electrolytes or salt water (1
teaspoon per quart), move
into the shade or air conditioning, turn on a fan, and
apply ice to the neck, armpits, and groin.
MARBIDCO funded 16
rural business loan requests
last year (their first year of
operation), but most of
these businesses were agricultural operations of one
type or another. Because of
special challenges facing
forestry businesses in Maryland today, MARBIDCO
It's not just for equipment,
either. Inquire about the
eligibility of other project
types. For more details and
a loan application, please
call 410-267-6807 or visit
www.marbidco.org.
"The
consequences if
left untreated
are severe, but
heat-related
illnesses cost
almost nothing
to prevent and
treat in the early
stages."
Cramps are often the first
warning, usually in the legs
or belly. These are painful
spasms in your muscles that
happen when you lose electrolytes (salt).
If you continue to sweat
without replacing fluids
and salts, your body will
continue to lose blood
volume. This lowers
blood pressure and
quickens your pulse, as
your body struggles to
transport oxygen throughout your body without an
The sun
isn't
always
friendly
THE
LOGGER
Don't drink anything with
caffeine or alcohol, which
are both diuretics that
purge your body of water.
You'll know you're back in
good shape when urine is
light-colored and your body
temperature is back to normal.
VOLUME
8,
ISSUE
2
PAGE
The LEAD Maryland Foundation, Inc. develops leaders to
work on agricultural and natural
resources issues and in rural
communities of Maryland.
LEAD is now accepting applications for the next class of LEAD
Fellows. LEAD Maryland classes
are made up of 20 25 Fellows in
each two year program.
Through the program, participants increase their skills, confidence and knowledge for the
benefit of their industries and
the communities in which they
live and work. To date, 114
Fellows have completed the
program.
Master Loggers have the training and skills to provide high
quality work to landowners in
Maryland, Delaware, and beyond. Many landowners look
for this type of additional qualification when choosing a logger
to work on their land.
loggers with Master Logger
status. The MD/DE Master Logger Directory will make the
names and contact information
of active Master Loggers available online and in a limited
number of print copies.
Up until now, there was no
easy way for the public to find
Maryland Forests Association Annual Meeting will
host award-winning timberman
and forest activist Bruce Vincent of Libby, Montana.
"America is ready for a new vision of conservation and environmental stewardship that is
based upon hope instead of
LEAD seeks applicants who are
farmers, growers, producers,
loggers, and foresters, and applicants who are involved in
related activities through other
ventures. During 2009 and
2010, the LEAD Class VI will
complete a series of multi-day
seminars and participate in
study tours in Washington,
D.C. and internationally. Com-
pleted applications and required
references are due by October
1, 2008. Applications are available through the web site:
www.leadmaryland.org. For more
information
regarding the
LEAD Maryland
Foundation and
application
process, please
contact Susan
Harrison, executive director,
410 827 8056 ext 136, or
leadmd@umd.edu.
the directory,
please contact
Nevin Dawson
by August 31
(see reverse for
contact information).
If you are an active Master Logger and would NOT like your
information to be included in
fear. In order to share this vision we must first reintroduce
the American consumer to the
processes and the people of
production and then lead - not
just fight - the discussion over
our environment. Those who
work at the ground level in implementing society's framework
for protecting the environment
are positioned at the leading
edge of the changes and challenges of this discussion. That
edge provides exciting opportunities and hope."
The meeting will also feature
several other speakers with a
focus on renewable energy. See
calendar for meeting details.
"I've participated in
numerous leadership
development programs
but none hold a candle
to the LEAD Maryland
program in terms of
caliber of the overall
experience and its
lasting influence." —
Dan Rider, Class IV
Fellow (2005 2006)
3
M
A
ST
ER
A RE
M AR Y
D DEL
A
W
N
LA
ER LOG
G
MD/DE Master Logger Program
Nevin Dawson
Program Coordinator
Wye Research and Education Center
PO Box 169
Queenstown, MD 21658
Phone: 410-827-8056, ext. 125
Fax: 410-827-9039
E-mail: ndawson@umd.edu
http://md-demasterlogger.com/
THE LOGGER is the official publication of the MD/DE Master Logger Program, Master Logger Steering Committee (MLSC), and the Maryland SFISIC.
CALENDAR
August 25
August 28
September 10-11
September 12
September 15
September 17
September 25,
October 2
September 30
October 21, 22, 31,
November 4, 18
October 23,
November 6
October 31 November 1
November 11
Does Your Safety Program Measure Up?, Sterling, VA, 9 - 11 am, FREE, Christine Cavins: 703-6374346 or ccavins@mcleaninsurance.com.
ML Transport Safety and Regulations, Rocky Gap State Forest, MD, 3 - 5 pm, $20. Register by
8/26. Carol Taylor: 410-827-8056 or carolt@umd.edu.
AFF Market-Based Conservation Incentives Workshop; Ellicott City, MD. Margaret Munford:
202-463-2723, mmunford@forestfoundation.org, or www.affoundation.org
5th Annual Eastern Regional Tree Farm Meeting, Senator Stolzfus Tree Farm, Marion Station,
MD. Robert Hess: 410-957-3411 or TIMBR32203@aol.com.
Reward Your Employees for Being Safe, Sterling, VA, 9 - 11 am, FREE, Christine Cavins: 703-6374346 or ccavins@mcleaninsurance.com.
ML Green Card Core (SF I), Queenstown, MD; Cumberland, MD; Salisbury, MD, 5 - 9 pm, $30.
Register by 9/16. Carol Taylor: 410-827-8056 or carolt@umd.edu.
Woods In Your Backyard Workshop, Washington County Ag Center, Keedysville, 6:30 - 8:30 pm,
$15. Pam Thomas: 301-432-2767 or pthomas@umd.edu.
Personal Protective Equipment, Sterling, VA, 9 - 11 am, FREE, Christine Cavins: 703-637-4346 or
ccavins@mcleaninsurance.com.
Beginner GPS Workshop, Keedysville, MD (10/21, 10/22), Annapolis, MD (10/31), Queenstown, MD
(11/4), Princess Anne, MD (11/18), 9 am - 3:30 pm, $55. Register by three business days before
workshop. Carol Taylor: 410-827-8056 or carolt@umd.edu. www.naturalresources.umd.edu/GPS.cfm.
Terrain Navigator Software and Integrating GPS, Keedysville, MD (10/23), Queenstown, MD
(11/6), 9 - 3:30, $55. Register by three business days before workshop. Carol Taylor: 410-827-8056 or
carolt@umd.edu. www.naturalresources.umd.edu/GPS.cfm.
2008 Maryland Forests Association Annual Meeting, Annapolis, MD. Karin Miller: 301-895-5369
or mdforests@hereintown.net. www.mdforests.org/AM2008.htm
Landscapes and Backyard Woodlots: Business Opportunities for the Green Industry,
Gettysburg, PA, 8:15 - 4:15, $75/$95. Linda Horst: 717-263-9226 or lmh19@psu.edu.
Attendees at all listed events are eligible for ML CE credits commensurate with length of program.