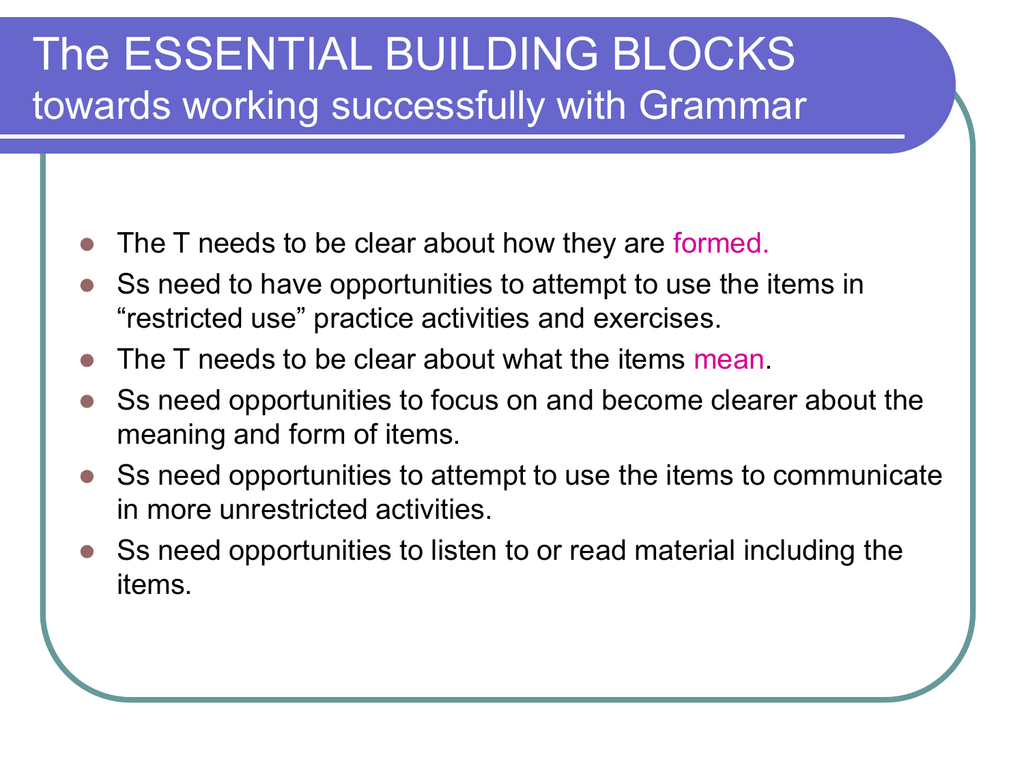 The ESSENTIAL BUILDING BLOCKS
towards working successfully with Grammar






The T needs to be clear about how they are formed.
Ss need to have opportunities to attempt to use the items in
"restricted use" practice activities and exercises.
The T needs to be clear about what the items mean.
Ss need opportunities to focus on and become clearer about the
meaning and form of items.
Ss need opportunities to attempt to use the items to communicate
in more unrestricted activities.
Ss need opportunities to listen to or read material including the
items.
SHOWING the MEANING of a STRUCTURE
When we present a structure / grammar,
it is important to :

Show what the structure means and how it is used, by
giving examples;

Show clearly how the structure is formed, so that Ss
can use it to make sentences of their own.
ANALYZING LANGUAGE : FORM
Grammar is concerned with the form of the language : that is, the
patterns, the regularities, the nuts and bolts you screw together in
different ways.

The pattern itself generates a wide range of different possibilities
quite separate from the vocabulary it uses. By changing the
vocabulary, the pattern can be utilized to talk about a variety of
different things.

The understanding of grammar can be summarized into a pattern
in a 'substitution table'.

SUBSTITUTION TABLE

By reading a substitution table from left to right, choosing one
word from each section, you can make a large number of
grammatically correct sentences.

A table such as this could be both a stimulus to practice activities
in the classroom and a way of recording the studied grammar in
notebooks.

Oral practice in the form of drills is often based around
substitution tables.
SHOWING MEANING VISUALLY
The simplest and clearest way to present a structure is
often to show it directly using things Ss can see : objects,
the classroom, yourself, the Ss themselves, pictures.
For example, presenting the structure
"too…..(adjective)…to……" : pointing to the objects or
drawing on the board. The ceiling is too high to touch.
SHOWING MEANING through a SITUATION
It is not always possible to show the meaning of a structure visually,
using what is in class. Another way of showing meaning is to think of
a situation from outside the class, in which the structure could
naturally be used. The situation can be real or imaginary.
HOW ? :
 By giving several different examples, the T helps the class to
build up a clear idea of what the structure means and how it is
used.
 After giving a few examples, the T can just give the situation and
try to get the Ss to give the example. This checks how well the Ss
have understood, and also helps to involve the class more.