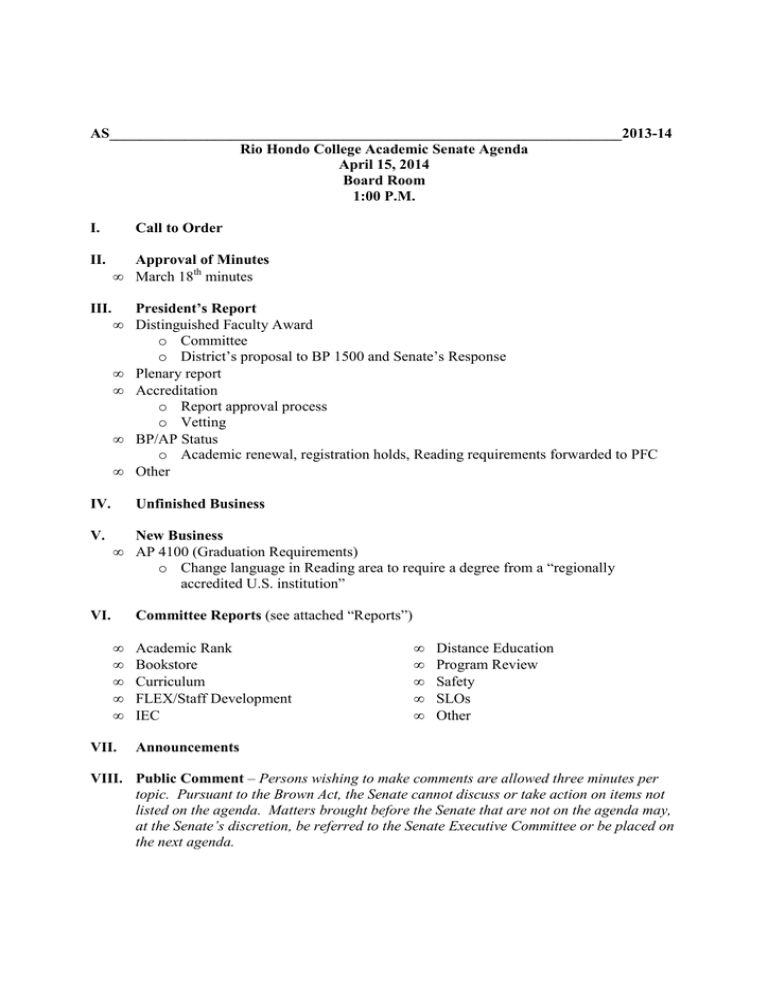 AS____________________________________________________________________2013-14
Rio Hondo College Academic Senate Agenda
April 15, 2014
Board Room
1:00 P.M.
I.
II.
III.
Call to Order
•
•
•
•
•
•
IV.
V.
Approval of Minutes
March 18th minutes
President's Report
Distinguished Faculty Award
o Committee
o District's proposal to BP 1500 and Senate's Response
Plenary report
Accreditation
o Report approval process
o Vetting
BP/AP Status
o Academic renewal, registration holds, Reading requirements forwarded to PFC
Other
Unfinished Business
•
VI.
New Business
AP 4100 (Graduation Requirements)
o Change language in Reading area to require a degree from a "regionally
accredited U.S. institution"
Committee Reports (see attached "Reports")
•
•
•
•
•
VII.
Academic Rank
Bookstore
Curriculum
FLEX/Staff Development
IEC
•
•
•
•
•
Distance Education
Program Review
Safety
SLOs
Other
Announcements
VIII. Public Comment – Persons wishing to make comments are allowed three minutes per
topic. Pursuant to the Brown Act, the Senate cannot discuss or take action on items not
listed on the agenda. Matters brought before the Senate that are not on the agenda may,
at the Senate's discretion, be referred to the Senate Executive Committee or be placed on
the next agenda.
IX.
Adjournment
In accordance with the Ralph M. Brown Act and SB 751, minutes of the Rio Hondo College
Academic Senate will record the votes of all members as follows: (1) Members recorded as
absent are presumed not to have voted; (2) the names of members voting in the minority or
abstaining are recorded; (3) all other members are presumed to have voted in the majority.