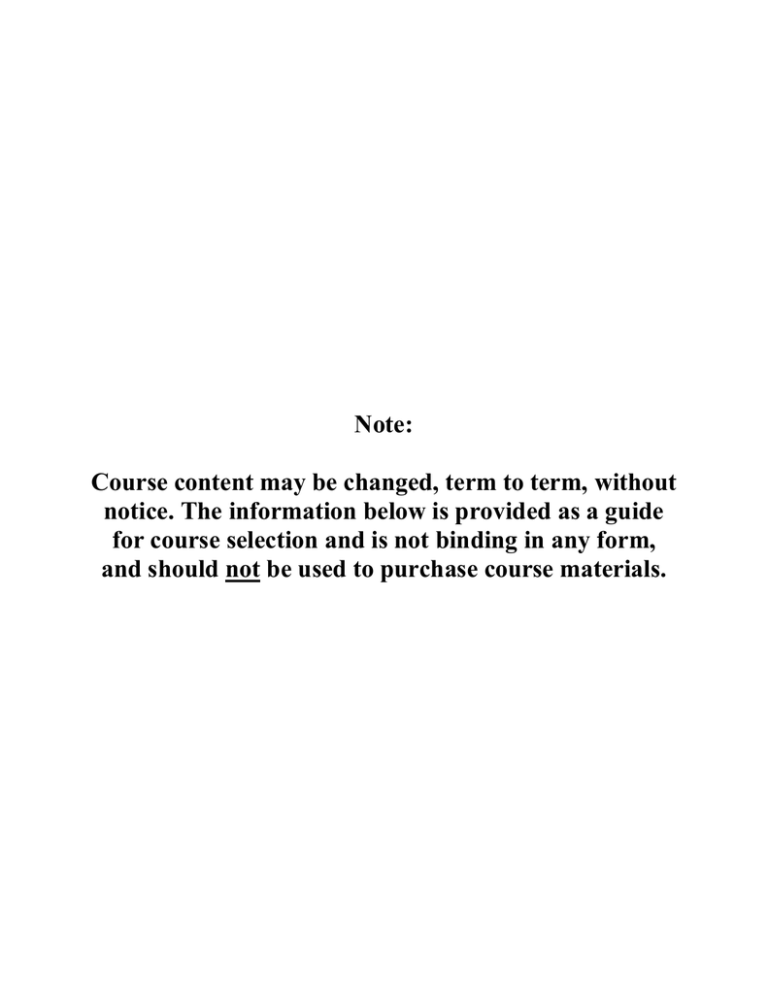 Note:
Course content may be changed, term to term, without
notice. The information below is provided as a guide
for course selection and is not binding in any form,
and should not be used to purchase course materials.
BUSI 313 Course Syllabus
COURSE SYLLABUS
BUSI 313
FOUNDATIONS OF PROJECT MANAGEMENT
COURSE DESCRIPTION
This course introduces the student to the field of modern project management and the
fundamental processes of initiating, planning, executing, monitoring, controlling and closing
projects. Students will learn the inputs and outputs and the tools and techniques of: defining the
project, estimating project times and costs, developing project plans, managing risk, scheduling
resources and their costs, reducing project duration, progress and performance measurement and
evaluation and project closure. (Previously BUSI 413)
RATIONALE
The purpose of this course is to introduce the student to a holistic and integrative view of project
management as well as increase his/her knowledge regarding the role of project management and
its tools and techniques. The successful completion of this course will prepare students to begin
in depth studies of the nine knowledge areas of the PMBOK.
I.
PREREQUISITE
For information regarding prerequisites for this course, please refer to the Academic
Course Catalog.
II.
REQUIRED RESOURCE PURCHASE
Click on the following link to view the required resource(s) for the term in which you are
registered: http://bookstore.mbsdirect.net/liberty.htm
III.
IV.
ADDITIONAL MATERIALS FOR LEARNING
A.
Computer with basic audio/video output equipment
B.
Internet access (broadband recommended)
C.
Microsoft Office
D.
The Holy Bible
MEASURABLE LEARNING OUTCOMES
Upon successful completion of this course, the student will be able to:
A.
Discuss the importance of Project Management, the project life cycle, and project
management processes for a project.
B.
Define what is and is not included in a project.
C.
Identify the activities required to accomplish the timely completion of a project.
Page 1 of 3
BUSI 313 Course Syllabus
V.
D.
Create a project model that reflects effective project management practices.
E.
Integrate biblical principles with key project management processes.
COURSE REQUIREMENTS AND ASSIGNMENTS
A.
Textbook readings and presentations
B.
Course Requirements Checklist
After reading the Course Syllabus and Student Expectations, the student will
complete the related checklist found in Module/Week 1.
VI.
C.
Discussion Board Forums (4)
D.
Integration of Faith (2)
E.
Project (2)
F.
Quizzes (4)
COURSE GRADING AND POLICIES
A.
Points
Course Requirements Checklist
Discussion Board Forums (4 at 100 pts ea)
Integration of Faith (2 at 50 pts ea)
Project (2 at 150 pts ea)
Quiz 1
(Modules 1–2)
Quiz 2
(Modules 3–4)
Quiz 3
(Modules 5–6)
Quiz 4
(Modules 7–8)
Total
B.
10
400
100
300
50
50
50
50
1010
Scale
A = 900–1010 B = 800–899 C = 700–799 D = 600–699 F = 0–599
C.
Late Assignment Policy
If the student is unable to complete an assignment on time, then he or she must
contact the instructor immediately by email.
Assignments that are submitted after the due date without prior approval from the
instructor will receive the following deductions:
1.
Late assignments submitted within one week of the due date will
receive a 10% deduction.
2.
Assignments submitted more than one week late will receive a 20%
deduction.
3.
Assignments submitted two weeks late or after the final date of the
course will not be accepted.
4.
Late Discussion Board threads or replies will not be accepted.
Page 2 of 3
BUSI 313 Course Syllabus
Special circumstances (e.g. death in the family, personal health issues) will be
reviewed by the instructor on a case-by-case basis.
D.
Disability Assistance
Students with a documented disability may contact Liberty University Online's
Office of Disability Academic Support (ODAS) at LUOODAS@liberty.edu to
make arrangements for academic accommodations. Further information can be
found at www.liberty.edu/disabilitysupport.
Page 3 of 3
COUR ### Course Schedule
COURSE SCHEDULE
BUSI 313
Textbook: Larson & Gray, Project Management: The Management Process (2014).
MODULE/
WEEK
READING & STUDY
1
Larson & Gray: chs. 1–3
1 presentation
2
ASSIGNMENTS
POINTS
Course Requirements Checklist
Class Introductions
DB Forum 1 Thread
10
0
50
1 presentation
DB Forum 1 Replies
Quiz 1
50
50
3
Larson & Gray: chs. 4–6
1 presentation
DB Forum 2 Thread
Project – Section 1
Integration of Faith 1
50
175
25
4
1 presentation
DB Forum 2 Replies
Quiz 2
50
50
5
Larson & Gray: chs. 7–9
1 presentation
DB Forum 3 Thread
Integration of Faith 2
50
25
6
1 presentation
DB Forum 3 Replies
Quiz 3
50
50
7
Larson & Gray: chs. 12–14
1 presentation
DB Forum 4 Thread
Project – Section 2
50
175
8
1 presentation
DB Forum 4 Replies
Quiz 4
50
50
TOTAL
1010
DB = Discussion Board
NOTE: Each course module/week (except Module/Week 1) begins on Tuesday morning at
12:00 a.m. (ET) and ends on Monday night at 11:59 p.m. (ET). The final module/week
ends at 11:59 p.m. (ET) on Friday.