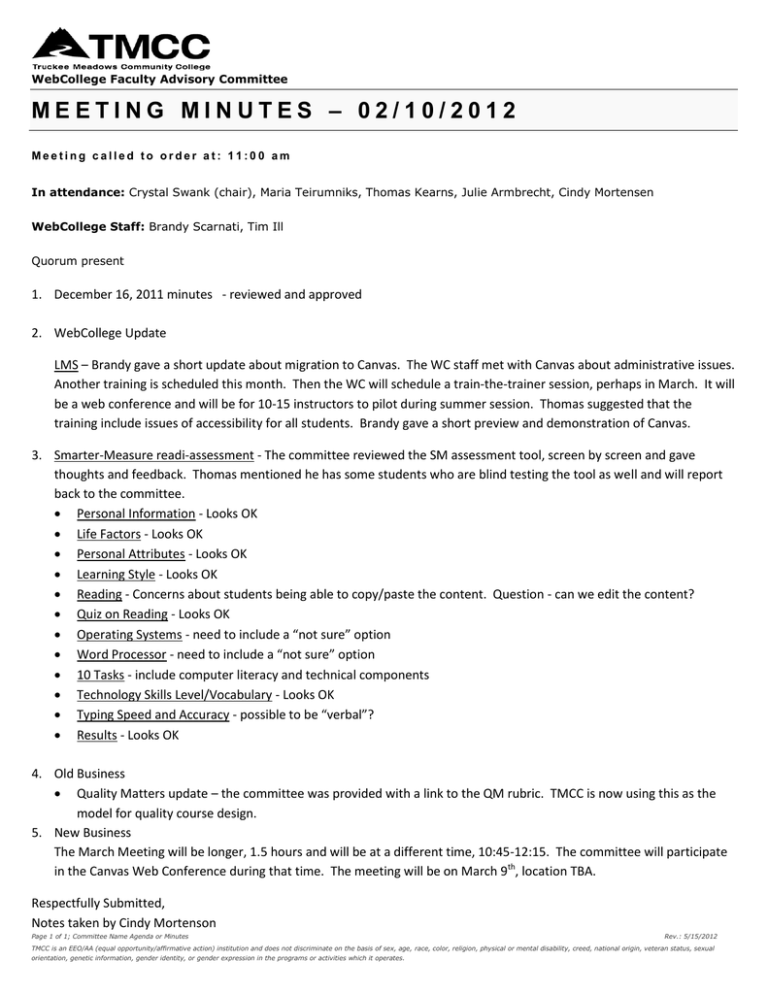 WebCollege Faculty Advisory Committee
MEETING MINUTES – 02/10/2012
Meeting called to order at: 11:00 am
In attendance: Crystal Swank (chair), Maria Teirumniks, Thomas Kearns, Julie Armbrecht, Cindy Mortensen
WebCollege Staff: Brandy Scarnati, Tim Ill
Quorum present
1. December 16, 2011 minutes - reviewed and approved
2. WebCollege Update
LMS – Brandy gave a short update about migration to Canvas. The WC staff met with Canvas about administrative issues.
Another training is scheduled this month. Then the WC will schedule a train-the-trainer session, perhaps in March. It will
be a web conference and will be for 10-15 instructors to pilot during summer session. Thomas suggested that the
training include issues of accessibility for all students. Brandy gave a short preview and demonstration of Canvas.
3. Smarter-Measure readi-assessment - The committee reviewed the SM assessment tool, screen by screen and gave
thoughts and feedback. Thomas mentioned he has some students who are blind testing the tool as well and will report
back to the committee.
 Personal Information - Looks OK
 Life Factors - Looks OK
 Personal Attributes - Looks OK
 Learning Style - Looks OK
 Reading - Concerns about students being able to copy/paste the content. Question - can we edit the content?
 Quiz on Reading - Looks OK
 Operating Systems - need to include a "not sure" option
 Word Processor - need to include a "not sure" option
 10 Tasks - include computer literacy and technical components
 Technology Skills Level/Vocabulary - Looks OK
 Typing Speed and Accuracy - possible to be "verbal"?
 Results - Looks OK
4. Old Business
 Quality Matters update – the committee was provided with a link to the QM rubric. TMCC is now using this as the
model for quality course design.
5. New Business
The March Meeting will be longer, 1.5 hours and will be at a different time, 10:45-12:15. The committee will participate
in the Canvas Web Conference during that time. The meeting will be on March 9th, location TBA.
Respectfully Submitted,
Notes taken by Cindy Mortenson
Page 1 of 1; Committee Name Agenda or Minutes
Rev.: 5/15/2012
TMCC is an EEO/AA (equal opportunity/affirmative action) institution and does not discriminate on the basis of sex, age, race, color, religion, physical or mental disability, creed, national origin, veteran status, sexual
orientation, genetic information, gender identity, or gender expression in the programs or activities which it operates.