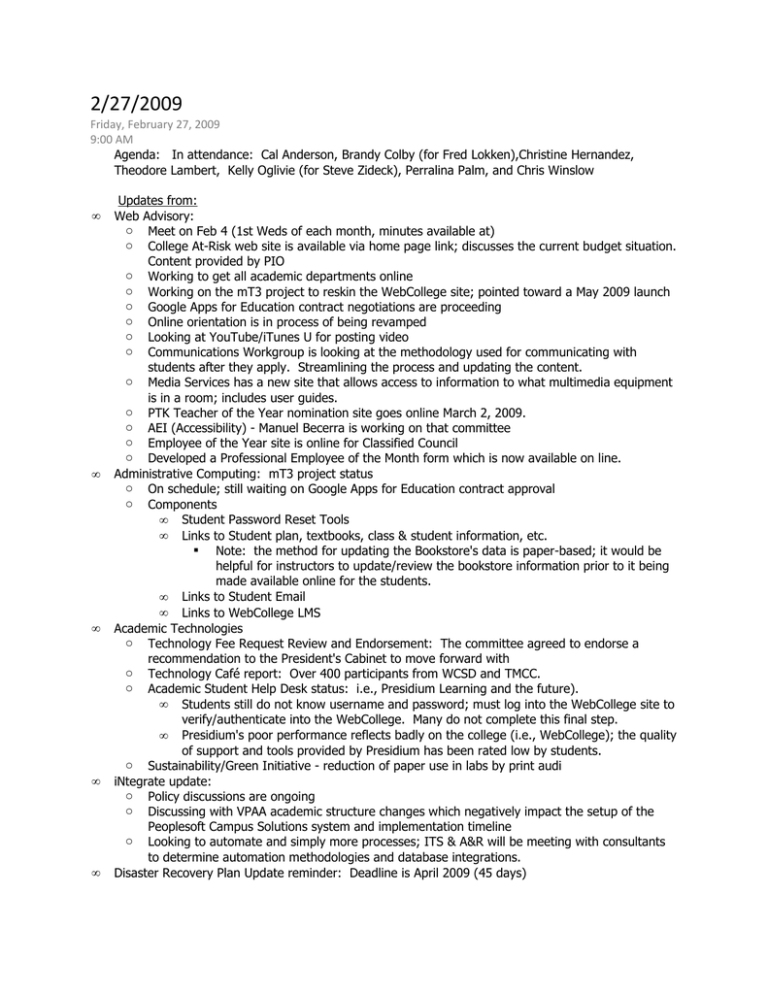 2/27/2009
Friday, February 27, 2009
9:00 AM
Agenda: In attendance: Cal Anderson, Brandy Colby (for Fred Lokken),Christine Hernandez,
Theodore Lambert, Kelly Oglivie (for Steve Zideck), Perralina Palm, and Chris Winslow
•
•
•
•
•
Updates from:
Web Advisory:
o Meet on Feb 4 (1st Weds of each month, minutes available at)
o College At-Risk web site is available via home page link; discusses the current budget situation.
Content provided by PIO
o Working to get all academic departments online
o Working on the mT3 project to reskin the WebCollege site; pointed toward a May 2009 launch
o Google Apps for Education contract negotiations are proceeding
o Online orientation is in process of being revamped
o Looking at YouTube/iTunes U for posting video
o Communications Workgroup is looking at the methodology used for communicating with
students after they apply. Streamlining the process and updating the content.
o Media Services has a new site that allows access to information to what multimedia equipment
is in a room; includes user guides.
o PTK Teacher of the Year nomination site goes online March 2, 2009.
o AEI (Accessibility) - Manuel Becerra is working on that committee
o Employee of the Year site is online for Classified Council
o Developed a Professional Employee of the Month form which is now available on line.
Administrative Computing: mT3 project status
o On schedule; still waiting on Google Apps for Education contract approval
o Components
• Student Password Reset Tools
• Links to Student plan, textbooks, class & student information, etc.
§ Note: the method for updating the Bookstore's data is paper-based; it would be
helpful for instructors to update/review the bookstore information prior to it being
made available online for the students.
• Links to Student Email
• Links to WebCollege LMS
Academic Technologies
o Technology Fee Request Review and Endorsement: The committee agreed to endorse a
recommendation to the President's Cabinet to move forward with
o Technology Café report: Over 400 participants from WCSD and TMCC.
o Academic Student Help Desk status: i.e., Presidium Learning and the future).
• Students still do not know username and password; must log into the WebCollege site to
verify/authenticate into the WebCollege. Many do not complete this final step.
• Presidium's poor performance reflects badly on the college (i.e., WebCollege); the quality
of support and tools provided by Presidium has been rated low by students.
o Sustainability/Green Initiative - reduction of paper use in labs by print audi
iNtegrate update:
o Policy discussions are ongoing
o Discussing with VPAA academic structure changes which negatively impact the setup of the
Peoplesoft Campus Solutions system and implementation timeline
o Looking to automate and simply more processes; ITS & A&R will be meeting with consultants
to determine automation methodologies and database integrations.
Disaster Recovery Plan Update reminder: Deadline is April 2009 (45 days)
•
Other: Broadband Improvement Program: The federal government is planning of bringing
broadband access to the masses, specifically unserved and underserved areas. TMCC may be able to
participate and provide training on the use of technology.