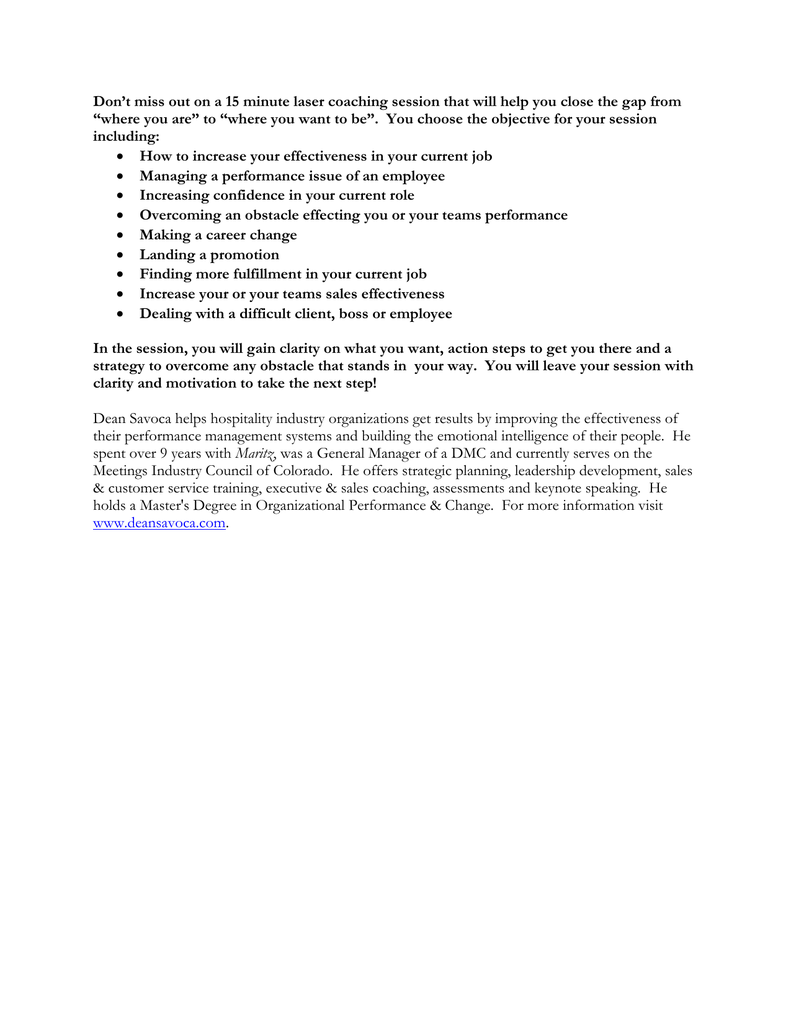 Don't miss out on a 15 minute laser coaching session that will help you close the gap from
"where you are" to "where you want to be". You choose the objective for your session
including:
 How to increase your effectiveness in your current job
 Managing a performance issue of an employee
 Increasing confidence in your current role
 Overcoming an obstacle effecting you or your teams performance
 Making a career change
 Landing a promotion
 Finding more fulfillment in your current job
 Increase your or your teams sales effectiveness
 Dealing with a difficult client, boss or employee
In the session, you will gain clarity on what you want, action steps to get you there and a
strategy to overcome any obstacle that stands in your way. You will leave your session with
clarity and motivation to take the next step!
Dean Savoca helps hospitality industry organizations get results by improving the effectiveness of
their performance management systems and building the emotional intelligence of their people. He
spent over 9 years with Maritz, was a General Manager of a DMC and currently serves on the
Meetings Industry Council of Colorado. He offers strategic planning, leadership development, sales
& customer service training, executive & sales coaching, assessments and keynote speaking. He
holds a Master's Degree in Organizational Performance & Change. For more information visit
www.deansavoca.com.