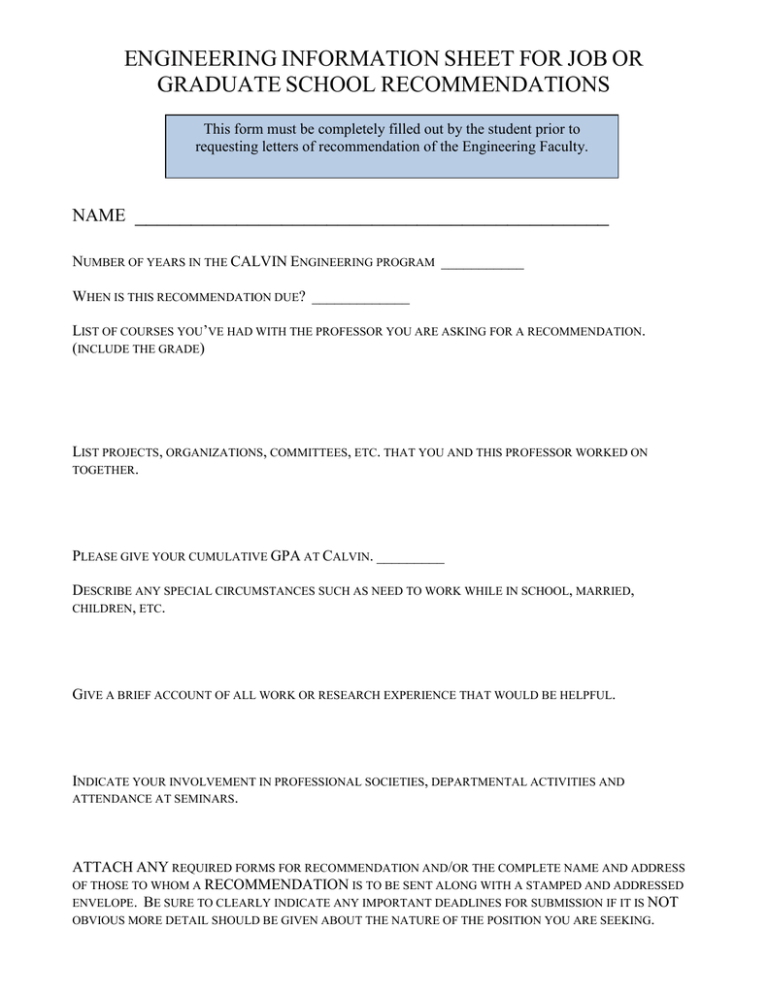 ENGINEERING INFORMATION SHEET FOR JOB OR
GRADUATE SCHOOL RECOMMENDATIONS
This form must be completely filled out by the student prior to
requesting letters of recommendation of the Engineering Faculty.
NAME
__________________________________________
NUMBER OF YEARS IN THE CALVIN ENGINEERING PROGRAM ___________
WHEN IS THIS RECOMMENDATION DUE? _____________
LIST OF COURSES YOU'VE HAD WITH THE PROFESSOR YOU ARE ASKING FOR A RECOMMENDATION.
(INCLUDE THE GRADE)
LIST PROJECTS, ORGANIZATIONS, COMMITTEES, ETC. THAT YOU AND THIS PROFESSOR WORKED ON
TOGETHER.
PLEASE GIVE YOUR CUMULATIVE GPA AT CALVIN. _________
DESCRIBE ANY SPECIAL CIRCUMSTANCES SUCH AS NEED TO WORK WHILE IN SCHOOL, MARRIED,
CHILDREN, ETC.
GIVE A BRIEF ACCOUNT OF ALL WORK OR RESEARCH EXPERIENCE THAT WOULD BE HELPFUL.
INDICATE YOUR INVOLVEMENT IN PROFESSIONAL SOCIETIES, DEPARTMENTAL ACTIVITIES AND
ATTENDANCE AT SEMINARS.
ATTACH ANY REQUIRED FORMS FOR RECOMMENDATION AND/OR THE COMPLETE NAME AND ADDRESS
OF THOSE TO WHOM A RECOMMENDATION IS TO BE SENT ALONG WITH A STAMPED AND ADDRESSED
ENVELOPE. BE SURE TO CLEARLY INDICATE ANY IMPORTANT DEADLINES FOR SUBMISSION IF IT IS NOT
OBVIOUS MORE DETAIL SHOULD BE GIVEN ABOUT THE NATURE OF THE POSITION YOU ARE SEEKING.