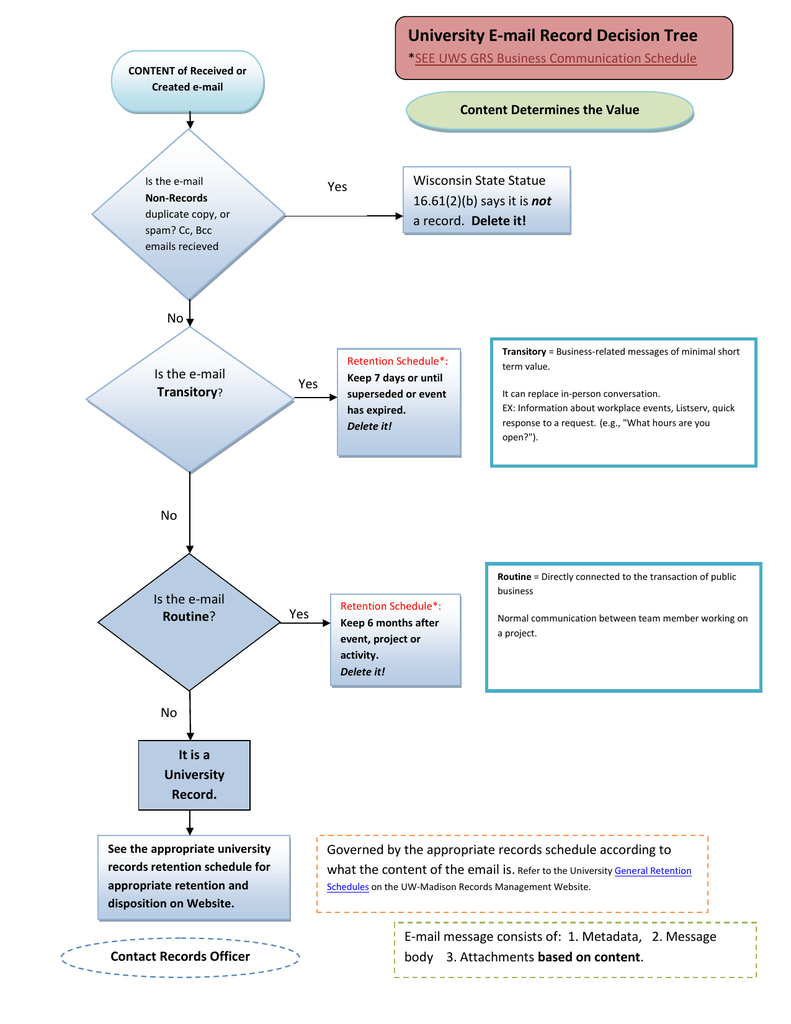 University E-mail Record Decision Tree
*SEE UWS GRS Business Communication Schedule
CONTENT of Received or
Created e-mail
Content Determines the Value
Is the e-mail
Non-Records
duplicate copy, or
spam? Cc, Bcc
emails recieved
Yes
Wisconsin State Statue
16.61(2)(b) says it is not
a record. Delete it!
No
Is the e-mail
Transitory?
Yes
Retention Schedule*:
Keep 7 days or until
superseded or event
has expired.
Delete it!
no
Transitory = Business-related messages of minimal short
term value.
It can replace in-person conversation.
EX: Information about workplace events, Listserv, quick
response to a request. (e.g., "What hours are you
open?").
No
Is the e-mail
Routine?
Routine = Directly connected to the transaction of public
business
Yes
Retention Schedule*:
Keep 6 months after
event, project or
activity.
Delete it!
Normal communication between team member working on
a project.
No
It is a
University
Record.
See the appropriate university
records retention schedule for
appropriate retention and
disposition on Website.
Contact Records Officer
Governed by the appropriate records schedule according to
what the content of the email is. Refer to the University General Retention
Schedules on the UW-Madison Records Management Website.
E-mail message consists of: 1. Metadata, 2. Message
body 3. Attachments based on content.