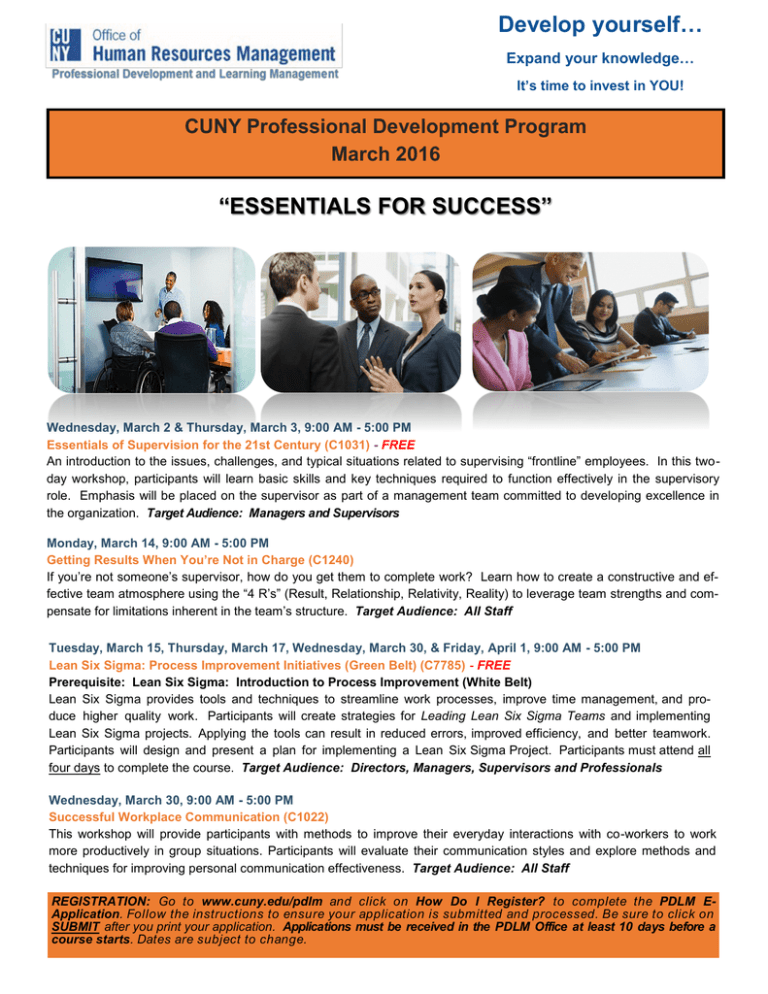 Develop yourself…
Expand your knowledge…
It's time to invest in YOU!
CUNY Professional Development Program
March 2016
"ESSENTIALS FOR SUCCESS"
Wednesday, March 2 & Thursday, March 3, 9:00 AM - 5:00 PM
Essentials of Supervision for the 21st Century (C1031) - FREE
An introduction to the issues, challenges, and typical situations related to supervising "frontline" employees. In this twoday workshop, participants will learn basic skills and key techniques required to function effectively in the supervisory
role. Emphasis will be placed on the supervisor as part of a management team committed to developing excellence in
the organization. Target Audience: Managers and Supervisors
Monday, March 14, 9:00 AM - 5:00 PM
Getting Results When You're Not in Charge (C1240)
If you're not someone's supervisor, how do you get them to complete work? Learn how to create a constructive and effective team atmosphere using the "4 R's" (Result, Relationship, Relativity, Reality) to leverage team strengths and compensate for limitations inherent in the team's structure. Target Audience: All Staff
Tuesday, March 15, Thursday, March 17, Wednesday, March 30, & Friday, April 1, 9:00 AM - 5:00 PM
Lean Six Sigma: Process Improvement Initiatives (Green Belt) (C7785) - FREE
Prerequisite: Lean Six Sigma: Introduction to Process Improvement (White Belt)
Lean Six Sigma provides tools and techniques to streamline work processes, improve time management, and produce higher quality work. Participants will create strategies for Leading Lean Six Sigma Teams and implementing
Lean Six Sigma projects. Applying the tools can result in reduced errors, improved efficiency, and better teamwork.
Participants will design and present a plan for implementing a Lean Six Sigma Project. Participants must attend all
four days to complete the course. Target Audience: Directors, Managers, Supervisors and Professionals
Wednesday, March 30, 9:00 AM - 5:00 PM
Successful Workplace Communication (C1022)
This workshop will provide participants with methods to improve their everyday interactions with co-workers to work
more productively in group situations. Participants will evaluate their communication styles and explore methods and
techniques for improving personal communication effectiveness. Target Audience: All Staff
REGISTRATION: Go to www.cuny.edu/pdlm and click on How Do I Register? to complete the PDLM EApplication. Follow the instructions to ensure your application is submitted and processed. Be sure to click on
SUBMIT after you print your application. Applications must be received in the PDLM Office at least 10 days before a
course starts. Dates are subject to change.