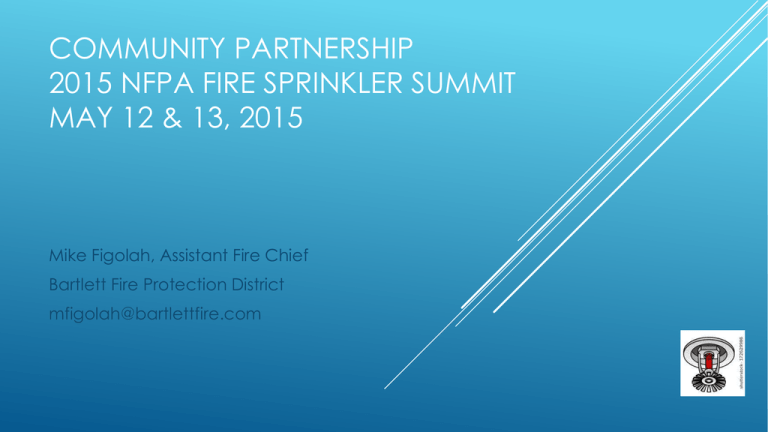 COMMUNITY PARTNERSHIP
2015 NFPA FIRE SPRINKLER SUMMIT
MAY 12 & 13, 2015
Mike Figolah, Assistant Fire Chief
Bartlett Fire Protection District
mfigolah@bartlettfire.com
"Growth is never by
mere chance: it is the
result of forces working
together"
James Cash Penney
COMMUNITY PARTNERSHIP
 Home
Buyers
 Home
Builders
 Real
Estate Professionals
 Building
Inspectors
 Community
Development Professionals
DETERMINING OUR PARTNERS
 Firefighters
 Code
Officials
 Ourselves
DETERMINING OUR PARTNERS
 Communities,
Counties, Townships, and States with
successful sprinkler regulations did not occur without
education, relationships, and trust.
 Provide
multiple opportunities to educate your
potential partners.
 Establish
a relationship based on fact and
professionalism.
 Grass
roots AND national programs
ONE PERSON AT A TIME

There isn't a single tool that connects with everyone

Use multiple methods to educate:

Technical

Persuasive

Basic

Informative

Quick

In Depth

Specific to a group
THE CORRECT TOOLS?

Live Presentations


Challenge all the senses

Feel

Smell

See

Hear
Side By Side Demonstration

Perfect for Open House Events

Invite your legislators, council members, mayors, local business owners

Provide a press release and invite the media

Video presentation available from Home Fire Sprinkler Coalition
TOOLS IN THE TOOLBOX
The Media
 Press
release after a fire – include a prevention
message
 Highlight
 Invite
sprinkler saves
to fire training
 Print
materials, display banners, and video all
available from the Home Fire Sprinkler Association,
NFPA, National Fire Sprinkler Association
TOOLS IN THE TOOLBOX
 Too
 It'll
much government
never happen to me
 Too
expensive
 Anti-sprinkler
mandate association policy
NOT EVERYONE WILL BE CONVINCED
 Home
Fire Sprinkler Coalition
 National
Fire Protection Association
 National
Fire Sprinkler Association
 Develop
your own program specific for your
organization
GET INVOLVED
"Growth is never by
mere chance: it is the
result of forces working
together"
James Cash Penney
CONCLUSION
Mike Figolah
Bartlett Fire Protection District
234 North Oak avenue
Bartlett, Illinois 60118
(630) 973-6825
mfigolah@bartlettfire.com
QUESTIONS?