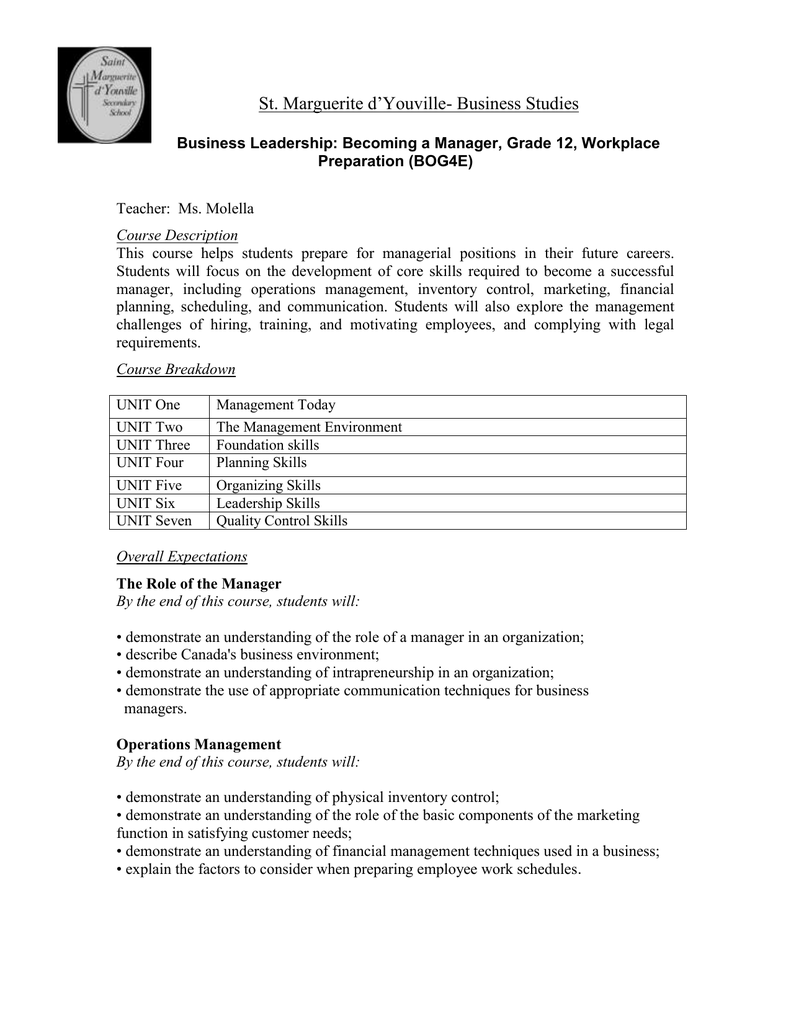 St. Marguerite d'Youville- Business Studies
Business Leadership: Becoming a Manager, Grade 12, Workplace
Preparation (BOG4E)
Teacher: Ms. Molella
Course Description
This course helps students prepare for managerial positions in their future careers.
Students will focus on the development of core skills required to become a successful
manager, including operations management, inventory control, marketing, financial
planning, scheduling, and communication. Students will also explore the management
challenges of hiring, training, and motivating employees, and complying with legal
requirements.
Course Breakdown
UNIT One
Management Today
UNIT Two
UNIT Three
UNIT Four
The Management Environment
Foundation skills
Planning Skills
UNIT Five
UNIT Six
UNIT Seven
Organizing Skills
Leadership Skills
Quality Control Skills
Overall Expectations
The Role of the Manager
By the end of this course, students will:
• demonstrate an understanding of the role of a manager in an organization;
• describe Canada's business environment;
• demonstrate an understanding of intrapreneurship in an organization;
• demonstrate the use of appropriate communication techniques for business
managers.
Operations Management
By the end of this course, students will:
• demonstrate an understanding of physical inventory control;
• demonstrate an understanding of the role of the basic components of the marketing
function in satisfying customer needs;
• demonstrate an understanding of financial management techniques used in a business;
• explain the factors to consider when preparing employee work schedules.
Leadership
By the end of this course, students will:
• demonstrate an understanding of the nature and the importance of effective leadership
in a business environment;
• demonstrate an understanding of the mechanics and processes of group dynamics;
• assess the role of the manager in motivating employees.
Human Resource Management
By the end of this course, students will:
• demonstrate an understanding of procedures for hiring and training employees;
• demonstrate an understanding of the laws and regulations that govern working
conditions;
• assess local opportunities for employment that are of personal interest and that have
potential for launching a career.
COURSE MATERIALS – You must bring them every day!!!
1.
Course Textbook
 GLENCOE- Business Management – Real-World Applications & Connections.
2.
Notebook – 3-ring binder
3.
Pen and Pencil
4.
Student Agenda
5.
USB Key (Available at the Panther's Den for $10)
ADDITIONAL RESOURCES
 Computers and the Internet
Student Notebook
A well organized notebook is a valuable reference and studying resource for you. You
will be supplied with a great deal of information in this course. It is advised that you use
a large 3-ring binder with dividers for this course, thus allowing material to be easily
inserted:







Unit 1 - Management Today
Unit 2 - The Management Environment
Unit 3 - Foundation Skills
Unit 4 - Planning Skills
Unit 5 - Organizing Skills
Unit 6 - Leadership Skills
Unit 7 - Quality Control Skills
Glossary
Your glossary will contain terms and expressions that are relevant for this course. You
will begin by keeping a paper and pen glossary. This will be updated to an electronic
glossary later on the year. The glossary should be set up as follows:
Term
Management
Explanation
The process of deciding how best to use a
business's resources to produce goods or
provide services.
Technical Journal
You are required to maintain a technical journal in which you will record newly learned
procedures. It will serve as a personal reference to which you can refer for specific
procedures that can be difficult to memorize.
Portfolio
Your portfolio will contain samples of your work. You should keep both an electronic
copy as well as a hard copy in a separate section of your notebook. Keep this part of your
notebook neat; some of your work may be used as a demonstration of your abilities to
potential employers.
Computer Ethics
Your computer usage here at St. Marguerite d'Youville is a priviledge. Any behaviour
deemed to be unethical or in conflict with the Catholic Student Expectations will result in
computer priviledges being suspended.
COURSE EVALUATION
Term
Knowledge and Understanding
-Unit tests, Quizzes, Exercises
Thinking/Inquiry and Problem Solving
-Assignments, Unit Projects, Independent Study, Exercises
Communication
-Exercises, Presentations
Application
-Work Habits, Class Participation
Final Examination
CPT
TOTAL
70%
30%
20%
20%
30%
20%
10%
100%
1.
NO FOOD OR DRINKS IN THE CLASSROOM including gum, candy, etc.
2.
BE PUNCTUAL! LATES ARE NOT TOLERATED.
3.
LATE ASSIGNEMENTS- one day 2% off, two days 5% off, 3 days 10% off, after 4
days ZERO! Weekends count as 2 days late.
4.
YOU ARE RESPONSIBLE FOR YOUR COMPUTER WORK STATIONS. ANY
DAMAGE WILL RESULT IN SUSPENDED COMPUTER PRIVILEDGES AND
POSSIBLE SCHOOL SUSPENSION.
** Immediately when you enter the classroom REPORT any problems***
5.
YOU MUST BRING YOUR SCHOOL AGENDA TO EVERY CLASS.
6.
Any student missing a test or quiz is responsible to write on the first day back to
class. It is your responsibility to be present for ALL forms of evaluation. MEDICAL
NOTES ARE REQUIRED FOR MISSED TESTS.
7.
CHEATERS! YOU WILL BE PROSECUTED! If a student cheats on an
examination, test, quiz or assignment you will receive a mark of ZERO.
8.
PLAGIARISM- Any type of plagiarism earns a mark of ZERO. Do not SHARE your
work because all parties involved will receive a ZERO.
9.
TRUANT- If a student is truant for the class in which an examination, test, or quiz is
being written (or a seminar is presented) he or she will receive a ZERO.
10.
PHONE CALLS HOME- made for students with lates, absences, or who are truant. I
also call home to let parents know when a student is doing well in class.
11.
UNIFORM- you may not enter the classroom until you display the proper school
uniform.
12.
ELECTRONIC DEVICES- are NOT permitted in class at any time.
13.
DISMISSAL- there is no school bell. Students are dismissed by Ms. Molella.