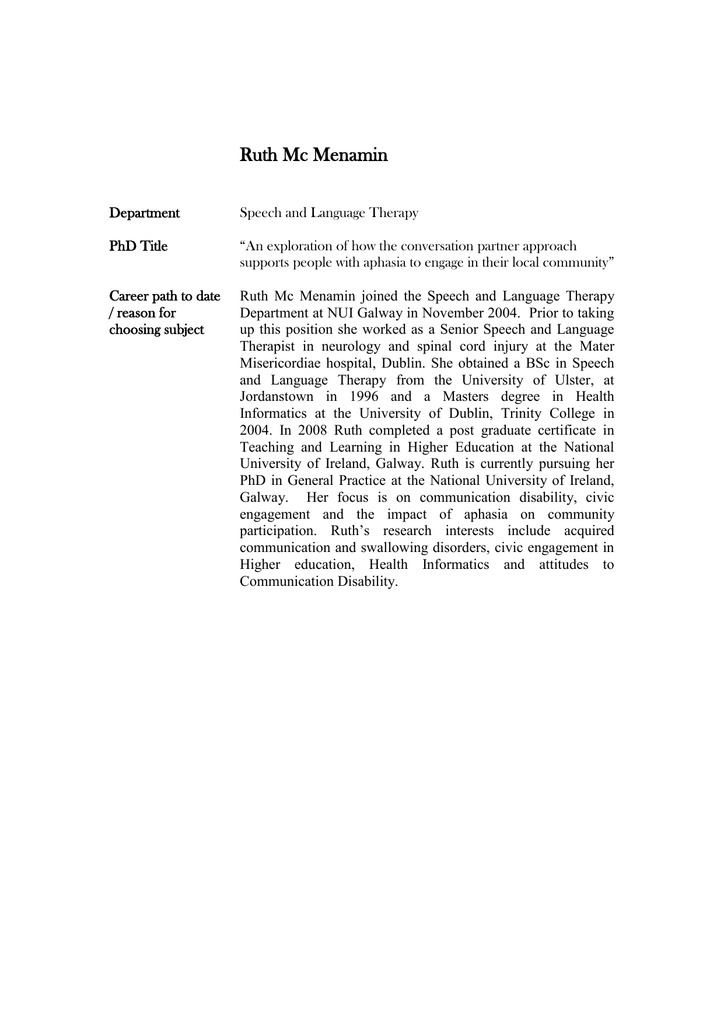 Ruth Mc Menamin
Department
Speech and Language Therapy
PhD Title
"An exploration of how the conversation partner approach
supports people with aphasia to engage in their local community"
Career path to date
/ reason for
choosing subject
Ruth Mc Menamin joined the Speech and Language Therapy
Department at NUI Galway in November 2004. Prior to taking
up this position she worked as a Senior Speech and Language
Therapist in neurology and spinal cord injury at the Mater
Misericordiae hospital, Dublin. She obtained a BSc in Speech
and Language Therapy from the University of Ulster, at
Jordanstown in 1996 and a Masters degree in Health
Informatics at the University of Dublin, Trinity College in
2004. In 2008 Ruth completed a post graduate certificate in
Teaching and Learning in Higher Education at the National
University of Ireland, Galway. Ruth is currently pursuing her
PhD in General Practice at the National University of Ireland,
Galway. Her focus is on communication disability, civic
engagement and the impact of aphasia on community
participation. Ruth's research interests include acquired
communication and swallowing disorders, civic engagement in
Higher education, Health Informatics and attitudes to
Communication Disability.