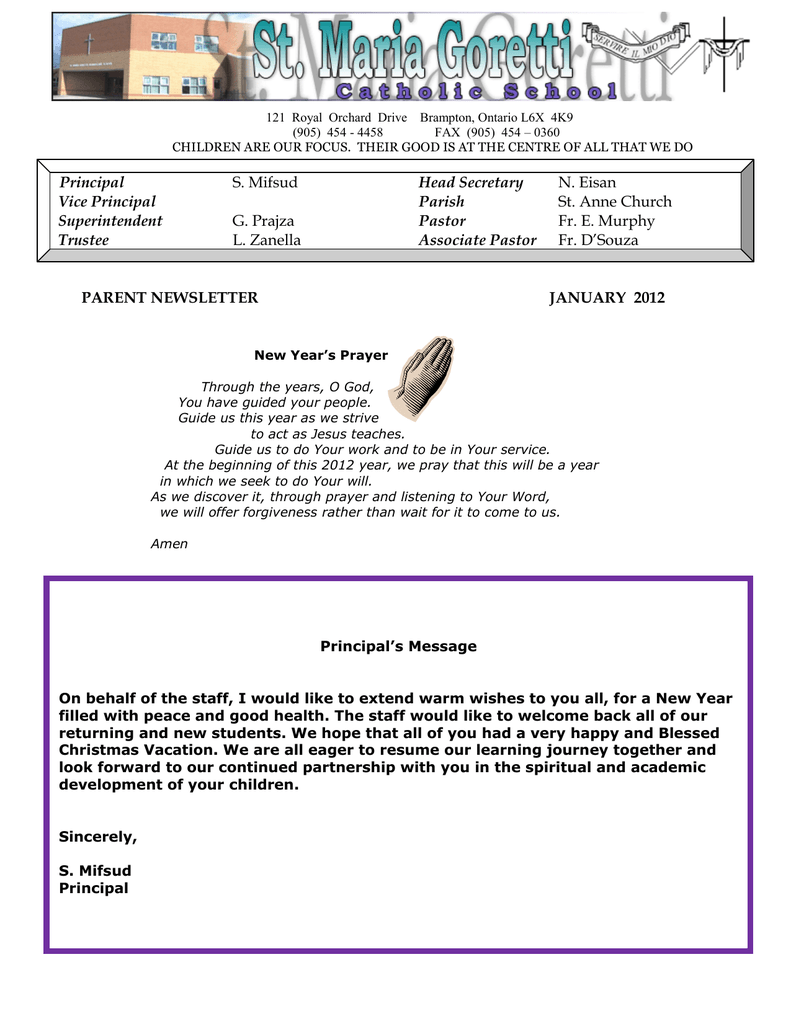 121 Royal Orchard Drive Brampton, Ontario L6X 4K9
(905) 454 - 4458
FAX (905) 454 – 0360
CHILDREN ARE OUR FOCUS. THEIR GOOD IS AT THE CENTRE OF ALL THAT WE DO
Principal
Vice Principal
Superintendent
Trustee
S. Mifsud
Head Secretary
Parish
Pastor
Associate Pastor
G. Prajza
L. Zanella
PARENT NEWSLETTER
N. Eisan
St. Anne Church
Fr. E. Murphy
Fr. D'Souza
JANUARY 2012
New Year's Prayer
Through the years, O God,
You have guided your people.
Guide us this year as we strive
to act as Jesus teaches.
Guide us to do Your work and to be in Your service.
At the beginning of this 2012 year, we pray that this will be a year
in which we seek to do Your will.
As we discover it, through prayer and listening to Your Word,
we will offer forgiveness rather than wait for it to come to us.
Amen
Principal's Message
On behalf of the staff, I would like to extend warm wishes to you all, for a New Year
filled with peace and good health. The staff would like to welcome back all of our
returning and new students. We hope that all of you had a very happy and Blessed
Christmas Vacation. We are all eager to resume our learning journey together and
look forward to our continued partnership with you in the spiritual and academic
development of your children.
Sincerely,
S. Mifsud
Principal
Virtue of the month:
SELF-CONTROL
This month, we will celebrate and recognize the virtue of self-control. God has given us
the ability to choose. We are able to control how we react to what happens around us.
We may feel pressure from inside or from outside ourselves to react violently to a
situation. We've all "lost it "at one time or another. We are never proud of those
moments. As soon as they happen we make a promise that they will not happen again. Through prayer
and concentration, we can get better at controlling our reactions. We can get better at showing selfcontrol.
Extended French Gr. 4—Parents
In November, a letter outlining the process
for application to the extended French
program was sent home. Grade 4
parents/guardians, who wish to enroll their
child in a grade 5 Extended French class for
September 2012, are invited to attend an
information meeting at St. Anne School, on
Tuesday, January 17, @ 7:00 pm. The
deadline for applications is Wednesday,
February 9, 2012 @ 3:00 pm.
St. Maria Goretti Families Give Back
Thank you to the families that supported
our Giving Tree and Food Drive during the
Advent Season. Your generosity assisted less
fortunate families during the Christmas Season.
Catholic School Council
Next Meeting: Jan 18th @ 6:00 pm.
All Meetings are open to community
Members. Please join us if you can.
Professional Activity Days and Reporting to Parents Update
There will be no school for students on
Monday, January 16th
Teachers will be involved with the writing of first term report
cards. Reports will be sent home on January 31st
with interviews taking place on the evening of
Thursday February 2nd, and
during the day on Friday February 3rd, (P.A. Day).
Dressing for Winter Weather
Winter is here! Please encourage your child to dress appropriately for the cold weather. Outdoor play is
a healthy and invigorating activity when students are wearing suitable clothing and warm mittens.
Please write your child's name on boots, mitts, hats, jackets and snow pants. Children must change
into their indoor shoes for warmth, comfort and cleanliness in their classrooms. Please keep an extra
pair of mittens, socks and even track pants in your child's school bag in case they need a dry change of
clothes.
Kindergarten
Registration 2012-2013
February 6, 2011 – 7:00 – 9:00 pm.
* February 7, 2012 – 7:00 – 9:00 pm. (* snow date)
* If registration is cancelled on Feb 6th, due to inclement weather
February 8, 2011 – 9:00 – 11:00 am. and 1:00 – 3:00 pm.
February 9, 2011 – 9:00 – 11:00 am. and 1:00 – 3:00 pm.
February 10, 2011 – 9:00 – 11:00 am. and 1:00 – 3:00 pm.
The following documentation must be provided:
1. Proof of age (original birth certificate)
2. Original Roman Catholic Baptismal Certificate (for child and/or parent/guardian) or
Baptismal Certificate from an Eastern Church of other rites in full communion with the
Holy See of Rome, the parent must bring their own baptismal certificate
3. Updated immunization records
4. Proof of Canadian citizenship or Landed Immigrant status
5. Proof of address (utility bill, bank or credit card statement)
Students currently attending Junior Kindergarten at St. Maria Goretti will automatically be
registered for Senior Kindergarten.
Important Dates to Remember
January 18:
Catholic School Council meeting @ 6:00 pm.
January 26:
Virtues Assembly at 11:00 a.m.
January 31:
Reports Cards are distributed to students.
February 2:
Interview evening – Reporting to Parents on Evaluation and Student Progress.
February 3:
PA Day – Reporting to Parents on Evaluation and Student Progress
th
February 6, 8-10 : Kindergarten Registration for 2012/2013
February 20:
Family Day (school closed)
February 22:
Ash Wednesday
March 12-16
Mid-Winter Break
Ride/Parking/Safety
All parents/guardians are asked to respect the NO PARKING zones at the front of the school. This area
is reserved for busses and emergency vehicles. The KISS and RIDE lane is not a parking lane; it is
strictly for drop-off and pick-up with the parent remaining in the vehicle. Drop offs are to take place at
the side of the school. No students are to be dropped off at the front of the school. If you do wish to
walk your child to the school yard, please park your car in the parking lot or on the street.
BUS CANCELLATIONS/SCHOOL CLOSING DUE TO BAD WEATHER
During the winter months inclement weather may cause disruption of bus transportation and regular
school operations. A decision to cancel school transportation and/or to close schools is usually made
by 6:00 a.m. and will be announced on the following radio stations:
VIRGIN RADIO 99.9,
CFTR 680
CFNY 102.1,
EZ ROCK 97.3
CJCL 590,
CHFI 98.1,
CFRB 101
CHIN 100.7
FM/1540 AM,
CJBC,
Z103.5,
93.1 FM,
CITYPULSE,
GLOBAL NEWS,
CBC
You will hear one of four standard messages:
1. ―DUFFERIN-PEEL CATHOLIC DISTRICT SCHOOL BOARD BUSES SERVING ST. ANDREW,
ST. BENEDICT AND ST. PETER ELEMENTARY SCHOOLS AND R.F. HALL SECONDARY
SCHOOL ARE CANCELLED FOR TODAY.‖ This message does not affect St. Maria Goretti
School.
2. ―THE DUFFERIN-PEEL CATHOLIC DISTRICT SCHOOL BOARD BUSES AND THE PEEL
DISTRICT SCHOOL BOARD BUSES IN THE TOWN OF CALEDON AND THE COUNTY OF
DUFFERIN ARE CANCELLED‖. This message does not affect St. Maria Goretti School
3. ―THE DUFFERIN-PEEL CATHOLIC DISTRICT SCHOOL BOARD AND THE PEEL DISTRICT
SCHOOL BOARD BUSES ARE CANCELLED.‖ ALL Transportation services provided by the
Dufferin-Peel Catholic District School Board have been cancelled for the entire day.
4. ―THE SCHOOLS AND OFFICES OF BOTH THE DUFFERIN-PEEL CATHOLIC DISTRICT
SCHOOL BOARD AND THE PEEL DISTRICT SCHOOL BOARD ARE CLOSED.‖ ALL schools are
closed to students and staff.