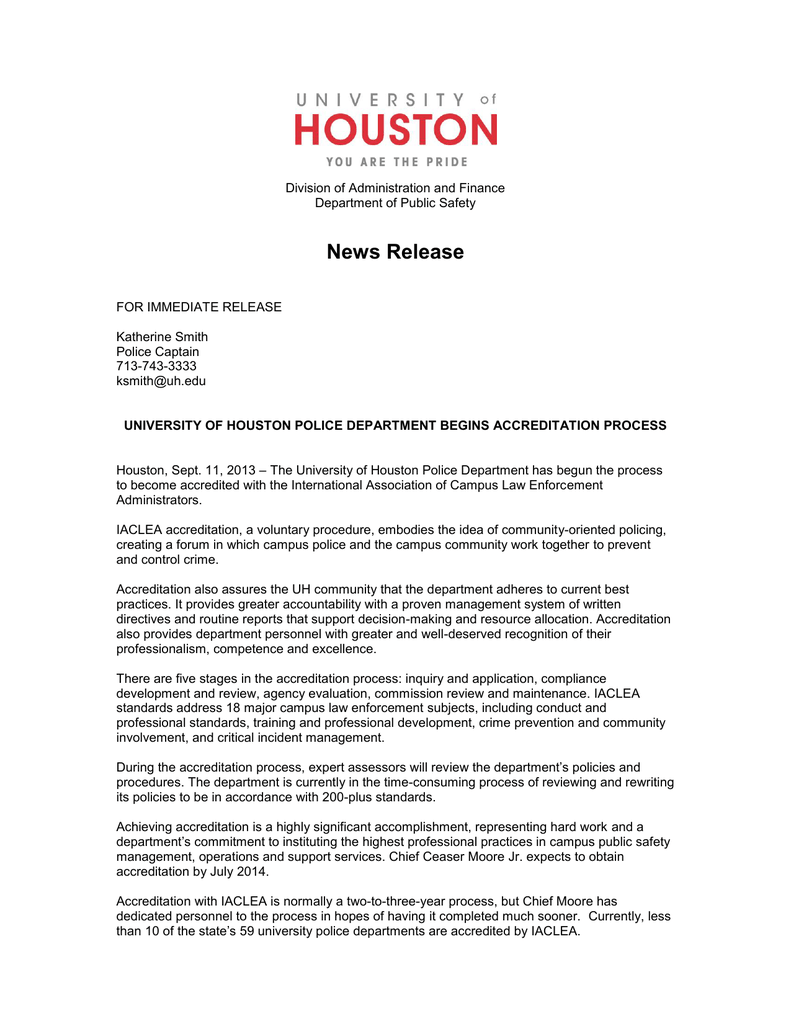 Division of Administration and Finance
Department of Public Safety
News Release
FOR IMMEDIATE RELEASE
Katherine Smith
Police Captain
713-743-3333
[email protected]
UNIVERSITY OF HOUSTON POLICE DEPARTMENT BEGINS ACCREDITATION PROCESS
Houston, Sept. 11, 2013 – The University of Houston Police Department has begun the process
to become accredited with the International Association of Campus Law Enforcement
Administrators.
IACLEA accreditation, a voluntary procedure, embodies the idea of community-oriented policing,
creating a forum in which campus police and the campus community work together to prevent
and control crime.
Accreditation also assures the UH community that the department adheres to current best
practices. It provides greater accountability with a proven management system of written
directives and routine reports that support decision-making and resource allocation. Accreditation
also provides department personnel with greater and well-deserved recognition of their
professionalism, competence and excellence.
There are five stages in the accreditation process: inquiry and application, compliance
development and review, agency evaluation, commission review and maintenance. IACLEA
standards address 18 major campus law enforcement subjects, including conduct and
professional standards, training and professional development, crime prevention and community
involvement, and critical incident management.
During the accreditation process, expert assessors will review the department's policies and
procedures. The department is currently in the time-consuming process of reviewing and rewriting
its policies to be in accordance with 200-plus standards.
Achieving accreditation is a highly significant accomplishment, representing hard work and a
department's commitment to instituting the highest professional practices in campus public safety
management, operations and support services. Chief Ceaser Moore Jr. expects to obtain
accreditation by July 2014.
Accreditation with IACLEA is normally a two-to-three-year process, but Chief Moore has
dedicated personnel to the process in hopes of having it completed much sooner. Currently, less
than 10 of the state's 59 university police departments are accredited by IACLEA.
About the University of Houston
The University of Houston is a comprehensive national research institution serving the globally
competitive Houston and Gulf Coast Region by providing world-class faculty, experiential learning
and strategic industry partnerships. UH serves more than 40,700 students in the nation's fourthlargest city, located in the most ethnically and culturally diverse region of the country.