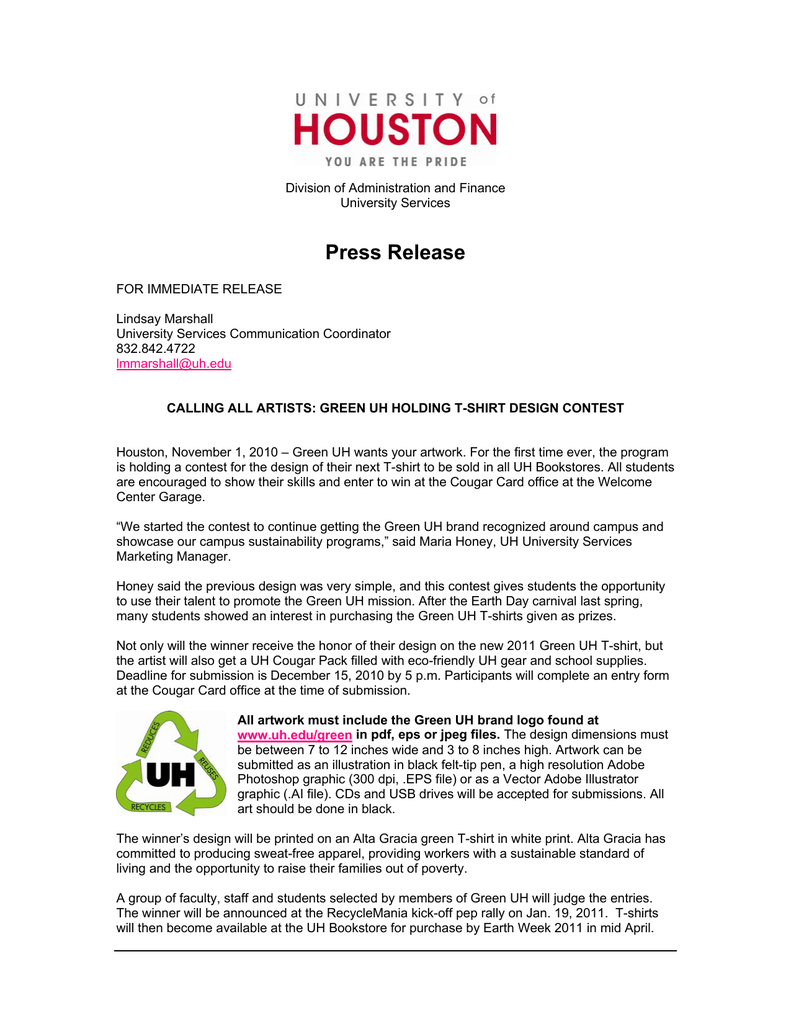 Division of Administration and Finance
University Services
Press Release
FOR IMMEDIATE RELEASE
Lindsay Marshall
University Services Communication Coordinator
832.842.4722
[email protected]
CALLING ALL ARTISTS: GREEN UH HOLDING T-SHIRT DESIGN CONTEST
Houston, November 1, 2010 – Green UH wants your artwork. For the first time ever, the program
is holding a contest for the design of their next T-shirt to be sold in all UH Bookstores. All students
are encouraged to show their skills and enter to win at the Cougar Card office at the Welcome
Center Garage.
"We started the contest to continue getting the Green UH brand recognized around campus and
showcase our campus sustainability programs," said Maria Honey, UH University Services
Marketing Manager.
Honey said the previous design was very simple, and this contest gives students the opportunity
to use their talent to promote the Green UH mission. After the Earth Day carnival last spring,
many students showed an interest in purchasing the Green UH T-shirts given as prizes.
Not only will the winner receive the honor of their design on the new 2011 Green UH T-shirt, but
the artist will also get a UH Cougar Pack filled with eco-friendly UH gear and school supplies.
Deadline for submission is December 15, 2010 by 5 p.m. Participants will complete an entry form
at the Cougar Card office at the time of submission.
All artwork must include the Green UH brand logo found at
www.uh.edu/green in pdf, eps or jpeg files. The design dimensions must
be between 7 to 12 inches wide and 3 to 8 inches high. Artwork can be
submitted as an illustration in black felt-tip pen, a high resolution Adobe
Photoshop graphic (300 dpi, .EPS file) or as a Vector Adobe Illustrator
graphic (.AI file). CDs and USB drives will be accepted for submissions. All
art should be done in black.
The winner's design will be printed on an Alta Gracia green T-shirt in white print. Alta Gracia has
committed to producing sweat-free apparel, providing workers with a sustainable standard of
living and the opportunity to raise their families out of poverty.
A group of faculty, staff and students selected by members of Green UH will judge the entries.
The winner will be announced at the RecycleMania kick-off pep rally on Jan. 19, 2011. T-shirts
will then become available at the UH Bookstore for purchase by Earth Week 2011 in mid April.
For more information on the Green UH T-shirt Design Contest, visit
www.uh.edu/af/greenUH/tshirt.htm. About the University of Houston
The University of Houston is a comprehensive national research institution serving the globally
competitive Houston and Gulf Coast Region by providing world-class faculty, experiential learning
and strategic industry partnerships. UH serves more than 38,500 students in the nation's fourthlargest city, located in the most ethnically and culturally diverse region of the country.