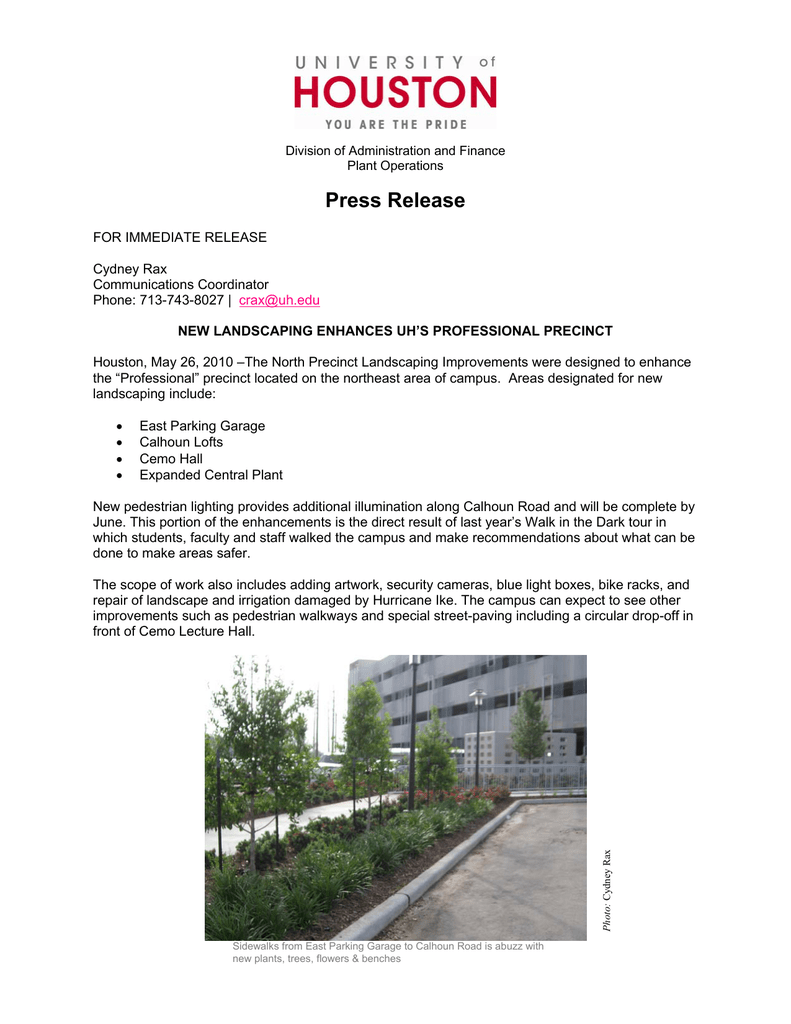 Division of Administration and Finance
Plant Operations
Press Release
FOR IMMEDIATE RELEASE
Cydney Rax
Communications Coordinator
Phone: 713-743-8027 | [email protected]
NEW LANDSCAPING ENHANCES UH'S PROFESSIONAL PRECINCT
Houston, May 26, 2010 –The North Precinct Landscaping Improvements were designed to enhance
the "Professional" precinct located on the northeast area of campus. Areas designated for new
landscaping include:
•
•
•
•
East Parking Garage
Calhoun Lofts
Cemo Hall
Expanded Central Plant
New pedestrian lighting provides additional illumination along Calhoun Road and will be complete by
June. This portion of the enhancements is the direct result of last year's Walk in the Dark tour in
which students, faculty and staff walked the campus and make recommendations about what can be
done to make areas safer.
Photo: Cydney Rax
The scope of work also includes adding artwork, security cameras, blue light boxes, bike racks, and
repair of landscape and irrigation damaged by Hurricane Ike. The campus can expect to see other
improvements such as pedestrian walkways and special street-paving including a circular drop-off in
front of Cemo Lecture Hall.
Sidewalks from East Parking Garage to Calhoun Road is abuzz with
new plants, trees, flowers & benches
Professional District Landscape Improvement Preliminary Design
About the University of Houston
The University of Houston, Texas' premier metropolitan research and teaching institution, is home to
more than 40 research centers and institutes and sponsors more than 300 partnerships with corporate,
civic and governmental entities. UH, the most diverse research university in the country stands at the
forefront of education, research and service with more than 35,000 students.