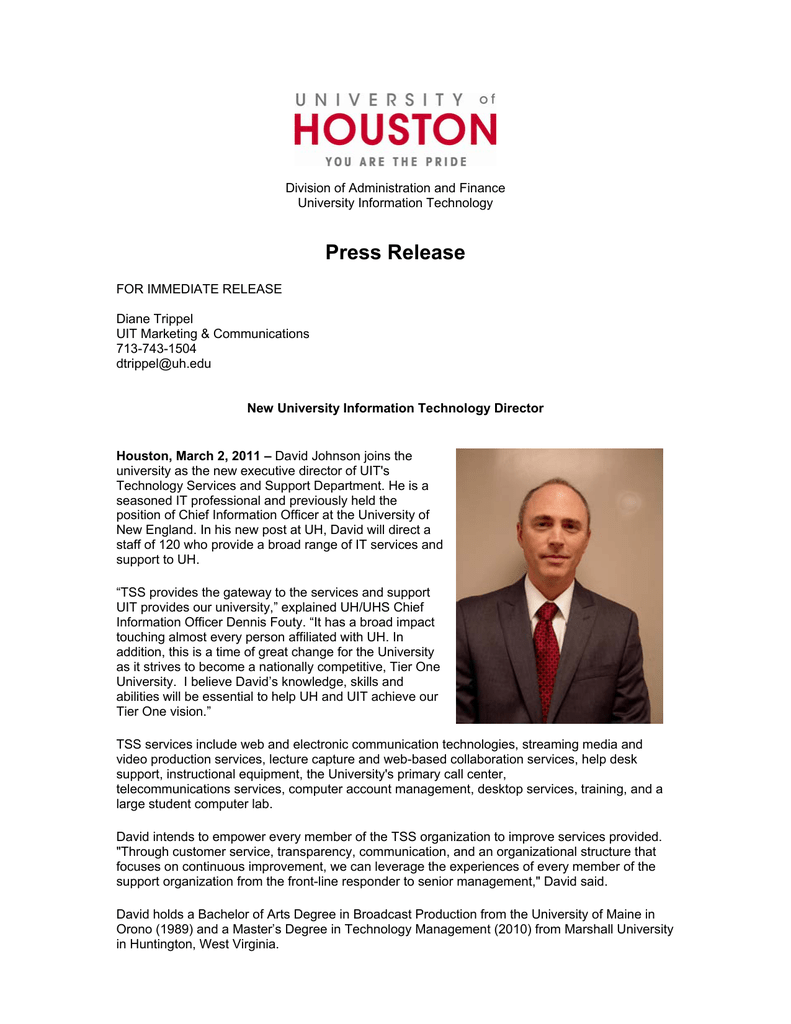 Division of Administration and Finance
University Information Technology
Press Release
FOR IMMEDIATE RELEASE
Diane Trippel
UIT Marketing & Communications
713-743-1504
[email protected]
New University Information Technology Director
Houston, March 2, 2011 – David Johnson joins the
university as the new executive director of UIT's
Technology Services and Support Department. He is a
seasoned IT professional and previously held the
position of Chief Information Officer at the University of
New England. In his new post at UH, David will direct a
staff of 120 who provide a broad range of IT services and
support to UH.
"TSS provides the gateway to the services and support
UIT provides our university," explained UH/UHS Chief
Information Officer Dennis Fouty. "It has a broad impact
touching almost every person affiliated with UH. In
addition, this is a time of great change for the University
as it strives to become a nationally competitive, Tier One
University. I believe David's knowledge, skills and
abilities will be essential to help UH and UIT achieve our
Tier One vision."
TSS services include web and electronic communication technologies, streaming media and
video production services, lecture capture and web-based collaboration services, help desk
support, instructional equipment, the University's primary call center,
telecommunications services, computer account management, desktop services, training, and a
large student computer lab.
David intends to empower every member of the TSS organization to improve services provided.
"Through customer service, transparency, communication, and an organizational structure that
focuses on continuous improvement, we can leverage the experiences of every member of the
support organization from the front-line responder to senior management," David said.
David holds a Bachelor of Arts Degree in Broadcast Production from the University of Maine in
Orono (1989) and a Master's Degree in Technology Management (2010) from Marshall University
in Huntington, West Virginia.
"We are extremely pleased David is joining UH, recognizing his significant experience in higher
education information technology, strategic planning and organizational management," said Dr.
Fouty.
About the University of Houston
The University of Houston is a comprehensive national research institution serving the globally
competitive Houston and Gulf Coast Region by providing world-class faculty, experiential learning
and strategic industry partnerships. UH serves more than 38,500 students in the nation's fourthlargest city, located in the most ethnically and culturally diverse region of the country.