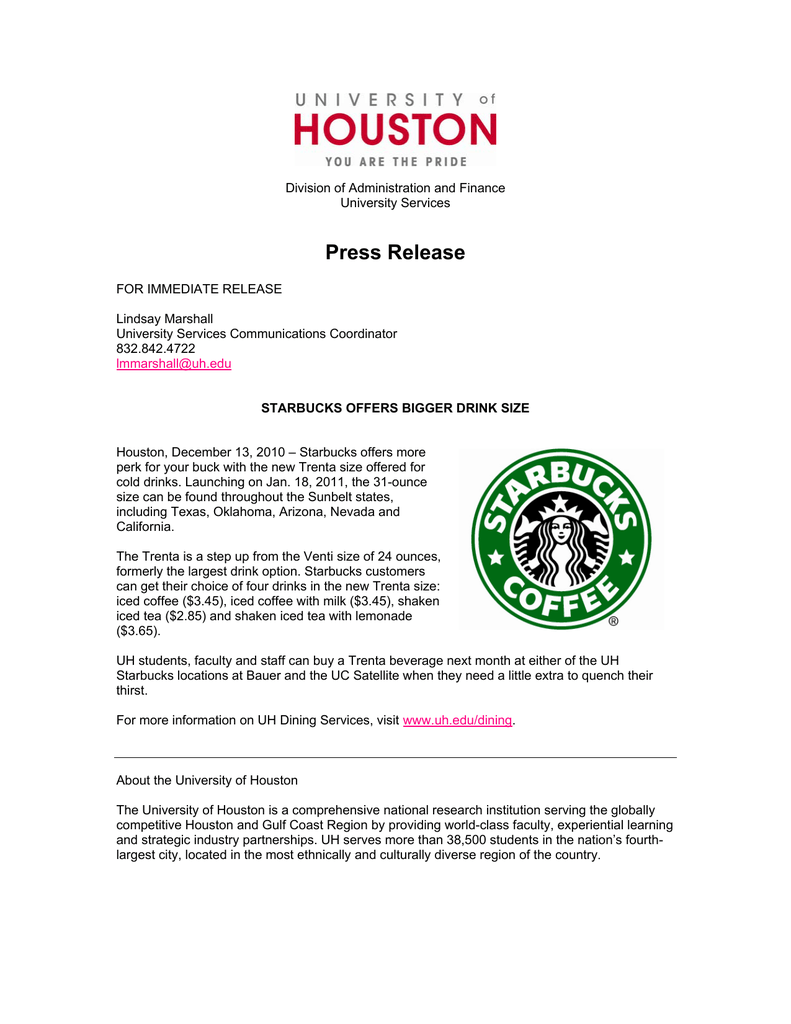 Division of Administration and Finance
University Services
Press Release
FOR IMMEDIATE RELEASE
Lindsay Marshall
University Services Communications Coordinator
832.842.4722
[email protected]
STARBUCKS OFFERS BIGGER DRINK SIZE
Houston, December 13, 2010 – Starbucks offers more
perk for your buck with the new Trenta size offered for
cold drinks. Launching on Jan. 18, 2011, the 31-ounce
size can be found throughout the Sunbelt states,
including Texas, Oklahoma, Arizona, Nevada and
California.
The Trenta is a step up from the Venti size of 24 ounces,
formerly the largest drink option. Starbucks customers
can get their choice of four drinks in the new Trenta size:
iced coffee ($3.45), iced coffee with milk ($3.45), shaken
iced tea ($2.85) and shaken iced tea with lemonade
($3.65).
UH students, faculty and staff can buy a Trenta beverage next month at either of the UH
Starbucks locations at Bauer and the UC Satellite when they need a little extra to quench their
thirst.
For more information on UH Dining Services, visit www.uh.edu/dining.
About the University of Houston
The University of Houston is a comprehensive national research institution serving the globally
competitive Houston and Gulf Coast Region by providing world-class faculty, experiential learning
and strategic industry partnerships. UH serves more than 38,500 students in the nation's fourthlargest city, located in the most ethnically and culturally diverse region of the country.