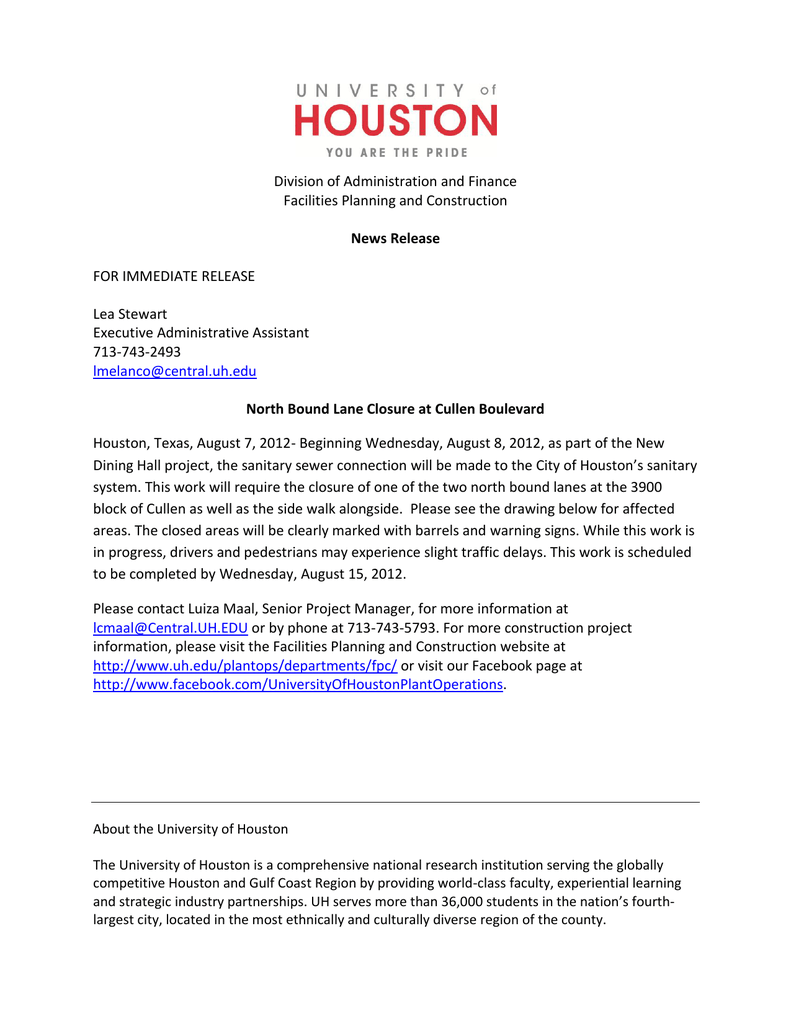 Division of Administration and Finance
Facilities Planning and Construction
News Release
FOR IMMEDIATE RELEASE
Lea Stewart
Executive Administrative Assistant
713-743-2493
[email protected]
North Bound Lane Closure at Cullen Boulevard
Houston, Texas, August 7, 2012- Beginning Wednesday, August 8, 2012, as part of the New
Dining Hall project, the sanitary sewer connection will be made to the City of Houston's sanitary
system. This work will require the closure of one of the two north bound lanes at the 3900
block of Cullen as well as the side walk alongside. Please see the drawing below for affected
areas. The closed areas will be clearly marked with barrels and warning signs. While this work is
in progress, drivers and pedestrians may experience slight traffic delays. This work is scheduled
to be completed by Wednesday, August 15, 2012.
Please contact Luiza Maal, Senior Project Manager, for more information at
[email protected] or by phone at 713-743-5793. For more construction project
information, please visit the Facilities Planning and Construction website at
http://www.uh.edu/plantops/departments/fpc/ or visit our Facebook page at
http://www.facebook.com/UniversityOfHoustonPlantOperations.
About the University of Houston
The University of Houston is a comprehensive national research institution serving the globally
competitive Houston and Gulf Coast Region by providing world-class faculty, experiential learning
and strategic industry partnerships. UH serves more than 36,000 students in the nation's fourthlargest city, located in the most ethnically and culturally diverse region of the county.