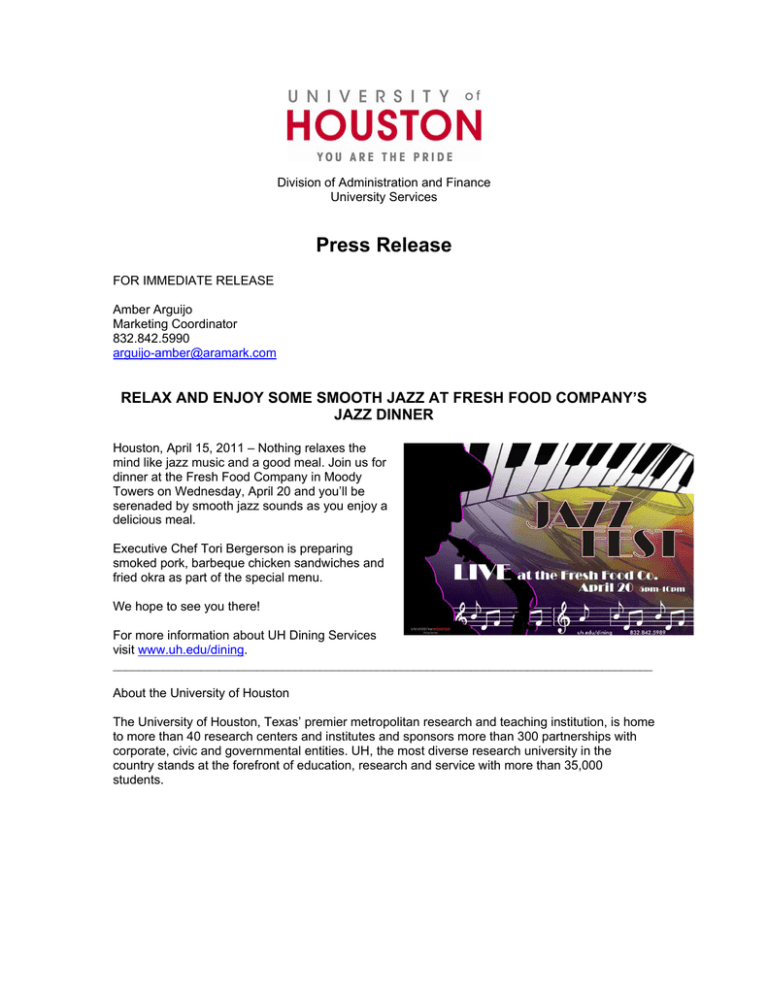 Division of Administration and Finance
University Services
Press Release
FOR IMMEDIATE RELEASE
Amber Arguijo
Marketing Coordinator
832.842.5990
arguijo-amber@aramark.com
RELAX AND ENJOY SOME SMOOTH JAZZ AT FRESH FOOD COMPANY'S
JAZZ DINNER
Houston, April 15, 2011 – Nothing relaxes the
mind like jazz music and a good meal. Join us for
dinner at the Fresh Food Company in Moody
Towers on Wednesday, April 20 and you'll be
serenaded by smooth jazz sounds as you enjoy a
delicious meal.
Executive Chef Tori Bergerson is preparing
smoked pork, barbeque chicken sandwiches and
fried okra as part of the special menu.
We hope to see you there!
For more information about UH Dining Services
visit www.uh.edu/dining.
______________________________________________________________________________________
About the University of Houston
The University of Houston, Texas' premier metropolitan research and teaching institution, is home
to more than 40 research centers and institutes and sponsors more than 300 partnerships with
corporate, civic and governmental entities. UH, the most diverse research university in the
country stands at the forefront of education, research and service with more than 35,000
students.