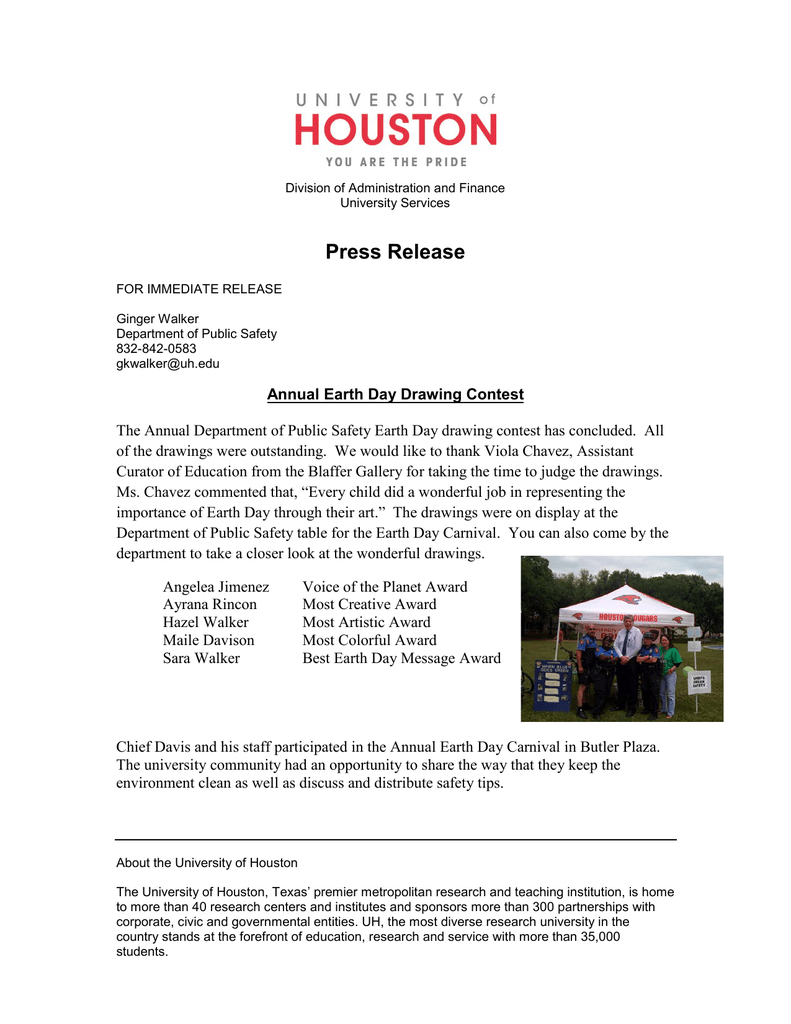 Division of Administration and Finance
University Services
Press Release
FOR IMMEDIATE RELEASE
Ginger Walker
Department of Public Safety
832-842-0583
[email protected]
Annual Earth Day Drawing Contest
The Annual Department of Public Safety Earth Day drawing contest has concluded. All
of the drawings were outstanding. We would like to thank Viola Chavez, Assistant
Curator of Education from the Blaffer Gallery for taking the time to judge the drawings.
Ms. Chavez commented that, "Every child did a wonderful job in representing the
importance of Earth Day through their art." The drawings were on display at the
Department of Public Safety table for the Earth Day Carnival. You can also come by the
department to take a closer look at the wonderful drawings.
Angelea Jimenez
Ayrana Rincon
Hazel Walker
Maile Davison
Sara Walker
Voice of the Planet Award
Most Creative Award
Most Artistic Award
Most Colorful Award
Best Earth Day Message Award
Chief Davis and his staff participated in the Annual Earth Day Carnival in Butler Plaza.
The university community had an opportunity to share the way that they keep the
environment clean as well as discuss and distribute safety tips.
About the University of Houston
The University of Houston, Texas' premier metropolitan research and teaching institution, is home
to more than 40 research centers and institutes and sponsors more than 300 partnerships with
corporate, civic and governmental entities. UH, the most diverse research university in the
country stands at the forefront of education, research and service with more than 35,000
students.