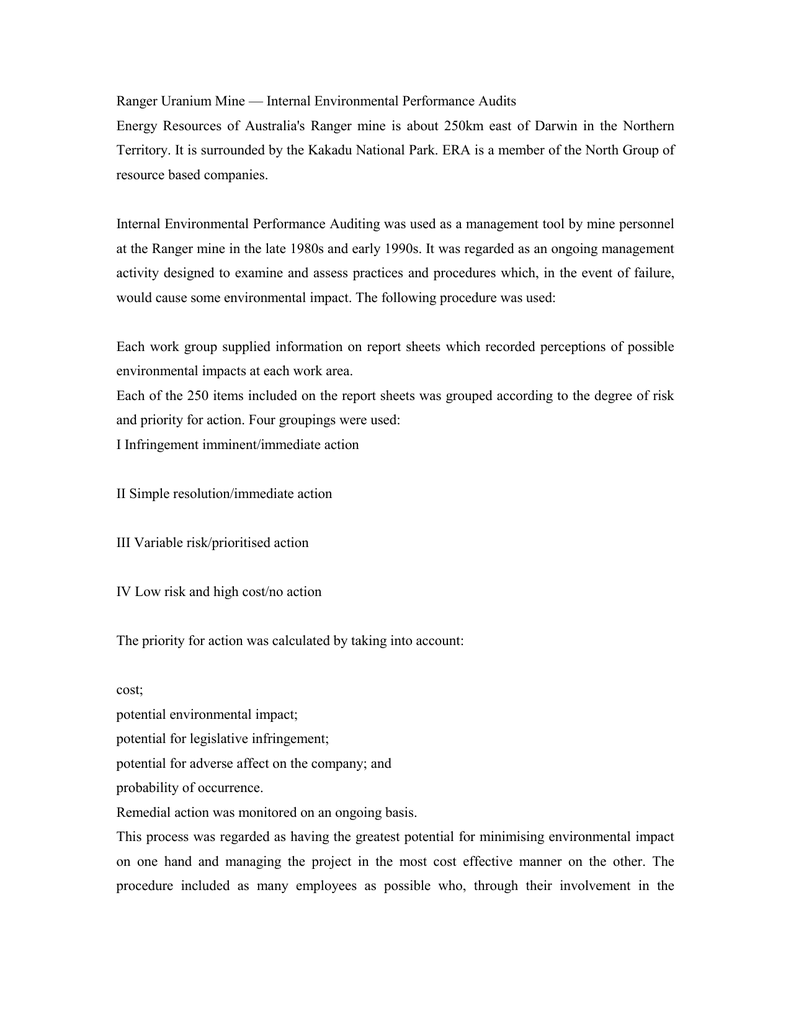 Ranger Uranium Mine — Internal Environmental Performance Audits
Energy Resources of Australia's Ranger mine is about 250km east of Darwin in the Northern
Territory. It is surrounded by the Kakadu National Park. ERA is a member of the North Group of
resource based companies.
Internal Environmental Performance Auditing was used as a management tool by mine personnel
at the Ranger mine in the late 1980s and early 1990s. It was regarded as an ongoing management
activity designed to examine and assess practices and procedures which, in the event of failure,
would cause some environmental impact. The following procedure was used:
Each work group supplied information on report sheets which recorded perceptions of possible
environmental impacts at each work area.
Each of the 250 items included on the report sheets was grouped according to the degree of risk
and priority for action. Four groupings were used:
I Infringement imminent/immediate action
II Simple resolution/immediate action
III Variable risk/prioritised action
IV Low risk and high cost/no action
The priority for action was calculated by taking into account:
cost;
potential environmental impact;
potential for legislative infringement;
potential for adverse affect on the company; and
probability of occurrence.
Remedial action was monitored on an ongoing basis.
This process was regarded as having the greatest potential for minimising environmental impact
on one hand and managing the project in the most cost effective manner on the other. The
procedure included as many employees as possible who, through their involvement in the
auditing process, became more familiar with operating environmental protection objectives. The
more serious potential impacts were targeted for immediate remedial action.
In 1994/95 the system evolved into a hazard reporting system accessible from all computer
terminals throughout the site.
Major advantages have been the definition of individual responsibility of all employees to report
environmental and safety hazards site-wide and a mechanism for regular (weekly) review and
update to ensure that reported hazards were being acted upon.
BS7750 Environmental Audit
The North Group has moved to standardise business units to one common platform of audit.
This allows for consistency of performance measurement across the range of business units in the
Group for the Board, shareholders and broader community. It also allows for environmental staff
from anywhere within the Group to conduct audits on other sites.
Environmental Risk Assessment
An Environmental Risk Assessment conducted by an independent consultant provided the
opportunity to focus on environmental risks of the plant. An independent expert in risk analysis
and chemical processing assessed any hazards and recommended actions to reduce the risk.
This assessment, carried out in 1995, assessed the site as well managed and recommended work
to further reduce risk in the area of hydrocarbon management including storages, pipe integrity
and bund construction and management.
General
The use of environmental auditing in its various forms has been a high priority for ERA. The
sensitivity of mining uranium adjacent to a World Heritage area owned by Aboriginal landowners
requires the company's environment performance to be at an extremely high level.
The information provides assurances to the company and its staff, to the other stakeholders in the
region and to statutory authorities. This is further complemented by the six-monthly
Environmental Performance Review conducted by the Office of the Supervising Scientist and the
Northern Territory Department of Mines and Energy (Case Study 3).
ERA completed mining of the first orebody at Ranger in 1994. To ensure that approvals are
gained to mine additional orebodies and that support from the Aboriginal landowners continues, it
is vital that the company is able to demonstrate a very high standard of environmental
management. Internal and external audits, assessments and reviews all play a part in this process.