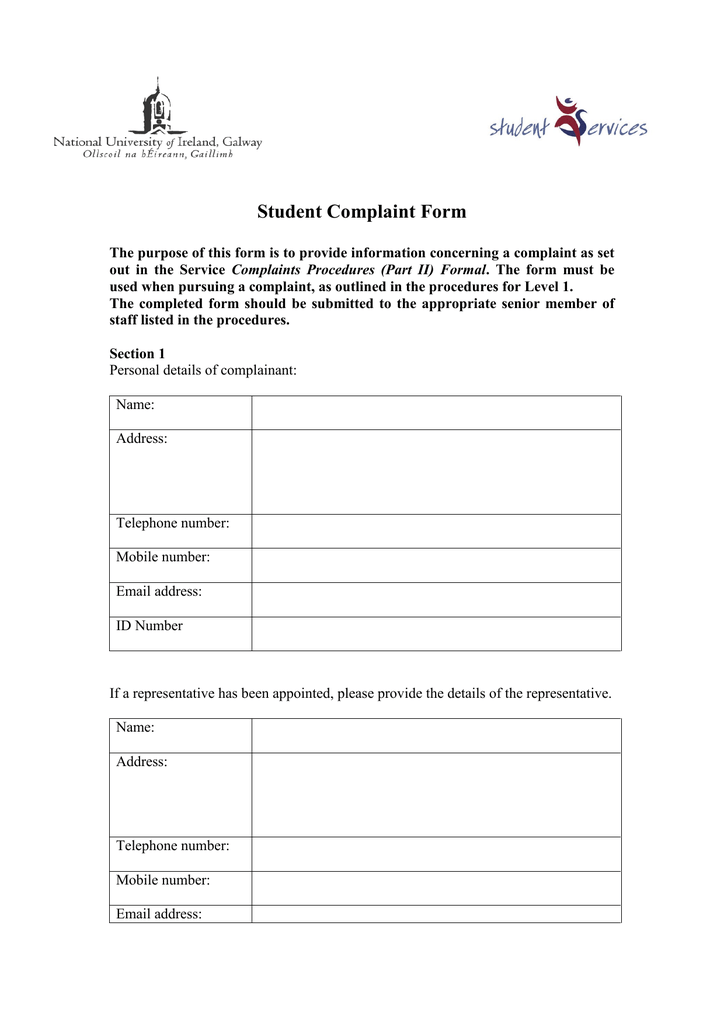 Student Complaint Form
The purpose of this form is to provide information concerning a complaint as set
out in the Service Complaints Procedures (Part II) Formal. The form must be
used when pursuing a complaint, as outlined in the procedures for Level 1.
The completed form should be submitted to the appropriate senior member of
staff listed in the procedures.
Section 1
Personal details of complainant:
Name:
Address:
Telephone number:
Mobile number:
Email address:
ID Number
If a representative has been appointed, please provide the details of the representative.
Name:
Address:
Telephone number:
Mobile number:
Email address:
Section 2
In order to investigate the complaint it will be necessary to reveal the identity of the
complainant to individuals other than the recipient of this form. Every effort will be
made to observe confidentiality and to ensure that information concerning this
complaint is restricted.
Please sign below to indicate that you understand that details of the complaint will be
provided to individuals where this is deemed necessary by the investigator.
Signed:
Date:
Section 3
Please set out below the main points of the complaint. The complaint will not
normally be considered if it is received after 12 months of the last incident to which
the complaint refers to or after 6 months if the complainant has left the institution,
whichever is the earlier.
Section 4
Please state the outcome you wish following consideration of the complaint.
Please provide the following:
(tick)
Chronology listing in date order all letters, phone calls and meetings that are
relevant to your complaint.
A copy of all relevant correspondence and other documentation.