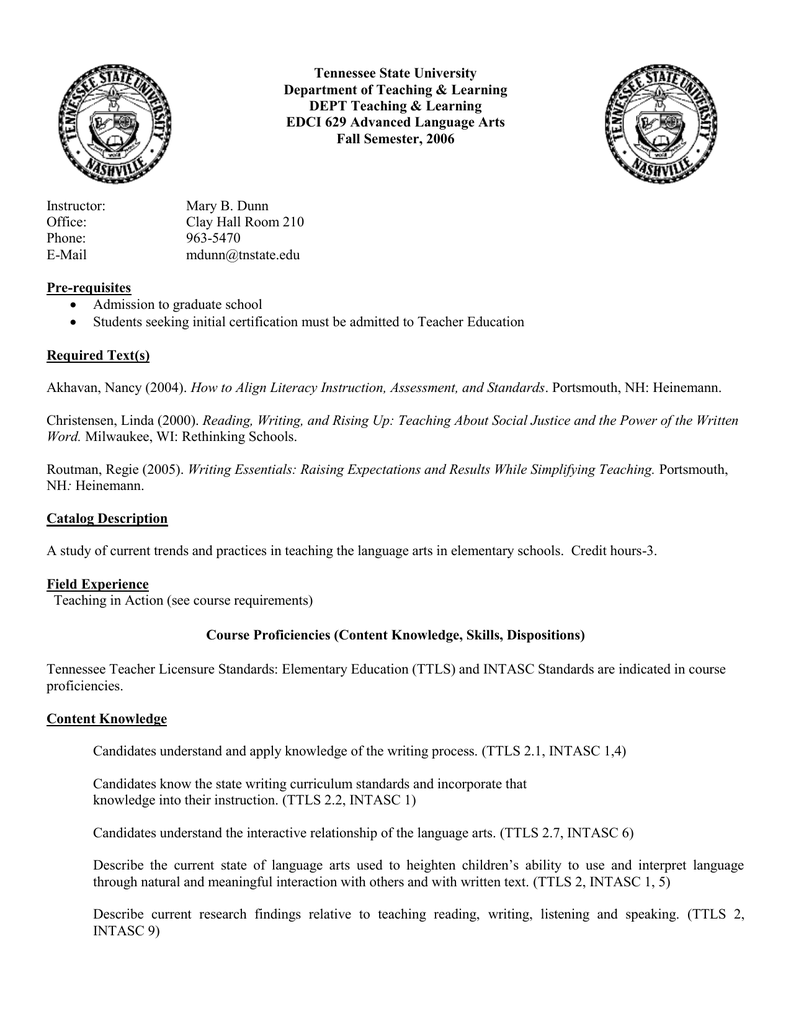 Tennessee State University
Department of Teaching & Learning
DEPT Teaching & Learning
EDCI 629 Advanced Language Arts
Fall Semester, 2006
Instructor:
Office:
Phone:
E-Mail
Mary B. Dunn
Clay Hall Room 210
963-5470
[email protected]
Pre-requisites
 Admission to graduate school
 Students seeking initial certification must be admitted to Teacher Education
Required Text(s)
Akhavan, Nancy (2004). How to Align Literacy Instruction, Assessment, and Standards. Portsmouth, NH: Heinemann.
Christensen, Linda (2000). Reading, Writing, and Rising Up: Teaching About Social Justice and the Power of the Written
Word. Milwaukee, WI: Rethinking Schools.
Routman, Regie (2005). Writing Essentials: Raising Expectations and Results While Simplifying Teaching. Portsmouth,
NH: Heinemann.
Catalog Description
A study of current trends and practices in teaching the language arts in elementary schools. Credit hours-3.
Field Experience
Teaching in Action (see course requirements)
Course Proficiencies (Content Knowledge, Skills, Dispositions)
Tennessee Teacher Licensure Standards: Elementary Education (TTLS) and INTASC Standards are indicated in course
proficiencies.
Content Knowledge
Candidates understand and apply knowledge of the writing process. (TTLS 2.1, INTASC 1,4)
Candidates know the state writing curriculum standards and incorporate that
knowledge into their instruction. (TTLS 2.2, INTASC 1)
Candidates understand the interactive relationship of the language arts. (TTLS 2.7, INTASC 6)
Describe the current state of language arts used to heighten children's ability to use and interpret language
through natural and meaningful interaction with others and with written text. (TTLS 2, INTASC 1, 5)
Describe current research findings relative to teaching reading, writing, listening and speaking. (TTLS 2,
INTASC 9)
Understand how to support student writing and revising, spelling and mechanics, and composing processes.(
TTLS 2, INTASC 1,2,4)
Understands how the organization of learning activities into ongoing literature-based and cross-curricular units of
instruction enables young learners to think critically and creatively. (INTASC 1,4)
Demonstrate broad and in depth knowledge of the subject matter areas with the ability to apply that knowledge in
the teaching/learning process. ( INTASC 1,2, 4)
Skills
Evaluate written products and assess students' progress both holistically and through the analysis of discrete
elements. (TTLS 2.4, INTASC 7, 8)
Demonstrate understanding of literacy processes and the ability to apply that knowledge to teaching. (TTLS 2,
INTASC 1, 7)
Demonstrate an ability to integrate the language arts—speaking, listening, reading, and writing—into the total
curriculum. (TTLS 2, INTASC1, 2)
Demonstrate ability to plan instruction that takes into account variations in learner abilities and backgrounds.
(TTLS 2, INTASC 3,7)
Display knowledge of the emerging stages of accurate spelling, including temporary spelling, and of phonemic
awareness and structural analysis of words. (TTLS 3.4, INTASC 8)
Model effective oral and written communication skills. (TTLS 3.7)
Dispositions
Acknowledge and respect the effect of cultural diversity and linguistic differences in the writing of
students whose first language is not English. (TTLS 2.6, INTASC 1,2,3)
Demonstrate empathy and caring through appropriate interactions with individuals, parents and professionals with
and beyond classroom settings. (TTLS 2, INTASC 10)
Promote cultural pluralism with and beyond educational settings by working constructively to address gender,
class, race, international and multicultural issues. (TTLS 2, INTASC 10)
Promote organization of language activities around the finest of literature, meaningful content from the social and
natural sciences, direct experiences with the world around, and experiences with language itself. Within this
framework, there will be sufficient attention to the development of basic communication skills and
understandings. (TTLS 2, INTASC 1,2,3)
Demonstrate a commitment to a safe and supportive learning environment. (TTLS 2, INTASC1,2,3)
Course Requirements & Grading System
COURSE REQUIREMENTS
Course Portfolio
You will construct a portfolio for this class. This portfolio will be presented to me during the final week of the semester. It
is a record of the work you have accomplished. A good portfolio should show growth—be conscious of this when you
begin to construct it. A portfolio should contain all of the products that pertain to your learning in this class, including
notes taken during lectures and class experiences.
Professional Literature Group (PLG)
Groups will meet for each class period to discuss text assignments and readings from professional journals. Each group
must prepare an agenda ex post facto. That is, within 3 days of each class meeting, your group should prepare, and email
to me, a record of the activity in the group. This should include not only what occurred, but also some flavor of the
questions and the discussion. This record should be written in narrative (as opposed to bulleted statements) form, and the
responsibility must be shared for its composition. Each person in the group should receive a copy of the record for
inclusion in the final portfolio. It should serve as enhancement of learning.
You will be expected to read widely, to respond to your reading and to present your reading to your PLG for discussions
with others. You should take notes on your readings. These notes should contain summaries of text and significant ideas
you wish to remember and review. These notes should be included as part of your portfolio.
Each group member will choose one research principle from those cited in "Key Research Findings," (Routman, page
263-266) and one corresponding referenced book or article. A written critique consisting of a summary and response to
the referenced article (no less than 250-300) words, will be shared with group member during PLG time and included in
your portfolio.
Writers' Workshop Group
One of my objectives for this course is to help you see and feel yourself as a writer who is capable of engaging an
audience of your peers. As a member of a small in-class writing group you will participate in writing experiences both in
and out of class meant to encourage your own writing. Writing experiences will draw on strategies outlined in Christensen
text. Completed work will be shared periodically with the entire class during "Author's Chair" sessions. Works in
progress should be included, with completed projects, in your portfolio,
Full credit for this project is dependent upon participating in the feedback process in your group. Your assessment of
group process should be included in portfolio.
Field Experience: Teaching In Action
Based on samples provided in text, students working toward certification will be responsible for planning a five day
writing lesson, the first day of which you will be expected to teach in an actual classroom setting. Lesson plans and
reflections on teaching experience should be included in course portfolio.
GRADING POLICY
Class Participation & Attendance
Author's Chair
Teaching in Action
Course Portfolio
30 Points
15 Points
10 extra points
(maximum 60 points)
ATTENDANCE: Consistent tardiness results in a 5% reduction in total score. All absences must be
excused
and makeup work submitted. The third absence results in a 5% reduction in total score. A fourth absence from class
results in a 10% reduction in final total score. A fifth absence from class will result in a 25% reduction in total score.
Portfolio Information (Artifact, Scoring Rubric)
Artifact for Teacher Education Portfolio
Advanced Language Arts Course Portfolio
Scoring Rubric for Artifact
Course Portfolio (maximum 60 points)
Minimal requirements (50 points):
-Literacy Belief Profile
-Records of PLG meeting
-Notes taken from class
-Notes taken from text & other assigned readings
(summaries and significant ideas)
- Professional Journal Article Critique
- Video Discussion Notes
-Reflections on PLG and Writer's Workshop Groups (what was the
experience like for you, how you see your experience translating into
your understanding of classroom learning and classroom practice)
-Text website supplementary materials
-Personal Writings, completed and in progress
-Teaching in Action Plans and Reflections (if applicable)
- Supplementary entries might include reflections on outside readings, classroom
observations, or change in Literacy Belief Profile responses
Portfolio Grading Rubric
60=signifies exceptional quality work & more than minimal requirements
50=signifies high quality work & minimal requirements
40=signifies competent completion of criterion
30=signifies partial completion of criterion
20=failure to complete criterion
10=failure to submit portfolio
Expectations and General Information:
1) Academic Integrity - You are responsible for what you achieve in this class; therefore neither cheating nor
plagiarism will be tolerated. Any material taken from another work must be documented, and in no case should one
represent another's work as one's own, this includes information received from others during examinations or
submitting another's assignments, papers, etc. as one's own. Students involved in collaborative research, to avoid
questions of plagiarism, should exercise extreme caution. If in doubt, students should check with the major professor.
In addition to the other possible disciplinary sanctions which may be imposed through the regular institutional
procedures as a result of academic misconduct, the instructor has the authority to assign an "F" or a zero for the
exercise or examination, or to assign an "F" in the course.
2) Classroom conduct – The instructor has the primary responsibility for control over classroom behavior and
maintenance of academic integrity, and can order temporary removal or exclusion from the classroom of any
student engaged in disruptive conduct or conduct in violation of the general rules and regulations of the
institution.
3) Official Course Enrollment - Students who are not on the official class roll may not remain in class. These
students must leave class and may not return to class until they enroll in the course and their names show up on
the official class roster. Please make sure you are in the correct section.
4) Disabled Student Services – Any student who has a condition which might interfere with his/her performance in
class is required to contact the office of Disabled Student Services. This office is located in room #117 Floyd
Payne Student Center. The phone number is 963-7400. They will provide you with a document stating what type
of classroom accommodations, if any, are to be made by the instructor. The student is to give a copy of this
document to the instructor no later than the end of the second week of class. Failure to do so will result in the
instructor making no special accommodations of any kind.
Additional Readings/Resources
Anderson, Carl. (2000). How's it going? A practical guide to conferring with student writers. Portsmouth, NH:
Heinemann.
Angelillo, Janet. (2003). Writing about reading: From book talk to literary essays, Grades 3-8. Portsmouth, NH:
Heinemann.
Atwell, N. (1990). Coming to know: Writing to learn in the intermediate grades. Portsmouth, NH: Heinemann.
Allen, J. and Gonzalez, K. (1998). There's room for me here: literacy workshop in the middle school. Portland, ME:
Stenhouse.
Bertrand, N. & Stice, C. (2002). Good teaching: An integrated approach to language, literacy, and learning.
Portsmouth,NH:Heinemann.
Calkins, L. (1994). The art of teaching writing. Portsmouth, NH: Heinemann.
Calkins, L. & Harwayne, S. (1991). Living between the lines. Portsmouth, NH: Heinemann.
Clay, M. (1975). What did I write? Portsmouth, NH: Heinemann.
Clay, M. (2001). Change over Time in Children's Literacy Development. Portsmouth, NH: Heinemann.
Fountas, Irene C., and Gay Su Pinnell. (2001). Guiding Readers and Writers Greades 3-6: Teaching Comprehension,
Genre, and Content Literacy. Portsmouth, NH:Heinemann.
Graves, D. (1983). Writing: Teachers and children at work. Portsmouth,NH: Heinemann.
Heard, Georgia. 1999. Awakening the Heart: Exploring Poetry in Elementary and Middle School. Portsmouth, NH:
Heinemann.
Newman, J. (1984). The craft of children's writing. Portsmouth, NH:Heinemann.
Newkirk, T. & Atwell, N. (1988). Understanding writing. Portsmouth, NH:Heinemann.
Pappas, C., Kiefer,B. & Levstik,L. (1999). An integrated language perspective in the elementary school:An action
approach. New York,NY:Longman.
Parry, J. & Hornsby, D. (1988). Write on: A conference approach to writing. Portsmouth, NH: Heinemann.
Ray, Katie Wood. (2001). The writing workshop:Working through the hard parts. Urbana,Ill: National Council of
Teachers.
Tomkins,G. and Collom, S. (2004). Sharing the pen: Interactive writing with young children. New Jersey: Pearson
Education, Inc.
Journals
Elementary School Journal
5 issues per year
This journal covers all subject areas, reports research, and presents think pieces for and by teachers,
researchers, administrators, and teacher educators.
The Horn Book
6 issues per year
This journal presents announcements of forthcoming works and reviews of children's literature.
fiction and nonfictional genres, the magazine also offers articles on using literature in the classroom.
Covering both
Language Arts
8 issues per year
This journal is the elementary language arts journal for the National Council of Teachers of English.
Each
monthly issue is themed. The journal contains articles dealing with issues in language arts and literacy development.
The New Advocate
4 issues per year
This journal promotes children's literature in the classroom and issues related to more humanistic instruction.
Reviews of children's literature are also included.
The Reading Teacher
9 issues per year
This journal focuses on practical application articles. It is the elementary journal of the International
Reading Association. Included in this publication is "Children's Choices", a list of books chosen by
children as their favourites.
Rethinking Schools
This is an independent, quarterly journal advocating the reform of elementary and secondary public schools and
issues of equity and social justice.
Young Children
6 issues per year
Covering the ages from preschool through the primary grades, this journal offers articles dealing with critical
issues of early childhood education.