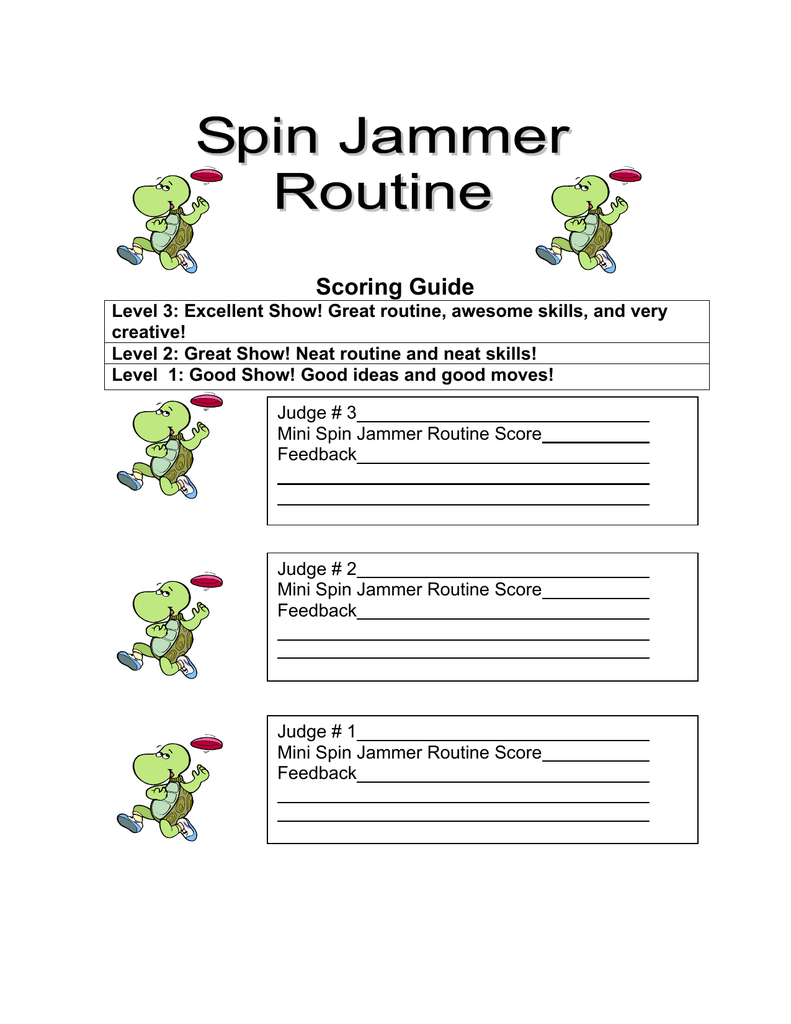 Scoring Guide
Level 3: Excellent Show! Great routine, awesome skills, and very
creative!
Level 2: Great Show! Neat routine and neat skills!
Level 1: Good Show! Good ideas and good moves!
Judge # 3
Mini Spin Jammer Routine Score
Feedback
Judge # 2
Mini Spin Jammer Routine Score
Feedback
Judge # 1
Mini Spin Jammer Routine Score
Feedback
It's time to show your stuff!
Your job is to come up with an individual mini routine
of your skills using the Spin Jammer Frisbees. Your
routine will be judged separately by at least 3 of your
classmates.
Your routine must consists of the following:
• 1 locomotor move
• a sequence of moves
• change of levels
• change of speeds
• smooth transition of moves
• flashy ending
Practice, Practice & Practice your routine! When your
ready, politely find any person in your class to
demonstrate your routine to. The person must be
sitting and watching your routine before giving you a
grade and feedback. Don't peek!!! Have that partner
fold the paper covering the grade they gave you. And
find 2 other people to share your routine with!
HAVE FUN and GOOD LUCK!