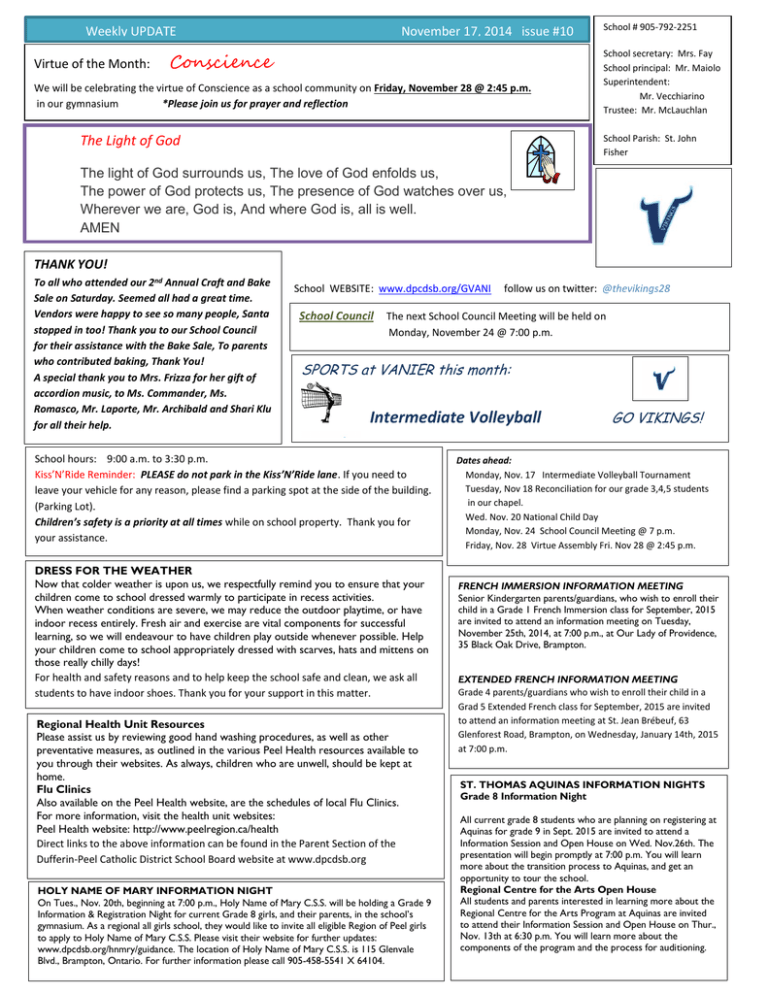 Weekly UPDATE
Virtue of the Month:
November 17, 2014 issue #10
Conscience
We will be celebrating the virtue of Conscience as a school community on Friday, November 28 @ 2:45 p.m.
in our gymnasium
*Please join us for prayer and reflection
The Light of God
The light of God surrounds us, The love of God enfolds us,
The power of God protects us, The presence of God watches over us,
Wherever we are, God is, And where God is, all is well.
AMEN
School # 905-792-2251
School secretary: Mrs. Fay
School principal: Mr. Maiolo
Superintendent:
Mr. Vecchiarino
Trustee: Mr. McLauchlan
School Parish: St. John
Fisher
Pastor: Fr. Grima
THANK YOU!
To all who attended our 2nd Annual Craft and Bake
VISIT O
Sale on Saturday. Seemed all had a great time.
Vendors were happy to see so many people, Santa
stopped in too! Thank you to our School Council
for their assistance with the Bake Sale, To parents
who contributed baking, Thank You!
A special thank you to Mrs. Frizza for her gift of
accordion music, to Ms. Commander, Ms.
Romasco, Mr. Laporte, Mr. Archibald and Shari Klu
for all their help.
School WEBSITE: www.dpcdsb.org/GVANI
School Council
follow us on twitter: @thevikings28
The next School Council Meeting will be held on
Monday, November 24 @ 7:00 p.m.
SPORTS at VANIER this month:
Intermediate Volleyball
School hours: 9:00 a.m. to 3:30 p.m.
Kiss'N'Ride Reminder: PLEASE do not park in the Kiss'N'Ride lane. If you need to
leave your vehicle for any reason, please find a parking spot at the side of the building.
(Parking Lot).
Children's safety is a priority at all times while on school property. Thank you for
your assistance.
DRESS FOR THE WEATHER
Now that colder weather is upon us, we respectfully remind you to ensure that your
children come to school dressed warmly to participate in recess activities.
When weather conditions are severe, we may reduce the outdoor playtime, or have
indoor recess entirely. Fresh air and exercise are vital components for successful
learning, so we will endeavour to have children play outside whenever possible. Help
your children come to school appropriately dressed with scarves, hats and mittens on
those really chilly days!
For health and safety reasons and to help keep the school safe and clean, we ask all
students to have indoor shoes. Thank you for your support in this matter.
Regional Health Unit Resources
Please assist us by reviewing good hand washing procedures, as well as other
preventative measures, as outlined in the various Peel Health resources available to
you through their websites. As always, children who are unwell, should be kept at
home.
Flu Clinics
Also available on the Peel Health website, are the schedules of local Flu Clinics.
For more information, visit the health unit websites:
Peel Health website: http://www.peelregion.ca/health
Direct links to the above information can be found in the Parent Section of the
Dufferin-Peel Catholic District School Board website at www.dpcdsb.org
HOLY NAME OF MARY INFORMATION NIGHT
On Tues., Nov. 20th, beginning at 7:00 p.m., Holy Name of Mary C.S.S. will be holding a Grade 9
Information & Registration Night for current Grade 8 girls, and their parents, in the school's
gymnasium. As a regional all girls school, they would like to invite all eligible Region of Peel girls
to apply to Holy Name of Mary C.S.S. Please visit their website for further updates:
www.dpcdsb.org/hnmry/guidance. The location of Holy Name of Mary C.S.S. is 115 Glenvale
Blvd., Brampton, Ontario. For further information please call 905-458-5541 X 64104.
GO VIKINGS!
Dates ahead:
Monday, Nov. 17 Intermediate Volleyball Tournament
Tuesday, Nov 18 Reconciliation for our grade 3,4,5 students
in our chapel.
Wed. Nov. 20 National Child Day
Monday, Nov. 24 School Council Meeting @ 7 p.m.
Friday, Nov. 28 Virtue Assembly Fri. Nov 28 @ 2:45 p.m.
FRENCH IMMERSION INFORMATION MEETING
Senior Kindergarten parents/guardians, who wish to enroll their
child in a Grade 1 French Immersion class for September, 2015
are invited to attend an information meeting on Tuesday,
November 25th, 2014, at 7:00 p.m., at Our Lady of Providence,
35 Black Oak Drive, Brampton.
EXTENDED FRENCH INFORMATION MEETING
Grade 4 parents/guardians who wish to enroll their child in a
Grad 5 Extended French class for September, 2015 are invited
to attend an information meeting at St. Jean Brébeuf, 63
Glenforest Road, Brampton, on Wednesday, January 14th, 2015
at 7:00 p.m.
ST. THOMAS AQUINAS INFORMATION NIGHTS
Grade 8 Information Night
All current grade 8 students who are planning on registering at
Aquinas for grade 9 in Sept. 2015 are invited to attend a
Information Session and Open House on Wed. Nov.26th. The
presentation will begin promptly at 7:00 p.m. You will learn
more about the transition process to Aquinas, and get an
opportunity to tour the school.
Regional Centre for the Arts Open House
All students and parents interested in learning more about the
Regional Centre for the Arts Program at Aquinas are invited
to attend their Information Session and Open House on Thur.,
Nov. 13th at 6:30 p.m. You will learn more about the
components of the program and the process for auditioning.