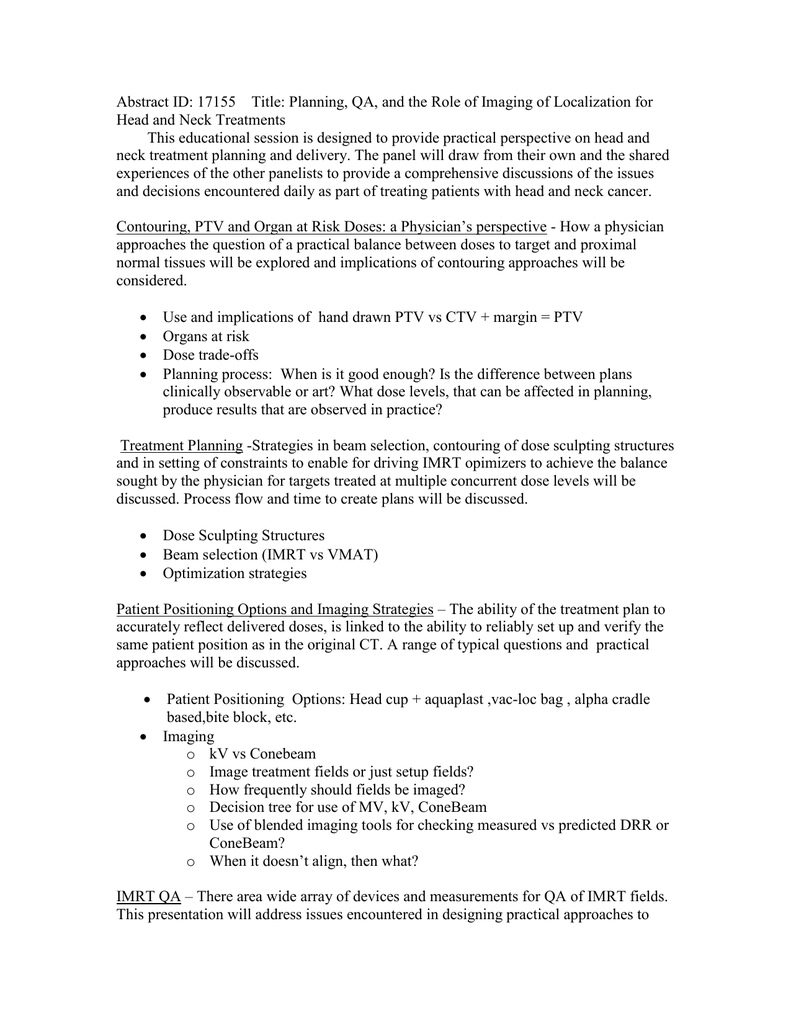 Abstract ID: 17155 Title: Planning, QA, and the Role of Imaging of Localization for
Head and Neck Treatments
This educational session is designed to provide practical perspective on head and
neck treatment planning and delivery. The panel will draw from their own and the shared
experiences of the other panelists to provide a comprehensive discussions of the issues
and decisions encountered daily as part of treating patients with head and neck cancer.
Contouring, PTV and Organ at Risk Doses: a Physician's perspective - How a physician
approaches the question of a practical balance between doses to target and proximal
normal tissues will be explored and implications of contouring approaches will be
considered.




Use and implications of hand drawn PTV vs CTV + margin = PTV
Organs at risk
Dose trade-offs
Planning process: When is it good enough? Is the difference between plans
clinically observable or art? What dose levels, that can be affected in planning,
produce results that are observed in practice?
Treatment Planning -Strategies in beam selection, contouring of dose sculpting structures
and in setting of constraints to enable for driving IMRT opimizers to achieve the balance
sought by the physician for targets treated at multiple concurrent dose levels will be
discussed. Process flow and time to create plans will be discussed.



Dose Sculpting Structures
Beam selection (IMRT vs VMAT)
Optimization strategies
Patient Positioning Options and Imaging Strategies – The ability of the treatment plan to
accurately reflect delivered doses, is linked to the ability to reliably set up and verify the
same patient position as in the original CT. A range of typical questions and practical
approaches will be discussed.


Patient Positioning Options: Head cup + aquaplast ,vac-loc bag , alpha cradle
based,bite block, etc.
Imaging
o kV vs Conebeam
o Image treatment fields or just setup fields?
o How frequently should fields be imaged?
o Decision tree for use of MV, kV, ConeBeam
o Use of blended imaging tools for checking measured vs predicted DRR or
ConeBeam?
o When it doesn't align, then what?
IMRT QA – There area wide array of devices and measurements for QA of IMRT fields.
This presentation will address issues encountered in designing practical approaches to
demonstrate that the dose planned for a patient can be delivered with acceptable
accuracy. The strengths and weaknesses of QA approaches will be discussed.


Measurement devices, strategies and basis for choice
Is gamma analysis alone sufficient? What else is used instead?