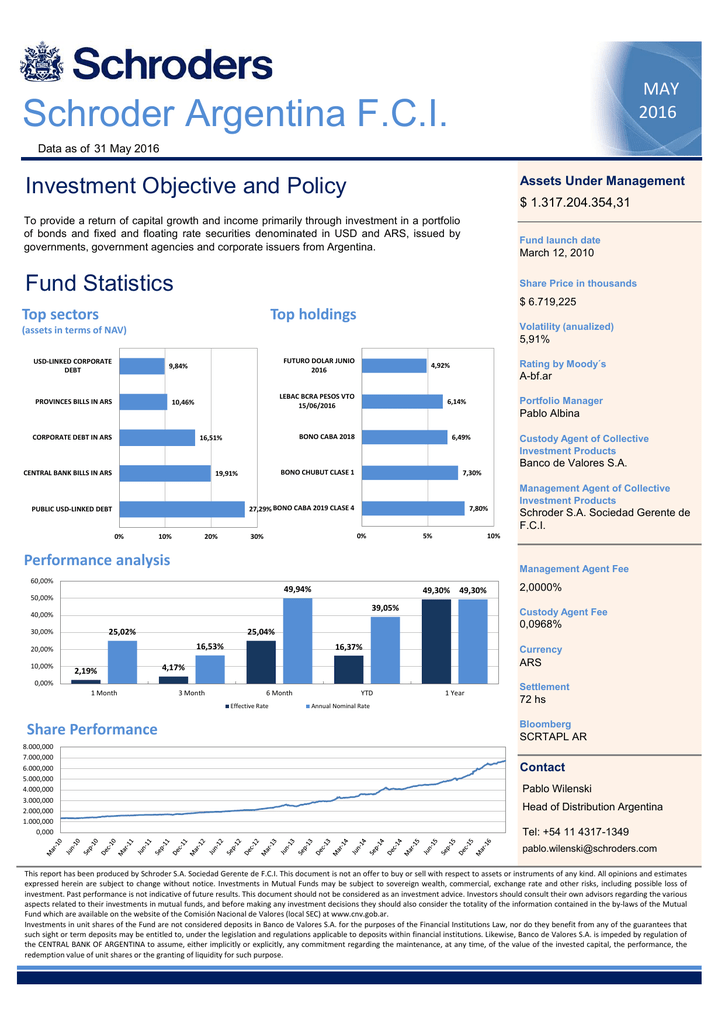 MAY
2016
Schroder Argentina F.C.I.
Data as of 31 May 2016
Assets Under Management
Investment Objective and Policy
$ 1.317.204.354,31
To provide a return of capital growth and income primarily through investment in a portfolio
of bonds and fixed and floating rate securities denominated in USD and ARS, issued by
governments, government agencies and corporate issuers from Argentina.
Fund launch date
March 12, 2010
Fund Statistics
Share Price in thousands
Top sectors
$ 6.719,225
Top holdings
Volatility (anualized)
(assets in terms of NAV)
USD-LINKED CORPORATE
DEBT
5,91%
FUTURO DOLAR JUNIO
2016
9,84%
PROVINCES BILLS IN ARS
CORPORATE DEBT IN ARS
A-bf.ar
LEBAC BCRA PESOS VTO
15/06/2016
10,46%
Portfolio Manager
6,14%
Pablo Albina
BONO CABA 2018
16,51%
Rating by Moody´s
4,92%
6,49%
Custody Agent of Collective
Investment Products
Banco de Valores S.A.
CENTRAL BANK BILLS IN ARS
BONO CHUBUT CLASE 1
19,91%
7,30%
27,29% BONO CABA 2019 CLASE 4
PUBLIC USD-LINKED DEBT
0%
10%
20%
7,80%
0%
30%
5%
Management Agent Fee
60,00%
49,94%
50,00%
49,30%
49,30%
39,05%
40,00%
16,53%
2,19%
0,0968%
16,37%
Currency
ARS
4,17%
0,00%
1 Month
3 Month
6 Month
Effective Rate
Share Performance
8.000,000
7.000,000
6.000,000
5.000,000
4.000,000
3.000,000
2.000,000
1.000,000
0,000
2,0000%
Custody Agent Fee
25,04%
25,02%
20,00%
10,00%
Schroder S.A. Sociedad Gerente de
F.C.I.
10%
Performance analysis
30,00%
Management Agent of Collective
Investment Products
YTD
Annual Nominal Rate
1 Year
Settlement
72 hs
Bloomberg
SCRTAPL AR
Contact
Pablo Wilenski
Head of Distribution Argentina
Tel: +54 11 4317-1349
[email protected]
This report has been produced by Schroder S.A. Sociedad Gerente de F.C.I. This document is not an offer to buy or sell with respect to assets or instruments of any kind. All opinions and estimates
expressed herein are subject to change without notice. Investments in Mutual Funds may be subject to sovereign wealth, commercial, exchange rate and other risks, including possible loss of
investment. Past performance is not indicative of future results. This document should not be considered as an investment advice. Investors should consult their own advisors regarding the various
aspects related to their investments in mutual funds, and before making any investment decisions they should also consider the totality of the information contained in the by-laws of the Mutual
Fund which are available on the website of the Comisión Nacional de Valores (local SEC) at www.cnv.gob.ar.
Investments in unit shares of the Fund are not considered deposits in Banco de Valores S.A. for the purposes of the Financial Institutions Law, nor do they benefit from any of the guarantees that
such sight or term deposits may be entitled to, under the legislation and regulations applicable to deposits within financial institutions. Likewise, Banco de Valores S.A. is impeded by regulation of
the CENTRAL BANK OF ARGENTINA to assume, either implicitly or explicitly, any commitment regarding the maintenance, at any time, of the value of the invested capital, the performance, the
redemption value of unit shares or the granting of liquidity for such purpose.