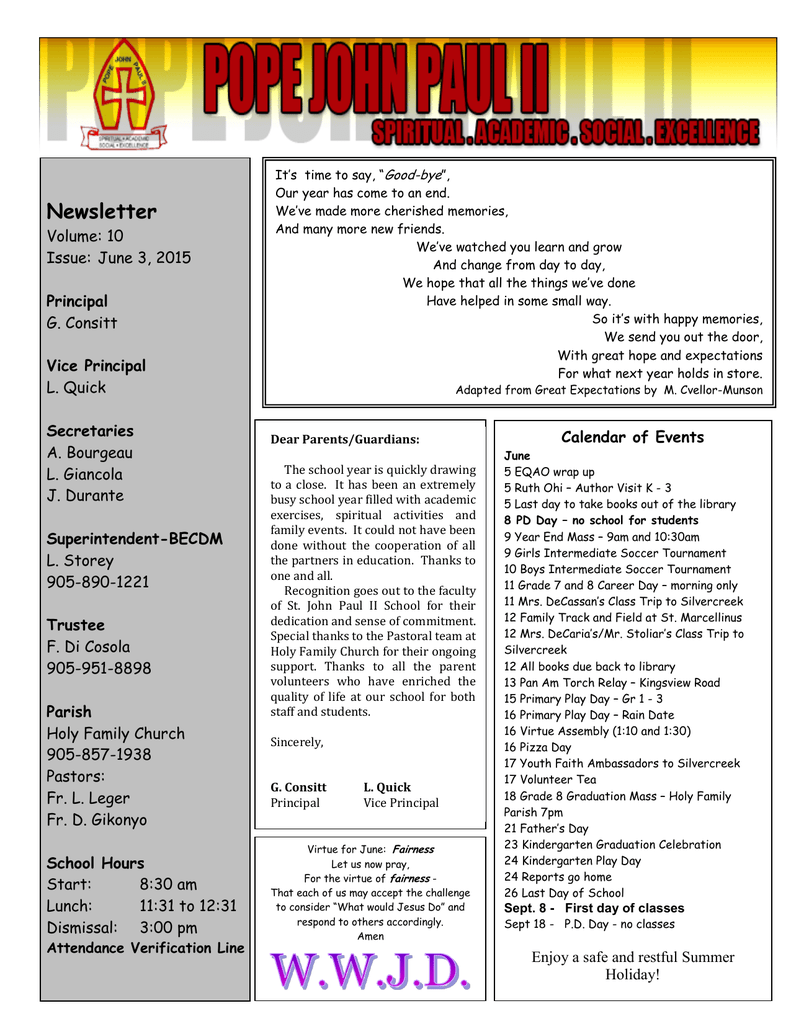 Newsletter
Volume: 10
Issue: June 3, 2015
Principal
G. Consitt
Vice Principal
L. Quick
Secretaries
A. Bourgeau
L. Giancola
J. Durante
Superintendent-BECDM
L. Storey
905-890-1221
Trustee
F. Di Cosola
905-951-8898
Parish
Holy Family Church
905-857-1938
Pastors:
Fr. L. Leger
Fr. D. Gikonyo
School Hours
Start:
8:30 am
Lunch:
11:31 to 12:31
Dismissal: 3:00 pm
Attendance Verification Line
It's time to say, "Good-bye",
Our year has come to an end.
905-857-4241
press 1memories,
We've
made more cherished
And many more new friends.
We've watched you learn and grow
And change from day to day,
We hope that all the things we've done
Have helped in some small way.
So it's with happy memories,
We send you out the door,
With great hope and expectations
For what next year holds in store.
Adapted from Great Expectations by M. Cvellor-Munson
Dear Parents/Guardians:
The school year is quickly drawing
to a close. It has been an extremely
busy school year filled with academic
exercises, spiritual activities and
family events. It could not have been
done without the cooperation of all
the partners in education. Thanks to
one and all.
Recognition goes out to the faculty
of St. John Paul II School for their
dedication and sense of commitment.
Special thanks to the Pastoral team at
Holy Family Church for their ongoing
support. Thanks to all the parent
volunteers who have enriched the
quality of life at our school for both
staff and students.
Sincerely,
G. Consitt
Principal
L. Quick
Vice Principal
Virtue for June: Fairness
Let us now pray,
For the virtue of fairness That each of us may accept the challenge
to consider "What would Jesus Do" and
respond to others accordingly.
Amen
Calendar of Events
June
5 EQAO wrap up
5 Ruth Ohi – Author Visit K - 3
5 Last day to take books out of the library
8 PD Day – no school for students
9 Year End Mass – 9am and 10:30am
9 Girls Intermediate Soccer Tournament
10 Boys Intermediate Soccer Tournament
11 Grade 7 and 8 Career Day – morning only
11 Mrs. DeCassan's Class Trip to Silvercreek
12 Family Track and Field at St. Marcellinus
12 Mrs. DeCaria's/Mr. Stoliar's Class Trip to
Silvercreek
12 All books due back to library
13 Pan Am Torch Relay – Kingsview Road
15 Primary Play Day – Gr 1 - 3
16 Primary Play Day – Rain Date
16 Virtue Assembly (1:10 and 1:30)
16 Pizza Day
17 Youth Faith Ambassadors to Silvercreek
17 Volunteer Tea
18 Grade 8 Graduation Mass – Holy Family
Parish 7pm
21 Father's Day
23 Kindergarten Graduation Celebration
24 Kindergarten Play Day
24 Reports go home
26 Last Day of School
Sept. 8 - First day of classes
Sept 18 - P.D. Day - no classes
Enjoy a safe and restful Summer
Holiday!