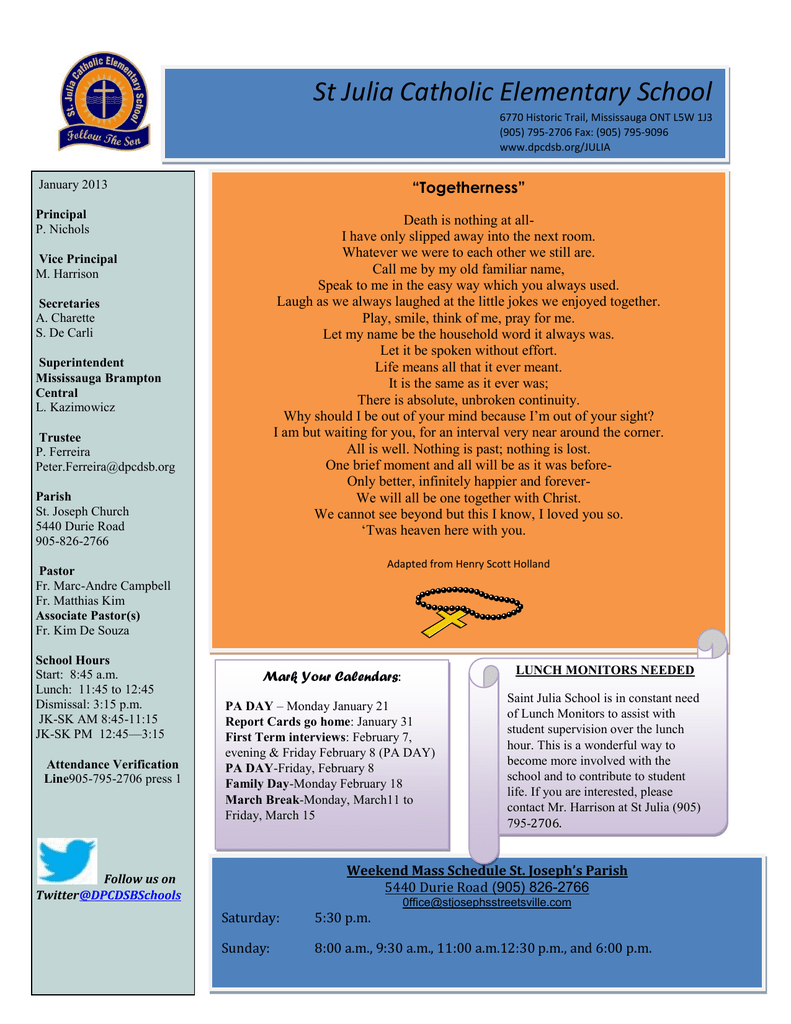 St Julia Catholic Elementary School
St. Julia Catholic
6770 Historic Trail, Mississauga ONT L5W 1J3
(905) 795-2706 Fax: (905) 795-9096
www.dpcdsb.org/JULIA
"Togetherness"
January 2013
Principal
P. Nichols
Death is nothing at allI have only slipped away into the next room.
Whatever we were to each other we still are.
Call me by my old familiar name,
Speak to me in the easy way which you always used.
Laugh as we always laughed at the little jokes we enjoyed together.
Play, smile, think of me, pray for me.
Let my name be the household word it always was.
Let it be spoken without effort.
Life means all that it ever meant.
It is the same as it ever was;
There is absolute, unbroken continuity.
Why should I be out of your mind because I'm out of your sight?
I am but waiting for you, for an interval very near around the corner.
All is well. Nothing is past; nothing is lost.
One brief moment and all will be as it was beforeOnly better, infinitely happier and foreverWe will all be one together with Christ.
We cannot see beyond but this I know, I loved you so.
'Twas heaven here with you.
Vice Principal
M. Harrison
Secretaries
A. Charette
S. De Carli
Superintendent
Mississauga Brampton
Central
L. Kazimowicz
Trustee
P. Ferreira
[email protected]
Parish
St. Joseph Church
5440 Durie Road
905-826-2766
Adapted from Henry Scott Holland
Pastor
Fr. Marc-Andre Campbell
Fr. Matthias Kim
Associate Pastor(s)
Fr. Kim De Souza
School Hours
Start: 8:45 a.m.
Lunch: 11:45 to 12:45
Dismissal: 3:15 p.m.
JK-SK AM 8:45-11:15
JK-SK PM 12:45—3:15
Attendance Verification
Line905-795-2706 press 1
Mark Your Calendars:
LUNCH MONITORS NEEDED
PA DAY – Monday January 21
Report Cards go home: January 31
First Term interviews: February 7,
evening & Friday February 8 (PA DAY)
PA DAY-Friday, February 8
Family Day-Monday February 18
March Break-Monday, March11 to
Friday, March 15
Saint Julia School is in constant need
of Lunch Monitors to assist with
student supervision over the lunch
hour. This is a wonderful way to
become more involved with the
school and to contribute to student
life. If you are interested, please
contact Mr. Harrison at St Julia (905)
795-2706.
Weekend Mass Schedule St. Joseph's Parish
5440 Durie Road (905) 826-2766
Follow us on
[email protected]
[email protected]
Saturday:
5:30 p.m.
Sunday:
8:00 a.m., 9:30 a.m., 11:00 a.m.12:30 p.m., and 6:00 p.m.
AROUND THE HALLS
.
RUTH
On Monday, January 7, 2013 staff and students came
together in prayer for a special liturgy in Ruth's memory.
Our choir sang beautifully and it was wonderful to see so
many of our parents and our trustee Peter Ferreira in
attendance. Throughout the day students wrote cards,
decorated our altar and filled our front display case with
wonderful memories of Ruth. Ruth Katelyn's light will
shine brightly at St. Julia school. We will continue with
many of the activities we have started such as our annual
Run for Ruth to raise funds for Brainchild and the making
of Rosary bracelets. The Student Council has chosen to
direct some of their fundraising money to begin creating a
Peace Garden in memory of Ruth. Each year we will
add greenery to our garden during our Year End
Mass. On Monday, January 14 our Youth Faith
Ambassadors will be selling Rosary bracelets for $3.00
each. All proceeds will go towards the Peace Garden.
We would like to thank the Dufferin Peel Educational
Resource workers Association for their generous donation
towards our Peace Garden.
PIZZA LUNCH
Please note that the new Dominos Pizza Cycle starts on
Tuesday, February 12, 2013 and runs until Tuesday,
June 25, 2013 (inclusive).
SUB FRIDAYS
The next cycle for the Sub Days begins on Friday
February 15, 2013 and runs until June 21, 2013
(inclusive).
INTERNET SAFETY
Many students use the Internet as a communication tool.
They are using "hot mail" to send and receive messages. At
times, students receive messages that are lewd or are sent
with an intent to harass or threaten. Listed below are some
online Internet safety tips that you may want to refer to when
discussing Internet use at home with your child.
• Get to know the Internet and any services your child uses. If
you don't know how to log on, get your child to show you. Have
your child show you what he or she does online, and become
familiar with all the things that you can do online.
• Set reasonable rules and guidelines for computer use by your
children. Discuss these rules and post them near the computer as
a reminder. Remember to monitor your children's compliance
with these rules, especially when it comes to the amount of time
your children spend on the computer.
• Be sure to make this a family activity. Consider keeping the
computer in a family room rather than the child's bedroom. Get to
know their "online friends" just as you get to know all of their
other friends.
PEEL POLICE VISIT
On January 9, 2013, St. Julia was pleased to host two members of
our Peel Police force for a presentation to our Intermediate
students. Our Intermediate teachers were delighted to have the
opportunity to tailor the presentation to the needs of their classes.
Teachers asked that, in addition to the general themes of cyberbullying, police speak more specifically to the pitfalls regarding
use and abuse of social media sites such as Facebook and Twitter.
We would like to thank the Peel Police for their continued
cooperation in assuring that Saint Julia students are safe and
secure, not only at school and in the neighborhood, but in all their
on-line activities as well.
AROUND THE HALLS
FIRST TERM REPORT CARD AND
REPORTING
Report cards will be sent home with students in
grades 1 to 8 on Tuesday, February 5, 2013. Junior
and Senior Kindergarten students do not receive a
formal report card at this time. A request for
Teacher/Parent/Student conferences will be sent
home to all parents of students in Junior kindergarten
to grade 8. Parents are asked to complete and send
the conference form back to the classroom teacher so
an interview time can be arranged. You will receive
confirmation of the interview schedules on Tuesday,
February 5. Interview times have been set aside for
the evening of Thursday, February 7 all day and
Friday February 8. We look forward to discussing
your child's progress with you.
ANAPHYLACTIC SHOCK
Please be aware that there are pupils in the school
with a severe life threatening food allergy
(anaphylaxis). This is a medical reaction that causes
a severe reaction to certain allergens and can result in
death within minutes. Although this may or may not
affect your child's class directly, please do not send
any peanut or nut products to school. Please consider
sending non edible items for birthdays, such as
stickers, erasers or pencils. Thank you for your
understanding and cooperation.
ALL STAR READING
The All Star reading program at St. Julia helps to
make our students better readers. Many thanks to our
volunteers who work so hard each week. If you are
interested in volunteering for this valuable program
please contact Ms. Beaty.
JUNIOR AND SENIOR KINDERGARTEN
REGISTRATION FOR 2013-14
Registration for Junior and Senior Kindergarten for the
2013-14 school year, will take place at St. Julia the
following days:
Monday, January 28, 2013 7 p.m. - 9 p.m.*
Wednesday, January 30, 2013 9 a.m. – 3 p.m.
Thursday, January 31, 2013 9 a.m. – 3 p.m.
Friday, February 1, 2013 9 a.m. – 3 p.m.
* Snow Date: Tuesday, January 29, 2013 7 p.m. - 9 p.m.
For more information, call or visit www.dpcdsb.org
2013 ATLANTIC SALMON HATCHERY PROGRAM
We are excited to participate in The Lake Ontario Atlantic
Salmon Restoration Program which offers a classroom
Hatchery Program. . Salmon raised in the hatchery become
part of the overall number released into the target streams
annually.
The goals of the program are to:




engage students in a large-scale, historic restoration
effort;
deliver messages on habitat, stewardship, and
biodiversity using Atlantic salmon and the Greenbelt
as tangible examples of those concepts;
foster a sense of ownership and stewardship towards
an environment that now has "their" fish; and
achieve a broader public awareness for the Lake
Ontario Atlantic Salmon Restoration Program as the
students take their experiences with the classroom
hatcheries back to their families and communities.
This year the grade two students will have the opportunity to
"adopt" a salmon and release it into the Credit River in late
April- June. The incubator will be placed in the library for all
classes to see and share in the experience. We hope to
continue this partnership in subsequent years so more students
will have this opportunity.
WARM WINTER CLOTHING
The cold weather has arrived and it is important
that all students come to school with warm clothing
for playing outside. (Snow pants, hats, gloves,
scarves and boots.) Unless weather conditions are
extreme, students will go outside during recesses
for fresh air. We obtain our information from
Environment Canada and follow Board guidelines
when making decisions to limit the amount of
outdoor play.
INDOOR SHOES
Please ensure that your child has a pair of shoes to
wear indoors in the event that there is an
emergency evacuation. Students will not have time
to put on shoes, boots or coats. Indoor shoes are
important for students to wear to keep their feet
warm during the winter months.
STUDENT COUNCIL NEWS
Student Council Candy Grams were a success again this
Christmas season bringing in nearly $400.00 of proceeds
towards Share Life. The Student Council would especially
like to thank those teachers and students who gave up their
morning recesses to sell Candy Grams which made this
project a success!
PARENT INFORMATION
"Every Child, Every Day"
Literacy, the ability to read and write effectively, is a goal of
every school for their students, and indeed of every parent for
their child. In recent years, research has given us insight into
which strategies are more and less effective in promoting literacy
development. Here, we outline six elements of literacy
instruction that research tells us that every child should
experience every day. Each of these elements can be
implemented in any district and any school, (and in almost any
home). All that's necessary is for adults to make the decision to
do it.
1. Every child reads something he or she chooses.
This is key for motivation.
2. Every child reads accurately.
Don't overmatch a student. Let them be successful.
3. Every child reads something he or she understands.
Comprehension is the ultimate goal of reading.
4. Every child writes about something personally meaningful.
Worksheets and fill-in-the-blanks don't allow students to use the
conventions of writing to communicate what they want to say.
5. Every child talks with peers about reading and writing.
When students analyze, comment, and compare in conversation
with peers, comprehension increases.
6. Every child listens to a fluent adult read aloud.
Listening to an adult model fluent reading increases students'
own fluency and comprehension skills.
WALKING WEDNESDAYS
Walking Wednesdays are backat St. Julia. Yes, Wednesday's
the perfect day to change your routine and and plan to walk to
school. Those who walk to school can visit our walking
Wednesday helpers at the front of the school upon arrival,
where each walker will receive the coveted walking Wednesday
hand stamps. Each week, the class with the best participation
will be honoured with their name on the Golden shoe of Midas.
So make your plan now to join us in walking to school every
Wednesday.
INTRAMURALS
Intramurals began on January 7, 2013 and run until March 1 st,
and are fun for everybody!
Grades 1,2, &3 participate on Thursdays and Fridays.
Grades 4 & 5 participate on Mondays.
Grade 6, 7, & 8 participate on Monday, Thursday and Fridays.
Tuesdays and Wednesdays students enjoy the reading and games
club in the foyer. Thank you to Mrs. Lawrence for organizing
these activities.
SCHOOL COUNCIL NEWS
Pancake Tuesday is happening on Tuesday, February
12. If you are able to make pancakes that morning, or
donate a griddle, please let Mrs. Kukolic know @
[email protected]
BUS CANCELLATION DUE TO INCLEMENT
WEATHER
When weather conditions are bad, parents are asked to
listen to the local radio stations for announcements of
transportation services being cancelled and/or possible
school closures. Announcements can be heard on
CFRB, CHUM, CKFM, CHWD, CHIN, CFNY,
CHAY, CKHW, CFTR, CJCL, CJMR, CBC. The
message usually says: "all buses for the Peel District
School Board abd the Dufferin-Peel Catholic School
Board have been cancelled."
If the announcement says Dufferin County, that is not
our Board. You may also refer to the stopr website at:
www.Stopr.ca
Healthy tips for parents – Head Lice
Facts: Head lice are tiny insects. They live in hair,
eyebrows and eyelashes of humans. Head lice cannot
be spread between animals or pets and humans. Head
lice are not a health hazard. Anyone can get head lice.
It has nothing to do with being dirty or clean.
Finds: You may notice your child itching or scratching
their head and neck. Check for tiny white or grey
coloured eggs called nits. Nits may look like dandruff
stuck to the hair shaft however, they are difficult to
remove. Notify close contacts and your child's school
if you find live lice.
Treat: Information about chemical treatments are
available from your pharmacist, doctor and the Region
of Peel-Public Health. Only treat your child if you can
see live head lice. You can choose to remove nits from
the hair after treating, though it if not necessary. Do a
second treatment 7 days after the first one to make sure
any newly hatched lice are also killed.
Tips: Be sensitive to your child's feelings. Many
parents and children may feel embarrassed. Avoid
sharing combs, brushes etc. Tie back long hair.
New Year's Resolutions! DPCDSB Community Programs from Adult and Continuing Education
Computer ABC's Day Program, Car Maintenance for women, Secondary Night School Credit, French as a second Language,
Adult coop and Credit, General Interest Programs, International Languages, English as a second Language, Citizenship and
ESL Classes, Health and Fitness and more!
Register now for lifelong learning opportunities! Call 905-891-9263 ext. 0 or www.dpcdsb.org/cec/cne
Dufferin-Peel Catholic District School Board's Catholic School Climate Survey
"Love one another as I have loved you"
John 15:12
Dear Parent(s)/Guardian(s),
The Ontario Ministry of Education directive on Safe Schools, Positive School Climate and its Equity and Inclusive
Education Strategy require that all schools across the province implement a School Climate Survey for students
every two years. Dufferin-Peel Catholic District School Board finds its direction and educational mission in the
teachings of Christ as revealed through Scripture, Church Tradition, and Church Teaching. The board and its school
communities are comprised of a faith-centred Eucharistic people who strive to form communities of learning that
are Christ-centred, inclusive and reflective of a culture that respects and cherishes life for all. As a Catholic school
board, Dufferin-Peel has applied its distinctive Catholic lens to the Ministry of Education's pillar: Community,
Culture and Caring. A key component of this pillar in our board is the Catholic Community, Culture and Caring
School Climate Survey.
Beginning in mid-January 2013, and in support of the board's Safe, Caring, Inclusive and Healthy School
Communities' initiative, Dufferin-Peel will be administering its Catholic Community Culture and Caring School
Climate Survey to students, as appropriate, in Grades 3 to 12. The data from this survey will allow our school to
understand the school climate from the students' perspectives.
The survey will be confidential and anonymous in nature, and will take approximately 20 minutes. The survey
contains questions about students' general information (i.e., school name, grade, gender, years at the school),
general safety and inclusion (i.e., feeling safe, concerns, feeling welcome and included, etc.), general school
climate (i.e., friendly, accessible, inclusive, etc.) and will provide opportunities to identify bullying concerns and/or
pro-active supports in bullying prevention.
In addition to the student survey, parents/guardians are also invited to participate in an on-line survey. The
parent/guardian survey is intended to allow parents/guardians to share their child's/children's school climate
experience at school. There are two versions of the survey: one for parents/ guardians of students in elementary
school (Kindergarten to Grade 8) and one for parents/guardians of students in secondary school (Grades 9-12).
The parent/guardian surveys will be posted on the board's website at www.dpcdsb.org between January 22 and
February 28, 2013. The survey links are:


Elementary: http://www.surveymonkey.com/s/CCCCSurveyK8
Secondary: http://www.surveymonkey.com/s/CCCCSurvey9to12)
The surveys may provide opportunities for conversation with your son(s)/daughter(s) regarding inclusivity and
well-being at school. Please contact the school if you have any additional questions, concerns, or comments.
Thank you for your support of improved student achievement and well-being.
Sincerely,
P. Nichols
Principal
Thank You from the St. Vincent de Paul Society
St. Joseph Parish Conference
We are very grateful for such a generous community response to our Christmas Hamper Project
2012. With your generous assistance we were able to:






Provide Christmas Hampers to 168 families
Make 306 children happy Christmas morning
Assist 285 parents/adults
Collect & distribute many cases of non-perishable foods
Collect & distribute many toys, mittens, hats, sweaters & socks
Distribute dozens of shoes
May God continue to bless you for the kindness and generosity shown to others!