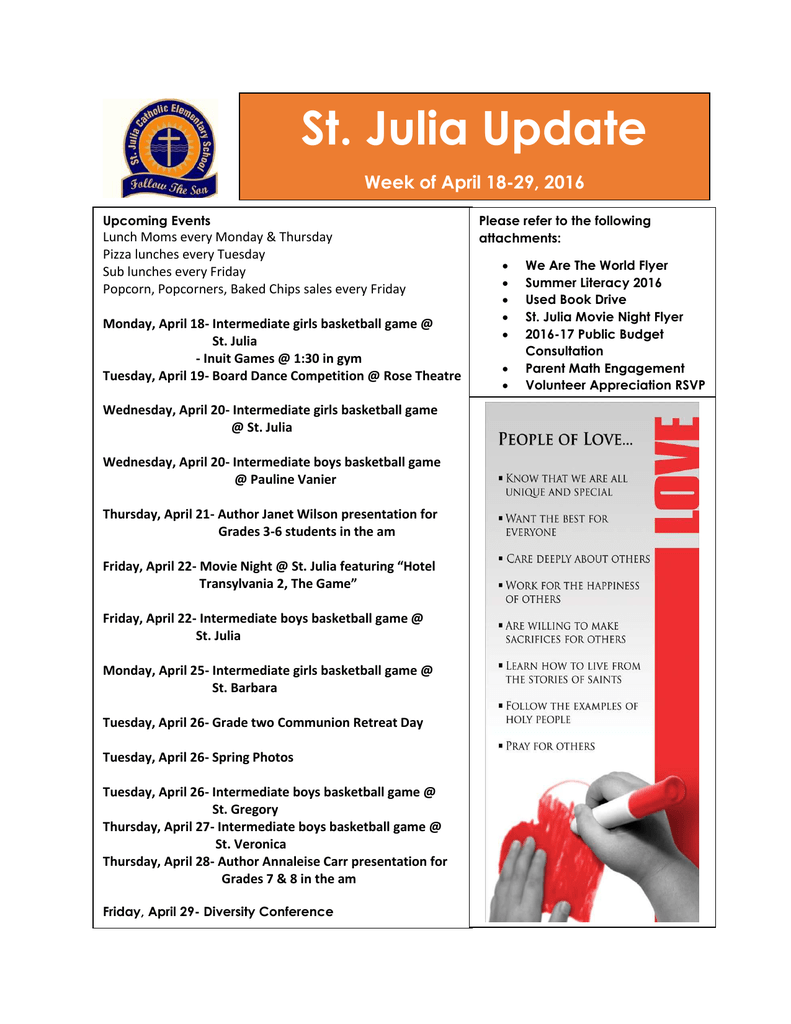 St. Julia Update
Week of April 18-29, 2016
Upcoming Events
Lunch Moms every Monday & Thursday
Pizza lunches every Tuesday
Sub lunches every Friday
Popcorn, Popcorners, Baked Chips sales every Friday
Monday, April 18- Intermediate girls basketball game @
St. Julia
- Inuit Games @ 1:30 in gym
Tuesday, April 19- Board Dance Competition @ Rose Theatre
Wednesday, April 20- Intermediate girls basketball game
@ St. Julia
Wednesday, April 20- Intermediate boys basketball game
@ Pauline Vanier
Thursday, April 21- Author Janet Wilson presentation for
Grades 3-6 students in the am
Friday, April 22- Movie Night @ St. Julia featuring "Hotel
Transylvania 2, The Game"
Friday, April 22- Intermediate boys basketball game @
St. Julia
Monday, April 25- Intermediate girls basketball game @
St. Barbara
Tuesday, April 26- Grade two Communion Retreat Day
Tuesday, April 26- Spring Photos
Tuesday, April 26- Intermediate boys basketball game @
St. Gregory
Thursday, April 27- Intermediate boys basketball game @
St. Veronica
Thursday, April 28- Author Annaleise Carr presentation for
Grades 7 & 8 in the am
Friday, April 29- Diversity Conference
Please refer to the following
attachments:







We Are The World Flyer
Summer Literacy 2016
Used Book Drive
St. Julia Movie Night Flyer
2016-17 Public Budget
Consultation
Parent Math Engagement
Volunteer Appreciation RSVP
CLASS PLACEMENTS FOR 2016-2017
Planning for next September is well under way. Current
grade level teachers, Resource staff and the
administration will soon begin the process of developing
tentative classroom placements. We spend much time
taking into consideration not only the needs of the
individual child but the needs of all children in the context
of the larger classroom group. In each class we strive to
balance learning styles, gender, learning needs and a
cross section of abilities and behavioral needs. Please
note that Ministry regulations of class size will impose
flexibility in class configurations. As you know your child
best, we appreciate your input concerning the learning
style and environment in which your child learns best. If
you feel that there are specific needs which should be
addressed in determining the placement of your child,
please send Mrs. Nichols a letter outlining the strengths
and needs of your child along with a description of his/her
learning style and type of environment he/she excels in,
no later than May 12, 2016. We remind you that it is not
appropriate now or in September to request a specific
teacher as staffing is tentative and things are continually
changing or to make requests to avoid necessary
combined grades. We will consider your input as well as
input from the classroom and resource teachers and if we
can accommodate your wishes, we will do so. However,
this is not always possible. Rest assured, our decisions are
made only after careful consideration of all the
information and are based on the individual good of each
child balanced with the common good of the entire
school community.
FIRST HOLY COMMUNION REHEARSALS WITH PARENTS
& CHILDREN
Please attend one of the following dates:
Tues. April 19
7pm-8:30pm
Sat. April 23
10am-11:30am
Mon. May 2
7pm- 8:30 pm
Please plan to attend a rehearsal before your FHC date.
These rehearsals help prepare you and your children to
understand the procedures of a FHC mass.
CONFIRMATION & RECONCILIATION REHEARSALS
All sessions are on the Saturday from 9 am to 11:30 am
prior to your confirmation date.
April 23 , April 30, May 07, May 14, May 21, May 29 &
June 04
COMMUNION RETREAT DAY
On April 26th, the Grade 2 students will be participating
in a First Communion Retreat Day. Students will be
making Rosary bracelets and rotating to different stations
around the school for reflective activities such as bread
making, crafts, drama, prayer, and meditation. Please
join us in congratulating the Grade 2's on this sacred and
special time in their lives.
Catholic Education Week: May 1-7, 2016
Opening the Doors of Mercy
Catholic Education Week begins on a Sunday to highlight the
partnership that remains the foundation of Catholic
education between our Catholic schools and local Catholic
parishes. The sub-themes for Catholic Education Week 2016
are as follows:
Monday: Mercy that Welcomes (Jesus and the Woman at
the Well: John 4: 1-42)
Tuesday: Mercy that Loves (The Good Samaritan: Luke
10:25-37)
Wednesday: Mercy that Forgives (The Prodigal Son: Luke
15:11-32)
Thursday: Mercy that Lives the Gospel (Zacchaeus: Luke
19:1-10)
Friday: Mercy that Rejoices (Healing of the Paralytic: Luke
5: 17-26)
Our daily morning prayers will reflect the sub themes of
Catholic Education Week. We will also be highlighting some
of the wonderful things that occur at St. Julia during this week,
all parents are welcome to join us.
Monday, May 2-Music Monday K-8 @ 1:00 pm in the school
gym
Tuesday, May 3-Grade 5 Virtue assembly @ 2:30 pm in the gym
Wednesday, May 4- Grade 7 & 8 Ballroom dancing @ 10 am in
the school gym
Thursday, May 5- Volunteer appreciation @ 2:00- in the library
**Please RSVP
"Blessed are the merciful, for they will receive mercy." –
Matthew 5:7
SCHOOL COUNCIL NEWS
School Council for St Julia strives to support school
activities not covered by the board budget. To do this and
minimize the impact to our families, we have chosen to
raise money via two main events, our annual Boogie-aThon and Pizza Days. In total we raise approximately
$22,000. These funds are used to pay for such things as
bussing our kids to opening/end of year School Masses
($4,000), subsidize school trips for all classes ($3,000),
enhance the education experience through various artists
in the school ($8,000), scientists in the school ($2,400)
and other various items/events. To do this council meets
7 times during the school year. Each meeting is only 90
minutes. We encourage you to consider contributing your
time to help us raise funds and spend them to benefit all
students of our school. If you are unable to attend but can
spare 30 minutes to one hour of your time there are
several other tasks that support this work.
GRADE 8 GRADUATION
Our grade 8 graduation mass will be held at St. Joseph's
parish on Thursday, June 23 @ 10:00 a.m. The luncheon
will he held @ the Mississauga Convention Centre on
Monday, June 27th followed by an evening ceremony @
6:30 pm in the St. Julia gym. More detailed information
will be sent home closer to the date.
LENTEN ACT OF MERCY
For Lent this year, Mrs. Jenkins' Grade 5/6 class decided
to raise money in order to purchase animals through
World Vision for families in need. Our Lollipop Sale was a
HUGE success!! We would like to thank everyone for their
support during the fundraiser. A special thanks to Mr.
Pritchard's class for their personal donations and to those
who donated prizes for our big draw: Lee family, Pisani
family, Kritzky family and Li family. Mrs. Jenkins would
also like to thank her class for their personal donations
and dedication to this project. With the overwhelming
generosity, we were able to purchase a goat, 4 hens, 2
roosters, 2 piglets and 3 chicks. These gifts of health,
nutrition and income are going to make a huge impact for
the families who receive them!!
EQAO DATES
EQAO dates for grade 3 students are:
May 30, 31, & June 1st
EQAO dates for grade 6 students are:
May 25, 26, June 2 & 3
St. Julia's
Sports Spirit Week
Doctor Simone's Warehouse and the CFFC are in
great need of food, clothing and hygiene
products for the poor. St. Julia will be hosting a
Sports Spirit Week as an initiative to support
this valuable organization. Student Council is asking that all
students that would like to participate in Spirit week please bring in
a donation to support the Canadian Foundation For Children.
Donation items may include non-perishable food items, hygiene
products and gently used clothing. Thank you in advance for your
support.
Day 1 (Monday, April 18th,2016) - Basketball Day- Lets Go
Raptors! Students will show their Raptors Spirit by wearing any Raptors
gear they have Or Red and Black. If the Raptors are not your team, then
feel free to wear any basketball gear of your choosing.
Day 2 (Tuesday, April 18th, 2016) – Hockey Day- Sadly, the
Toronto Maple Leafs are not in the play offs this year but that doesn't stop
us from supporting them. On Hockey Day you can wear your Leafs gear Or
support any other hockey team that you want to cheer on to victory in the
Stanley Cup Playoffs.
Day 3 (Wednesday, April 19, 2016) – Soccer Day-T.F.C, T.F.C…
Students can wear any T.F.C gear they have Or red and white to support our
Toronto soccer team. Feel free to wear any soccer team fanfare of your
choosing as well.
Day 4 (Thursday, April 20th, 2016) – Blue Jays Day- Go Jays
Go!!! Students are invited to wear any Blue Jays gear they have Or Blue and
White on this day. Not a Jays fan? Wear any baseball team you like.
Day 5 (Friday, April 21, 2016) – Support Your Sport Day- Are
you a soccer player? Hockey or Baseball? Swimmer? Dancer? Gymnast?
Today is the day to Support Your Sport and wear whatever gear you have
that shows your passion.
Go St. Julia Go!!!
ENVIRONMENTAL WEEK AT ST. JULIA April 25-29
Mr. Pritchard and our Recycling team will kick off a week of announcements and activities the week of April 25-29 to
promote environmental awareness and education. Our Recycling team will be actively encouraging students to
participate in our theme days and offer helpful tips on how to make some litter less lunches, the benefits of organics
and saving energy to decrease our environmental l imprint! Listed below are some highlights around Environmental
Week!
Monday April 25
9:30 am kickoff assembly
Tuesday April 26.
GREEN DAY!! Everyone wears green to keep the environment at the forefront in our minds.
Wednesday April 26
Litter Less Lunch Day. Students are asked to wear RED
Thursday April 27
GREAT GULP DAY!! Students are asked to wear BLUE
Friday April 28
Energy day-Black Friday!! Students are asked to wear BLACK.
Summer Literacy Camp 2016
A Literacy Reinforcement and Enhancement Program for Students
SK through Grade Six
Oral Language:
Reading:
Writing:
Listening and Speaking
Fluency, Motivation,
Comprehension
(Retelling and Proficient Reader
Strategies)
Text Forms and the Traits of Writing
Writing Process
Foundational Skills:
Phonemic Awareness, Letter Sound
Identification, Concepts about Print,
Hearing and Recording Sounds in
Words, High Frequency Words
Spelling/Phonics/Working with
Words/Grammar/Vocabulary
Development
Friday Fun Days!
Reader's Theatre Literacy experiences
Literacy Camp provides a fun and innovative environment for learners!


Small group and individual attention for students
Balanced literacy curriculum with lessons planned for your child's individual learning needs
REGISTARTION INFORMATION
Registration is available only through teacher referral.
Dates: Monday July 11th-Friday July 29th
Days: Weekdays
Time: 9:00 am-12:00 pm
Cost: $300 for full 3-week session
MISSISSAUGA
Father Daniel Zanon
450 Hillcrest Ave.
St. Bernard of Clairvaux 3345 Escada Drive
St. Catherine of Siena
2350 Hurontario St. S.
St. Gregory
1075 Swinbourne Dr.
St. John of the Cross
3180 Aquitaine Ave.
St. Louis
1450 Lewisham Dr.
St. Pio of Pietrelcina
4765 Huron Heights Dr.
BRAMPTON
Lester B. Pearson
St. Angela Merici
St. Jean-Marie Vianney
Ven. Michael J. McGivney
62 Heatherdale Dr.
140 Howden Blvd.
75 Jordensen Dr.
450 Fernforest
BOLTON
St. Nicholas
Registration forms are available at
All Dufferin-Peel Elementary Schools after March Break.
For registration information please call 905-891-9263 ext. 0
Offered by the Department of Adult and Continuing Education
Registration Forms to be submitted to school by May 27, 2016.
120 Harvest Moon Dr.
Dear St. Julia Families,
A HOME FOR YOUR GENTLY USED CHILDREN'S BOOKS
Do you have gently used children's books that your family has outgrown? Would you like to see those books in the
hands of children who do not have their own books? The Children's Book Bank is a charitable organization whose
mission is to provide free books and literacy support to the children of low-income families in Toronto. Located in
Regent Park at 350 Berkeley Street, The Children's Book Bank supports families and children up to Grade Six.
Essentially, the Children's Book Bank operates like a children's bookstore with one important exception: the books
are available to the children free of charge. In addition to supplying free books to children and families, The
Children's Book Bank offers informal literacy support such as story hours and assistance choosing age-appropriate
books. The Children's Book Bank is appealing to communities to help build and sustain its inventory of books by
participating in a community book drive. Once again, St. Julia will be running a book drive during Catholic Education
Week.
(Monday May 2 – Friday, May 6 inclusively).
Please help us support The Children's Book Bank by donating your gently used children's books. Please
take care to ensure that the donated books are gently used and are suitable for children up to grade six.
Please take note of the donation guidelines on the back of this page. There will be well-labeled drop boxes
in the foyer for your book donations. Thank you for your interest and support! For further information
about this drive, please contact Ms.Cheong. Please visit www.childrensbookbank.com for more
information about The Children's Book Bank.
Ms. Cheong, Teacher Librarian and Planning Time Teacher
What books can I donate?
 Children's books for kids aged birth to 12 years old

Children's books in new or gently used condition, meaning no missing covers, torn pages, or pages
with colouring/writing on them.
 Children's books printed within the last ten years, so a print date of 2006-present.
What books are UNACCEPTABLE?
 Adult books or novels
 Young adult (teen) books or novels




Books printed more than ten years ago
School, library or text books
Magazines
Damaged books
What books are the most popular?
At the book bank, we are always in need of board books, workbooks, and dictionaries. Although our
customer's tastes are constantly evolving, we have compiled this list of "top sellers." Since the majority
of our books are second hand, we generally do not get man of the latest chapter books or graphic novels.
Below are books that go flying off our shelves:
 Geronimo & Thea Stilton
Diary of a Wimpy Kid
 Dork Diaries
Captain Underpants
 Harry Potter
Percy Jackson series
 Amulet
Bone
 Minecraft
Big Nate
 Pokemon
Frozen
 Goosebumps
DC & Marvel Superheroes
The Children's Book Bank endeavors to use all donated books. Donated books that are unsuitable for
Book Bank customers are donated to local agencies, recycled, or are provided to other organizations.
PLEASE HELP THE BOOK BANK BY RESPECTING THE DONATION GUIDELINES.
40 Matheson Boulevard West, Mississauga, ON, L5R 1C5, Tel: (905) 890-1221
April 13, 2016
Notice to parents/guardians and community members
Dufferin-Peel Catholic District School Board
Public Budget Consultation Opportunities
Regarding the Board's 2016-17 Operating Budget
The Dufferin-Peel Catholic District School Board is providing multiple options this year for
parents/guardians and other community stakeholders to provide input regarding the board's
2016-17 operating budget. Options include:

Provide written input on the priorities you want the Board to consider in the development of
the 2016-17 Budget. Email to [email protected]

Make a five-minute presentation to trustees through the delegation process at the April 26
Board meeting or the May 24 Board meeting. Normal protocols and timelines for registering
to delegate apply. Delegates must register and provide copies of their presentation to the
board at least five (5) business days prior to the meeting date. Each presenter will have a
maximum of five (5) minutes to make their presentation. To register to delegate, call (905)
890-0708, ext. 24433.

Parents/guardians and community members may also provide input through their local
Catholic school trustee.
An outline of current issues and budget pressures is available on the board website at
www.dpcdsb.org. Interested parties are encouraged to read the outline prior to delegating or
providing a written submission.
If you have any questions, please contact our Communications & Community Relations Department at (905)
890-0708, ext. 24278 or 24466.
Mario Pascucci
Chair of the Board
Marianne Mazzorato
Director of Education
Extraordinary lives start with a great Catholic education.