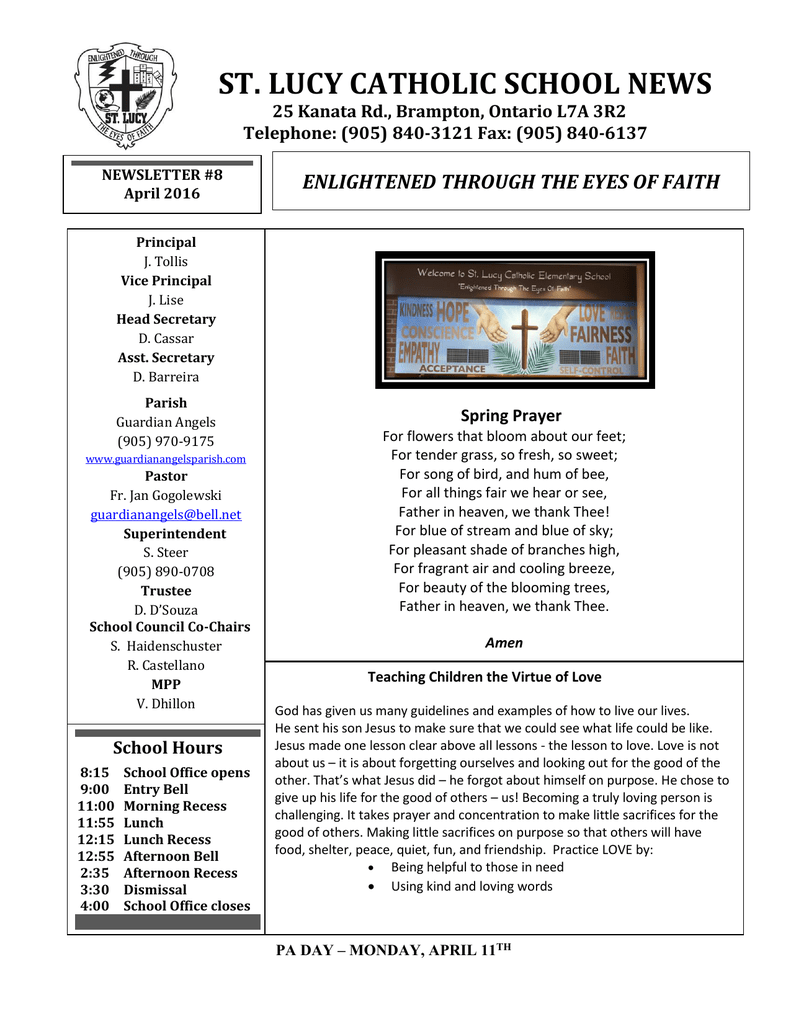 ST. LUCY CATHOLIC SCHOOL NEWS
25 Kanata Rd., Brampton, Ontario L7A 3R2
Telephone: (905) 840-3121 Fax: (905) 840-6137
NEWSLETTER #8
April 2016
Principal
J. Tollis
Vice Principal
J. Lise
Head Secretary
D. Cassar
Asst. Secretary
D. Barreira
Parish
Guardian Angels
(905) 970-9175
www.guardianangelsparish.com
Pastor
Fr. Jan Gogolewski
[email protected]
Superintendent
S. Steer
(905) 890-0708
Trustee
D. D'Souza
School Council Co-Chairs
S. Haidenschuster
R. Castellano
MPP
V. Dhillon
School Hours
8:15
9:00
11:00
11:55
12:15
12:55
2:35
3:30
4:00
School Office opens
Entry Bell
Morning Recess
Lunch
Lunch Recess
Afternoon Bell
Afternoon Recess
Dismissal
School Office closes
ENLIGHTENED THROUGH THE EYES OF FAITH
e
Spring Prayer
For flowers that bloom about our feet;
For tender grass, so fresh, so sweet;
For song of bird, and hum of bee,
For all things fair we hear or see,
Father in heaven, we thank Thee!
For blue of stream and blue of sky;
For pleasant shade of branches high,
For fragrant air and cooling breeze,
For beauty of the blooming trees,
Father in heaven, we thank Thee.
Amen
Teaching Children the Virtue of Love
God has given us many guidelines and examples of how to live our lives.
He sent his son Jesus to make sure that we could see what life could be like.
Jesus made one lesson clear above all lessons - the lesson to love. Love is not
about us – it is about forgetting ourselves and looking out for the good of the
other. That's what Jesus did – he forgot about himself on purpose. He chose to
give up his life for the good of others – us! Becoming a truly loving person is
challenging. It takes prayer and concentration to make little sacrifices for the
good of others. Making little sacrifices on purpose so that others will have
food, shelter, peace, quiet, fun, and friendship. Practice LOVE by:
 Being helpful to those in need
 Using kind and loving words
PA DAY – MONDAY, APRIL 11TH
On March 30th, students in grades 2 to
6 were able to put their drawing
talents to the test. We had a
cartoonist from Freeze DNA, who
gave the students lessons on how to
FAITH ACTIVITIES
PUTTING OUR FAITH INTO ACTION
Catholic schools in the Archdiocese of Toronto are participating in
assisting the diocese to raise money to donate to ShareLife
efforts…You can work WONDERS! St. Lucy continues to support
ShareLife - a huge thank you to everyone who will support our
ShareLife donations.
UPCOMING SACRAMENTS
On April 21 at 7:00 p.m. at Guardian Angels Parish, our grade
Seven and Eight students will receive the sacrament of
Confirmation.
On May 1, at 3:00 p.m. at Guardian Angels Parish our Grade two
students will receive the sacrament of First Holy Communion.
Please continue to pray for our Grade 2, 7 and 8 students as they
continue to prepare their spiritual faith life to receive these
blessed sacraments. Just a reminder to parents that students
must be registered and enrolled with Guardian Angles Church in
order to receive these sacraments. Please contact the parish for
further direction.
GUARDIAN ANGELS PARISH
Masses are celebrated at:
Guardian Angels Parish Hall
10630 Creditview Road, Brampton
Saturday at 5:00 p.m. and
Sunday at 9 a.m., 10:30 a.m. and 12 p.m.
Our Pastor is Father Jan Gogolewski
Phone: (905) 970-9175
Fax: (905) 970-1054
[email protected]
Easter Mass at St. Lucy is April 7 @9:30
SCHOOL UPDATES
ANNUAL OFFENCE DECLARATION FORMS
If you already have a Criminal Reference Check on file at the
school, please complete the Annual Offence Declaration form so
you can continue to be an important and valued member at our
school. It is our hope that you can complete this form and return
it to the school prior to the end of August so that you can
participate in school activities beginning in September 2016.
Thank you in advance for your cooperation in this matter.
BALLROOM DANCING
In the past month students in grade 7/8
were practicing their dance moves. They
practiced ballroom dancing. The students
held a performance for their parents and
the school community on Thursday,
March 3. It was a great show and this
would not have been possible without the help of the
intermediate teachers and coaches.
CARTOONIST VISITS THE SCHOOL
draw characters.
CLASS PLACEMENTS FOR SEPTEMBER 2016
Due to the "tentative" nature of our enrolment for
September, teacher assignments and grade placements
cannot be finalized until late August.
At the beginning of June the staff will be working on
drafting tentative class lists for the next school year. This
is a complex process, which takes into consideration not
only the needs of the individual child, but frames those
needs in the context of the larger student group. In each
class, we strive for a balance of learning styles, a balance
of gender, a balance of learning needs, and a cross-section
of abilities. Any parental requests as to the teaching style
preferred for your children are to be submitted to Mrs.
Tollis in writing by May 16, 2016. Please note that
combined classes will continue to exist and are a part of
every school.
CATHOLIC EDUCATION WEEK MAY 1-6, 2016
Pope Francis has
declared 2016 a
"Holy Year of
Mercy" as a way
for the Catholic
church to "make
more evident, its
mission to be a
witness
of
mercy".
The
Holy Year began
on December 8,
2015 and will be
celebrated until
November 20,
2016.
Throughout the
year, there will
be a series of
jubilee
celebrations on
the theme of
mercy for teenagers, deacons, the sick and disabled,
prisoners, catechists and clergy.
As well, Pope Francis opened the Vatican's Holy Door on
December 8th. The Holy Door is opened to evoke the
concept of forgiveness which is the main focus of a Holy
Year. The theme God's mercy is illustrated in fifteen of the
sixteen bronze panels that make up the Vatican Door. There are
seven such Holy Doors in the world, including one in Quebec City.
Catholic Education Week 2016 combines both the theme of
mercy and the act of opening doors of reconciliation, mercy and
forgiveness to all around us.
PA DAY- MONDAY, APRIL 11TH.
DPCDSB SUMMER LEARNING PROGRAMS 2016
NO PETS ALLOWED ON SCHOOL PROPERTY
Dufferin-Peel Catholic District School Board is pleased to offer
summer programs for elementary students. Literacy Camp for
students in Year 2 Kindergarten to Grade 6 and Summer School
for Grade 7 and 8 students will be offered once again in 2016.
Also, a transition program "Get Ready" will be offered for all
students entering Grade 9. Information about these programs will
be shared by the school to families of students whom the school
is recommending attendance. In the interim, please refer to the
DPCDSB Adult and Continuing Education website at:
http://www.dpcdsb.org/CEC/Programs/Summer+Learning
Yes, those pets can be cute and cuddly, but they can also
be unpredictable and scary to children. We want to
remind you that pets are not allowed on school grounds
PARKING AND KISS N'RIDE
We ask that parents continue to
use and follow the Kiss N' Ride
procedures
that
were
established in the fall. The Kiss
N' Ride can be a safe and
effective way of allowing
children to enter and leave the
DOWN SYNDROME DAY
On March 21st, a number of students wore
different socks to school in support of Down
Syndrome day.
school grounds properly.
Also, please avoid making the illegal left turn and moving
the pylons. This area is closed off to protect children
walking and for the school buses to enter.
PIZZA LUNCH
E-MAIL-NEWSLETTERS
Currently, we have 65% percent of our families signed up to
receive the newsletter via e-mail.
Please help us in becoming eco-friendly by
reducing paper costs. Sign-up to receive school
communications via e-mail.
If interested, contact the office staff.
EQAO DATES
Pizza days are back on Tuesday throughout the
school year. Please bring a toonie on Tuesday if
you would like to buy a slice of pizza.
THE GREAT GULP
On Wednesday, March 23 our school participated in The
Great Gulp challenge that helps to promote drinking tap
water.
The EQAO
Assessment will be
occurring between
May 25 - June 8,
2016. Grade 3 and 6
students are
preparing diligently for this assessment. It is very important that
all students are present at school during this time. Please avoid
making any appointments during these dates. More information
will follow.
MOVING?
To help us with our planning for next
September, it would be appreciated if you could
let us know now if you will be moving out of our
school area over the summer. If you know of any families moving
into the area with children who plan to attend St. Lucy, it would
be helpful if you could alert us.
SPORTS UPDATES
The more information we have, the better we are able to organize
staff and students for September. In the absence of accurate
information, schools often have to reorganize classes in
September due to unexpected fluctuations in population.
PA DAY- MONDAY, APRIL 11TH.
Basketball
season
is
here!!
Intermediate team have been
selected and practices are underway.
More
information
will
follow
regarding tournament dates/times.