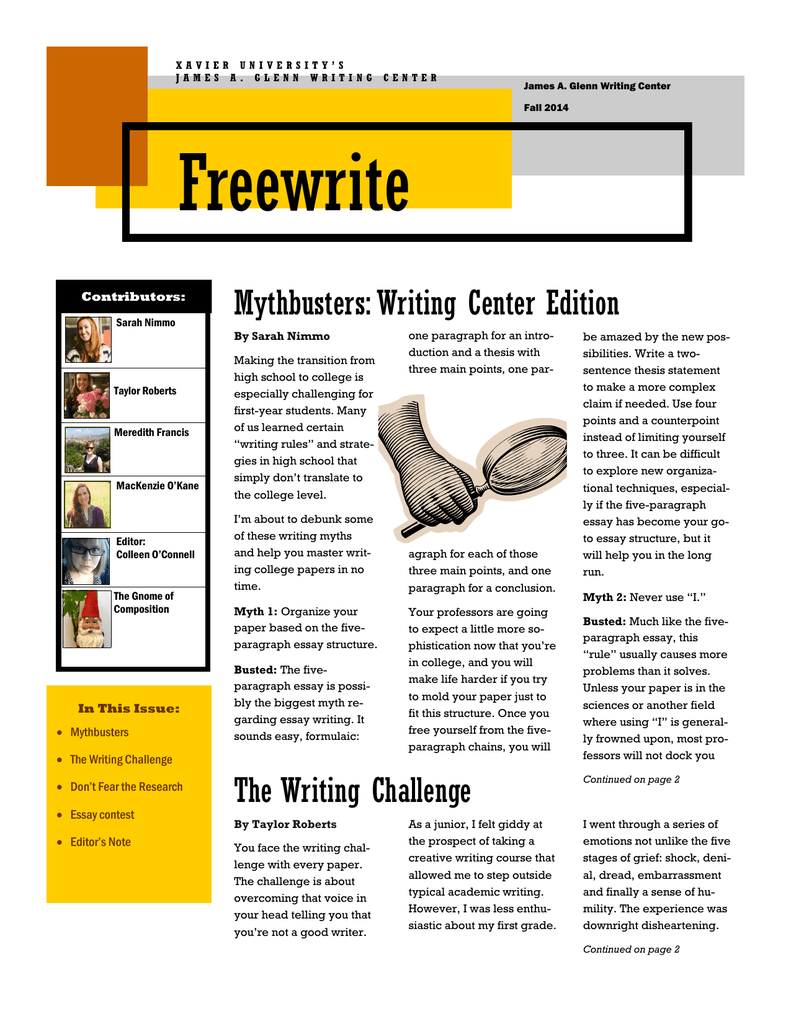 XAVIER UNIVERSITY'S
JAMES A. GLENN WRITING
CENTER
James A. Glenn Writing Center
Fall 2014
Freewrite
Contributors:
Sarah Nimmo
Mythbusters: Writing Center Edition
By Sarah Nimmo
Taylor Roberts
Meredith Francis
MacKenzie O'Kane
Editor:
Colleen O'Connell
The Gnome of
Composition
In This Issue:
 Mythbusters
Making the transition from
high school to college is
especially challenging for
first-year students. Many
of us learned certain
"writing rules" and strategies in high school that
simply don't translate to
the college level.
I'm about to debunk some
of these writing myths
and help you master writing college papers in no
time.
Myth 1: Organize your
paper based on the fiveparagraph essay structure.
Busted: The fiveparagraph essay is possibly the biggest myth regarding essay writing. It
sounds easy, formulaic:
 The Writing Challenge
 Don't Fear the Research
 Essay contest
 Editor's Note
one paragraph for an introduction and a thesis with
three main points, one par-
agraph for each of those
three main points, and one
paragraph for a conclusion.
Your professors are going
to expect a little more sophistication now that you're
in college, and you will
make life harder if you try
to mold your paper just to
fit this structure. Once you
free yourself from the fiveparagraph chains, you will
be amazed by the new possibilities. Write a twosentence thesis statement
to make a more complex
claim if needed. Use four
points and a counterpoint
instead of limiting yourself
to three. It can be difficult
to explore new organizational techniques, especially if the five-paragraph
essay has become your goto essay structure, but it
will help you in the long
run.
Myth 2: Never use "I."
Busted: Much like the fiveparagraph essay, this
"rule" usually causes more
problems than it solves.
Unless your paper is in the
sciences or another field
where using "I" is generally frowned upon, most professors will not dock you
The Writing Challenge
Continued on page 2
By Taylor Roberts
I went through a series of
emotions not unlike the five
stages of grief: shock, denial, dread, embarrassment
and finally a sense of humility. The experience was
downright disheartening.
You face the writing challenge with every paper.
The challenge is about
overcoming that voice in
your head telling you that
you're not a good writer.
As a junior, I felt giddy at
the prospect of taking a
creative writing course that
allowed me to step outside
typical academic writing.
However, I was less enthusiastic about my first grade.
Continued on page 2
Page 2
Freewrite
Mythbusters: Writing Center Edition
Continued from page 1
for writing "I" in your papers to avoid
a potentially confusing sentence structure. Typically you want to avoid using
"I think" or "I believe" as much as
possible, only because "Shakespeare
was the greatest writer of his time" is
a much stronger sentence than "I think
Shakespeare was the greatest writer
of his time." It's your paper; own it!
State your opinions like facts but have
the support to back them up.
Myth 3: Summarize in your conclusion.
Busted: Summarizing is kind of the
easy way out, and it doesn't really tell
us anything new. The exception would
be if you write a long research paper
and you need to summarize simply
because there is so much information.
One of my freshman-year professors
taught me a rhyme to help with writing
conclusions: "Don't summarize, synthesize." Tell your audience what all
of this information actually means.
What are the implications? Conclude
by explaining why your interpretation
is interesting, meaningful, or relevant.
Myth 4: Write the paper from beginning to end.
Busted: Busting this myth was one of
the most relieving moments of my
college career. The introduction is
one of the most difficult parts of a paper to write because there is so much
pressure on you to "draw in your
reader."
When you sit down to write your paper, you are not legally bound to
begin with the introduction. I find it
easier to begin with my thesis. Write
your thesis at the top of the paper and
continue on from there or if you don't
have a thesis yet, write out all of your
ideas and identify the connections. It's
much easier to know where you're
going if you've been there before.
Make the introduction the last paragraph you write, and you'll find that
your introductory paragraphs are
much improved as a result.
Disclaimer: These suggestions, much
like the myths they are based on, are
subjective. Ultimately your professor
determines what is or is not acceptable for a paper. Some may prefer that
you have a certain number of points or
a summary in your conclusion. If you
are ever struggling or uncertain, ask
your professor if there is a formatting
preference.
The Writing Challenge
Continued from page 1
However, it also gave me and my
classmates struggling with the same
experience the opportunity to rise to a
challenge—the writing challenge.
When accepting the writing challenge, it is important to remember to
take a deep breath. A bad grade does
not mean you are a bad writer. Contrary to popular belief, great writers
are not born; they are made. The
beauty of writing is that with more
practice you have the potential to become a great writer. However, you
have to want it. Sometimes in between
late night study sessions, part-time
jobs and hanging out with friends, we
tend to forget about the writing chal-
lenge until it calls to us at 2 a.m. the
night before our paper is due.
So how do you conquer the writing
challenge? Here are a few tips I
learned from my creative writing
course that can be transferred to any
writing intensive class:


Find your muse. My muse is Pinterest because it gives me inspirational quotations that get my
creative juices flowing. Some
people use exercise or journaling
to jump start their writing process.
Your outline doesn't have to be
neat and your first draft doesn't
have to be perfect. Remember
that writing is a craft. It is allowed
to be messy.

Revise. Revise. Revise. You'll
have to clean up the mess you're
going to make! Writing is a timeconsuming process, and planning
is necessary. You can't crank out
your best paper the night before.
Lastly, it is important to remember
that the ultimate challenge is being a
better writer.
Page 3
Don't Fear the Research
By Meredith Francis
It is easy to get overwhelmed by all of
the writing that comes with college,
especially when you hear the two
most dreaded words in all of college
writing: research paper.
Whether you are a freshman writing
an eight-page argumentative essay for
rhetoric, a sophomore or junior working on a 15-page history paper, or
senior working on your thesis of 20 or
more pages, the research paper is a
daunting task. It is especially daunting
when you are staring at a blank Word
document, the cursor blinking mockingly, waiting for you to at least write
your name on the page.
However, I have always found that
research papers always seem a lot
scarier than they actually are. Here
are a few tips to help you manage
those longer, more intimidating papers:
To begin, utilize Xavier's resources.
The library is a great place to start.
The librarians are incredibly knowledgeable not only about the kinds of
research we have available, but also
about how to find the correct sources
you will need. You can even make an
appointment with a librarian for your
project.
In order to manage all the research
you gather, keep a running list. Write
out your bibliography as you go along
so you don't have to rush to put it together at the end of the writing process. This is also helpful as you take
notes and keep track of quotations that
you will need for your paper.
Having trouble getting started? Try
freewriting! Take a blank piece of paper and jot down as much as you can
about what you think you want to say in
your paper. Focus on getting your ideas
down and don't worry about making it
sound academic or "well-written."
Make an outline for yourself. Whether it
is just a bulleted list of ideas or a detailed outline with fancy Roman numerals, outlines are helpful for when you sit
down to write. An outline can help you
make sure that your ideas flow logically
and smoothly.
is still so much work to be done. Pick
a Sunday afternoon to work for a few
hours in the library.
If you work for more than five or six
hours at a time, try the 50/10 rule.
Work really hard for 50 minutes, and
then give yourself a break for 10
minutes. Stretch, grab some fresh
air, eat a snack, or get on Facebook
to clear your mind. This little 10minute reward will make you work
extra-hard and stay focused.
Don't try to write your research paper
all at once. Make a daily or weekly goal
for yourself – a paragraph here, a page
there. Your brain will get tired, so give
it a rest every now and then. Give yourself plenty of time to work before the
deadline.
When you get to the revision stage,
try printing out your paper and
reading it out loud. Sometimes we
miss things when we read to ourselves off of a screen. When you
read your paper aloud, you will
probably find awkward wording or
pesky typos that will just need a
quick fix.
Write with a buddy. Grab a friend, put
on comfy clothes, and sit in the library
with snacks and coffee. Make it as fun
as possible! This is especially useful
early in the writing process when there
And remember: relax! You aren't
the first person to write a research
paper. Tons of students have survived the process. Good luck and
happy writing!
MacKenzie Breaks It Down

Don't be afraid to ask for
help.

Make your bibliography a
work in progress.

Do something a little
wacky; freewrite.

Give your paper
a skeleton.

Plan ahead.

Use the buddy system.

Remember to breathe.

Sound it out, now.

Relax!
By MacKenzie O'Kane
The 100s Essay Contest
Xavier University's
James A. Glenn Writing Center
Location: CLC Room 400
Hours:
M & W: 9:00 am—8:00 pm
T & Th: 9:30 am—8:30 pm
F: 9:00 am—3:00 pm
Sun: 1:00 pm—9:00 pm
*Closed Saturday
Contact Us:
Phone: 513-745-2875
[email protected]
Sessions:
50 minutes with a trained tutor
Discuss any part of the writing process
Graduate assistants available
Enter the essay contest sponsored by the Writing Center and the Writing Program. Any essays
written for writing-intensive 100-level* courses in Fall 2014 or Spring 2015 are eligible.
Submissions will be accepted in the following categories:




English: analysis, argument, research & "open"
History: historical synthesis, primary source analysis and secondary source analysis
Philosophy: argument
Theology: reflection & exegesis
$50 first prizes and $25 second prizes are offered in each discipline, each category. You are
welcome to enter in more than one category.
To enter the contest, please visit the English Dept. website
http://www.xavier.edu/english/100s-Essay-Contest.cfm for the submission form, and then
email your completed form and entry to the Writing Center at [email protected]
Entries accepted November 24th, 2014 through March 23, 2015.
*Eligible courses include English 101, 115; History 105, 106, 123, 124, 133, 134, 143, 144, 151, 152, 161,
162; Philosophy 100; Theology 111
Make an Appointment:
Call to schedule or stop by
"Start writing, no matter what.
The water does not flow until
the faucet is turned on ."
~Louis L' Amour
Resources On Site:
Computers and printing
Writing references
Great candy!
Surviving My Own Transition
By Colleen O'Connell
This semester, my first one as a
graduate student and at Xavier's Writing Center, has been impatiently anticipated for over a year. I've reread
both the letter accepting me into my
program and the email offering me a
position as a graduate assistant in the
Writing Center an embarrassing number of times. I spent countless nights
awake thinking of how far away this
life-change seemed. The days leading
up to August 25th seemed endless.
The first day of school was my academic Christmas; it was going to be
magical.
That yearning and sense of mystique seem so naïve, now. I had completely forgotten just how difficult a
large transition can be. Two months
later, I still feel a little shell-shocked
by the change but also a bit more
comfortable in my new role. With midterms through and more than half the
semester under our belt, I'm sure
we're all feeling more comfortable.
If I'm being honest, I would not
have made it to this point in the semester or this level of confidence
without my peers in the Writing Center and in my program. I could not get
by without a little help from my
friends (or without butchering song
lyrics, apparently). Using my peers at
Xavier has helped me build a sense of
community and accountability that are
simply impossible to have alone. I
know that I'm challenging myself to do
better work than I would do in a vacuum and getting more out of my time
here as a result.
In addition, working at the Writing Center and engaging with fellow
students in all areas of the writing pro-
cess with numerous techniques has
broadened my own horizons and shed
light on strategies I hadn't used in my
own writing in a long time. Simply put,
working with students like you has
made me a better writer. So, I recommend the Writing Center to you not as a
token plug for my employer, but because experience tells me how peer
assistance can help fellow students. Also, I'm selfish. Like all of the other tutors
here, I genuinely like working with fellow students and seeing a wide variety
of styles, voices, topics, and approaches—even for the same assignment.
Oh, and don't forget to check
out @XUWritingCenter
on Twitter. You might just spot
a #GnomeOfComposition
sighting where you least
expect it...