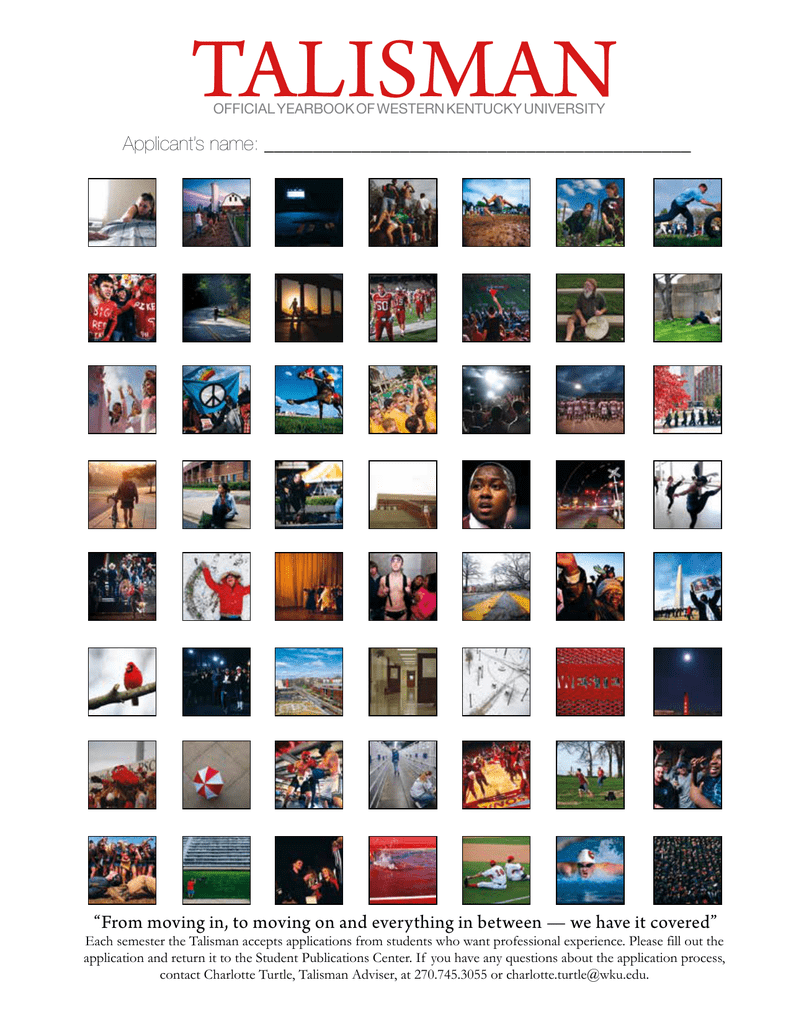 TALISMAN
OFFICIAL YEARBOOK OF WESTERN KENTUCKY UNIVERSITY
Applicant's name: ____________________________________________
"From moving in, to moving on and everything in between — we have it covered"
Each semester the Talisman accepts applications from students who want professional experience. Please fill out the
application and return it to the Student Publications Center. If you have any questions about the application process,
contact Charlotte Turtle, Talisman Adviser, at 270.745.3055 or [email protected]
What is the Talisman?
Founded in 1924, the Talisman is the official yearbook of WKU. The award-winning publication is revered
as one of the most professional and solid annual publications in the country. The 352-page publication
captures the unique essence of life on the Hill in a chronological format. The Talisman breaks through the
mold of traditional yearbooks with award-winning photography combined with equally impressive feature
writing and innovative design.
Why Work for the Talisman?
Students who produce the Talisman are developing skills that give them a competitive edge when entering
the workplace. The Talisman offers positions in photography, writing, web design, marketing and layout and
design. It is more than a yearbook; the Talisman is an expression of the experiences and lives of the
students, faculty and WKU community.
The Basics
Name:
Major:
Minor:
Expected graduation date:
Hours completed:
GPA:
GPA in major:
Do you have a car on campus? Y N
School address
Home address
Cell Phone
Preferred e-mail address
Please answer the following questions. Attach another sheet of paper if neccessary.
Areas of Interest
•Please mark the area(s) you would be interested in working in.
Writing
Graphic Design
Photography
Copy Editing
PR/Marketing
Multimedia
Other
• What level of involvement would you be interested in? Do you desire a greater or lesser role on staff and influence
on the book? Please explain your choice.
What We Offer
• What position would you specifically like to do? Number your top three choices just in case you don't get
your first choice. (italics denotes editorial board member)
Print Team:
Photo Ed.
Asst. Photo Ed.
Asst. Writing Ed.
Writer
Design Ed.
Asst. Design Ed.
Copy Ed.
Designer
Writing Ed.
Photographer
Web Team:
Web Developer/Portrait Manager
Web Designer
Web Multimedia Producer
Web Writing Producer
Marketing Team:
Marketing Manager
Social Media Coordinator
In addition to what is listed above, what else would you like to contribute?:
Commitments
• The Talisman depends on the dedication of all its members. Staffers are required to attend weekly
meetings and personal appointments with assigning editors and put in as much time as needed to complete
assignments during each deadline. In what ways are you willing to dedicate the time needed to help the team
make this quality publication?
• What extra-curricular activities are you involved in or plan to join? How many hours a week are required
from these activities?
• Will you have a part-time job? If so, where and how many hours do you plan to work?
• Please attach your upcoming semester's class schedule.
• Please attach your resume along with 3-5 examples of your work.
Experience
• List any experience including high school, college and professional that is relevant to the position you
are applying for. Have you attended any workshops - high school or college? If so, list them.
• Do you have any experience with any of the following?
Adobe InDesign
WordPress
Adobe Photoshop
HTML/Web Design
Adobe Illustrator
AP Style
Final Cut Pro / Premiere
List any additional skills:__________________________________________________________
__________________________________________________________________________________
Assessing Yourself
1. Why would you like to be a part of the Talisman staff ?
2. What are your strengths and weaknesses?
3. How do you hope to grow from a position at the Talisman?
References
• Please list three references, at least one being a WKU professor we can contact as a personal reference. Include phone and
e-mail address. If you do not have one, please list a reference from high school or professional experience whom we can contact.
Thanks for your interest. Applications are reviewed in a timely manner. If selected, you will be contacted upon review for an
interview.
Staff positions are highly sought after and competitive, if you are not hired at first, don't fret. The Talisman hires for
positions throughout the semester if they become available. Stop by the office periodically to see if a position is open.
Persistence pays off.