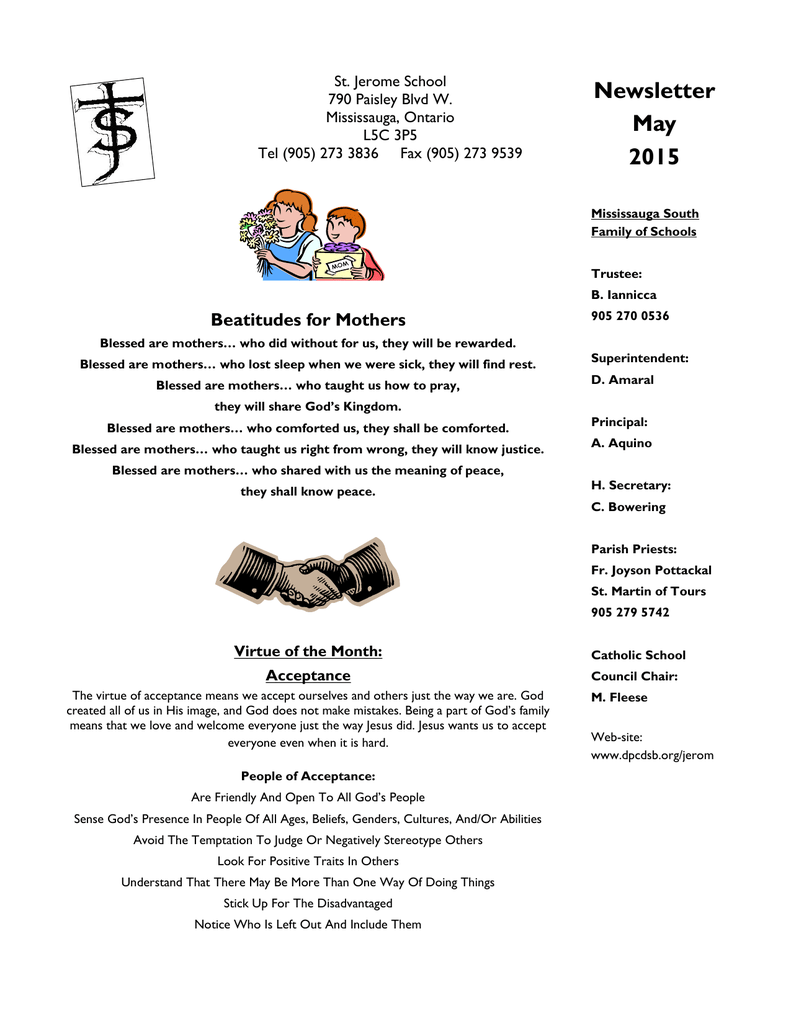 St. Jerome School
790 Paisley Blvd W.
Mississauga, Ontario
L5C 3P5
Tel (905) 273 3836 Fax (905) 273 9539
Newsletter
May
2015
Mississauga South
Family of Schools
Trustee:
B. Iannicca
Beatitudes for Mothers
905 270 0536
Blessed are mothers… who did without for us, they will be rewarded.
Blessed are mothers… who lost sleep when we were sick, they will find rest.
Blessed are mothers… who taught us how to pray,
Superintendent:
D. Amaral
they will share God's Kingdom.
Blessed are mothers… who comforted us, they shall be comforted.
Principal:
Blessed are mothers… who taught us right from wrong, they will know justice.
A. Aquino
Blessed are mothers… who shared with us the meaning of peace,
they shall know peace.
H. Secretary:
C. Bowering
Parish Priests:
Fr. Joyson Pottackal
St. Martin of Tours
905 279 5742
Virtue of the Month:
Acceptance
The virtue of acceptance means we accept ourselves and others just the way we are. God
created all of us in His image, and God does not make mistakes. Being a part of God's family
means that we love and welcome everyone just the way Jesus did. Jesus wants us to accept
everyone even when it is hard.
People of Acceptance:
Are Friendly And Open To All God's People
Sense God's Presence In People Of All Ages, Beliefs, Genders, Cultures, And/Or Abilities
Avoid The Temptation To Judge Or Negatively Stereotype Others
Look For Positive Traits In Others
Understand That There May Be More Than One Way Of Doing Things
Stick Up For The Disadvantaged
Notice Who Is Left Out And Include Them
Catholic School
Council Chair:
M. Fleese
Web-site:
www.dpcdsb.org/jerom
Faith Life
Catholic Education Week May 3-8
This year's celebration entitled "Catholic Education: Exploring Paths of Joy" is scheduled for the week of May 3
to May 8, 2015. The scriptural passage that guides our
theme is: "Were not our hearts burning within us while
He was talking to us on the road?" Luke 24:32
This year's five sub-themes, one for each of the five days
of Catholic Education Week, help students to understand the rich meaning of this year's theme:
Around the School
Indoor Shoes/Change of Clothes
Please ensure that your child comes to school prepared to go
outside for recess and lunch hour breaks. It is the expectation
that each child comes dressed appropriately to go outside to
enjoy the weather and get some fresh air and exercise. If your
child is prone to getting wet during recess, please send a change
of clothes, especially socks and sweat pants. Please ensure that
your child brings a pair of indoor shoes to school. Please label
the shoes for our primary students. Running shoes are preferred
because they are safe and can also be used for gym. Please ensure that the shoes have non-marking soles. We appreciate
your continued support!
Student Programs Summer 2015
Monday: Walking Together and Sharing Our Stories
Summer Literacy Camp –Grade FDK Year 2 to Grade 6
Tuesday: Opening the Scripture
Monday July 6th to Friday July 24th, 2015
Wednesday: Welcoming Other to the Table
(must attend all three weeks)
Thursday: Recognizing Jesus in the Breaking of the Bread
9:00 a.m. to 12:00 p.m. daily
Friday: Proclaiming the Good News
Catholic Education Week begins on a Sunday to highlight
the partnership that is the foundation of Catholic Education between our Catholic schools and local Catholic
parishes. Throughout Catholic Education Week, we ask
you to reflect on the significance of Catholic education's
presence and contribution in our Church, and in our
society. We hope to see you during our school celebrations!
Fee for Service Program—$300 for 3 weeks
No transportation provided
Students recommended by the principal
Deadline for applications: May 29, 2015
Elementary Summer School Grades 7 and 8
Tuesday June 29th to Friday July 17, 2015
8:30 a.m. to 12:30 p.m.
Students recommended by the principal
Transportation provided at home school pick up points
Deadline for applications: May 29, 2015
Crowning of Mary
On May 14, 2015 we will be celebrating the Crowning of
Mary and saying the rosary as a school community. The
celebration will be at 2:00 p.m. Please feel free to join us
for this beautiful ceremony.
ECO Club News
St. Jerome School has been working very hard this year
to be 'Green'. We have successfully continued several
'Green' initiatives including: Lights Out At Lunch, Litterless Lunches, Boomerang Lunches, The Golden Lunchbox, Re-useable Water Bottles, Planting and Gardening.
We are extremely proud of our students and their commitment to creating a better world! Your continued support with our school's environmental initiatives is greatly
appreciated. Our submission has been sent for evaluation
this year as we "Go for Gold" as an Ontario ECO
School!
Personal Treasures
A "personal treasure" is any item, regardless of its monetary
value, that holds a personal significance to a person. This might
include jewelry, cards, stuffed animals. Parents are asked to reinforce with their children that these items are NOT to be
brought to school. All electronic devices and personal electronic
devices (ipods, cell phones, cameras, etc.) are not allowed at
school, or any school sanctioned event, as per board policy.
Reporting Head Injuries
Even when it may appear to be insignificant, we inform parents
of all reported head injuries at school. We do this in recognition
of the potential danger of any injury involving the head area. Our
intent is not to alarm you, but to keep you informed. Please remind your child to let a staff member know if they bump their
head of if they get hurt at school. Student safety is of outmost
importance to us at St. Jerome!
Kiss 'N Ride
PLEASE NOTE THAT CARS ARE NOT TO USE
THE BUS LANE AT ANY TIME. Parents are also
asked to use our proper Kiss 'N Ride lanes and not
to pull into the school lanes. This is especially
important this year as we begin to offer Full Day
Kindergarten classes.
Parents please do not leave your car unattended in
any of the Kiss 'N Ride lanes at any point in the
school day, most especially at lunch time. If you
are dropping off a lunch for your child please park
your car in a designated parking spot or on the
street. Please note that if you are using the Kiss 'N
Ride you should not be getting out of your car to
help a child exit, you should not pop open your
truck to retrieve knapsacks, and all students must
exit from the right passenger side of the car for
their safety. We ask that parents use extra
caution when using our Kiss 'N Ride lanes in the
winter months. Please drive safely and take your
time. Our focus is always to keep all of our
students safe.
School Yard Safety
Just a reminder that student supervision begins at
9:00; students must not be dropped off at the
school before this time.
Website
Parents are encouraged to visit our website! The site is
www.dpcdsb.org/jerom. Please take the time to check
it out. All school information and parent information is on
the site and updated regularly. All previous and current
newsletters are on the site.
EQAO
The EQAO (Education Quality and Accountability Office)
testing of our grade 3 and 6 students will take place on
May 26th, May 27th and May 28th. Please try to avoid
scheduling any doctor's appointments or anything else that
will take your child out of school during the testing dates.
A letter to grade 3 and 6 parents with further information
will be sent home closer to the testing dates.
Leaving At Lunchtime
Parents please be advised that ALL students must have
written permission from a parent/guardian to leave the
school at lunch. Verbal permission (over the phone) will
not be accepted. A signed and dated note with a
parent/guardian signature is required for each occurrence.
The note must come to the office and students are
required to sign out and to sign back in when they return
for afternoon classes.
Criminal Reference Check
In compliance with Ministry directives, a Criminal Reference
Check is mandatory if you wish to volunteer your services in
the school, transport students and assist on trips. Copies of the
Criminal Reference forms are available in the office. An annual
declaration is required for all valid Criminal Reference Checks
that are on file in the school office. A Criminal Reference Check
will be mandatory this year if you plan to volunteer for both in
school and out of school activities.
Hats Off to Kidz
On Friday, May 8 the school will participate in the "Hats Off to
Kidz" Walkathon for Sick Kids Hospital. Our school will walk in
support of Leukemia Research for the Sick Kids Foundation.
Students and staff will be asked to wear baseball caps and to
dress in blue and white, as a tribute to children who live with
leukemia and the effects of chemotherapy. Students are invited
to bring money the morning of the event to donate to Sick Kids.
Thank you for your support!
Welcome to Kindergarten
On May 12, 2015 from 6:30 to 7:30 we are having a "Welcome
to Kindergarten" presentation for all parents and their children
registered to start Junior Kindergarten in September 2015. Due
to the nature of the activities, please do not bring siblings.
Welcome to Kindergarten is sponsored by the "Learning
Partnership" and is supported by The Dufferin-Peel Catholic
District School Board.
Important Safety Tips
Parents and guardians are encouraged to regularly review the
following important safety tips with your child(ren).

The importance of not talking to strangers

Go directly home from school or directly to the babysitter's
after school

Walk to and from school with a buddy. Avoid being alone if
you can

Let your parents/babysitter know the route you take to and
from school

Talk to your parents about a plan on where to get help, if
necessary, when going to and from school

When approached by a stranger, walk or run to a place of
safety such as home or back to school

Play a "what if" game with your parents to come up with
ideas of what you would do if, for some reason, you are
afraid on the way to and from school

Cross the street at a stop sign or with street lights

Do not cross between parked cars/buses
CATHOLIC SCHOOL COUNCIL
Our next meeting will be Wednesday, May 13, 2015 at
6:30 p.m. All are welcome to attend. We thank you for
your continued support and generosity in helping to
make our students' learning experiences the best that
they can be!
Are You Moving?
If you are planning a move, or have already moved,
please let the office know. You are required to
complete new assessment forms even if you move
within our school boundaries. If you are moving to a
new school we will give you a Transfer Form to take
with you to the new school. If you are moving, but
would like your child to remain at St. Jerome, please
submit your request in writing.
Safe Schools
St. Jerome is committed to providing a safe, caring and
inclusive school. We continue to encourage positive
interactions and a community that welcomes and values
healthy relationships, high academic standards, respect,
gospel values and virtuous living. Together students,
parents and teachers continue to learn how to protect
the community from a variety of forms of bullying while
building student self-esteem and awareness. We
continue to encourage positive and healthy peer-topeer relationships. Youth Education Officers work in
partnership with the Dufferin Peel Catholic District
School Board to create a positive and safe learning
environment within the elementary school system.
Internet Safety

Get involved! Learn and follow what your children
are doing online

Use filtering software to protect your child from
potentially harmful sites and programs

Have computers in common rooms where they can
be easily supervised

Limit the amount of time that your child spends
online

Your child should not be communicating in online
chat rooms

Pictures should not be taken and/or received online

Inform your child about the negative effects an
online profile (like a Facebook profile) can have on
their file
For more information regarding Internet Safety, visit
one of the following websites: www.kidsinthe know.ca,
www.cybertip.ca, www.mediaawarness.ca,
www.nsteens.org, www.peelpolice.on.ca, www.opp.ca
Dates to Remember
Mark your Calendar
May 5, 6, 7
Wizard of Oz 7:00
May 11
PA Day -no school
May 12
Welcome to Kindergarten 6:30
May 13
Catholic School Council 6:30
May 18
Victoria Day -no school
May 26, 27, 28
EQAO Grade 3 and 6
May 29
School BBQ 5:00
June 2
Year End Mass 1:30
June 8
PA Day –no school
June 24
Term 2 Reports go home
Grade 8 Graduation 6:30
St. Jerome's Annual BBQ
Planning is well under way for our annual BBQ, which will
be taking place on Friday, May 29th. The annual BBQ raises
significant funds which the school council allocates for various items and activities that add to your children's educational experience at St. Jerome. Please support the BBQ
with items such as gift certificates, tickets for events, new
electronics, housewares, tools, toys and sporting goods.
Please forward donations to the school. Thank you for
your anticipated support! We are seeking parent volunteers, if you would like to help at the BBQ, please call the
school. We look forward to seeing you at the BBQ!
Recess Reminders
We at St. Jerome have a NO CONTACT policy. This policy states that students are not to play any games or be
involved in any activities in the schoolyard that involve
physical contact. Games such as tackle football, touch tag,
manhunt and like games are not allowed. If a game develops during the course of a recess break where contact
becomes part of the game or activity, students are reminded to remove themselves from that activity and to report
the contact to the nearest staff member on yard duty. Staff
can easily be identified by their bright orange vests. Please
reinforce with your children the inherent dangers of rough
play, even when the intent is fun.
Dress Code
As we prepare for the warmer weather, we would like to
remind our students of the expectations that are in place,
especially our older students, regarding appropriate dress.
Sleeveless tops are permitted as long as they have two
fingers of material on the shoulder. Halter, tank or short
tops are not permitted. Short shorts, short skirts and
clothing of a suggestive nature or displaying offensive
wording/images are not allowed. In keeping with the
Board's Mission Statement and Catholic teachings, each
school is committed to standards of neatness, cleanliness,
modesty and good taste.