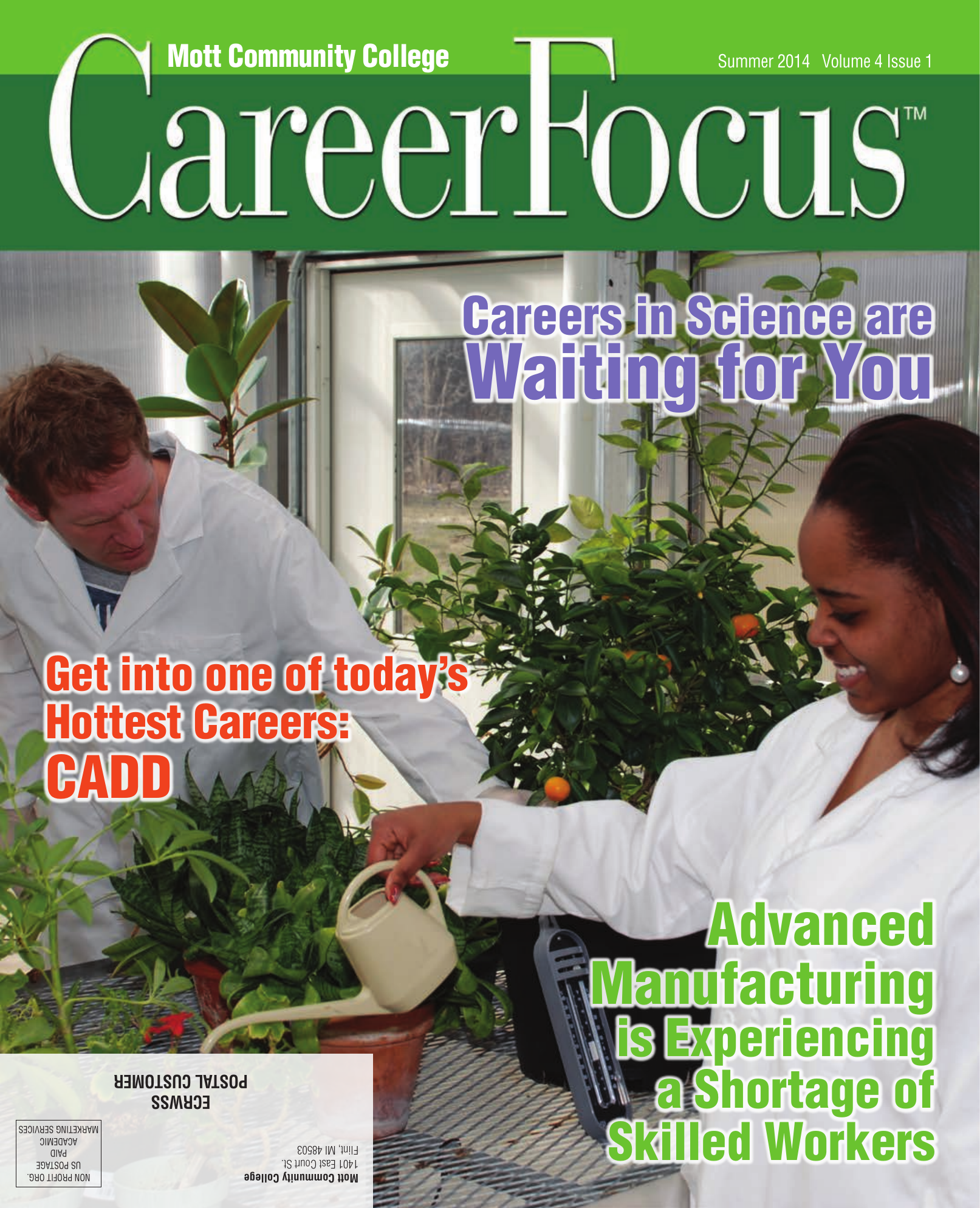 Mott Community College
Summer 2014 Volume 4 Issue 1
Careers in Science are
Waiting for You
Get into one of today's
Hottest Careers:
CADD
Advanced
Manufacturing
is Experiencing
a Shortage of
Skilled Workers
ECRWSS
POSTAL CUSTOMER
Mott Community College
1401 East Court St.
Flint, MI 48503
NON PROFIT ORG.
US POSTAGE
PAID
ACADEMIC
MARKETING SERVICES
Campus Life
MCC's longest serving president to retire
M. Richard Shaink, Ph.D., who has served as MCC's president longer than
any of his predecessors, has announced his retirement. Dr. Shaink began
his tenure as president in 2000. Often described as an outstanding, highlyrespected and compassionate leader in the academic arena as well as in
the community, he was recognized as the best community college president/
CEO in North America by the Association of Community College Trustees
at the Annual Community College Leadership Congress held in Toronto,
Ontario. During his tenure, MCC built the award-winning Regional
Technology Center, opened new sites in Clio and Howell, reached record
levels of enrollment and was named one of the ten best community colleges
in America.
Coach Schmidt assisted U.S. Olympics
basketball program
Mott College's Hall of Fame basketball coach Steve Schmidt was one
of three court coaches picked for the 2014 USA Basketball Men's U18
National Team training camp at the U.S. Olympic Training Center. "It
was an honor to be selected to assist with the USA Basketball Men's
U18 National Team training camp," Schmidt said. "I was excited about
the opportunity to work with the top players in the country as well as
with some outstanding coaches." He worked alongside former NBA AllStar and new Wake Forest University coach Danny Manning plus John
Moore of Westmont College as a trio to assist the USA U18 coaching
staff during the first three days of training camp. Schmidt has coached
at Mott for 23 seasons. His career coaching record is 629-134 (.825
winning percentage) and he has led the Bears to four NJCAA national
championships (2003, 2007, 2008 and 2012).
MCC's Malik Albert picked for All-Star
basketball game in Las Vegas
Mott College sophomore Malik Albert has been selected among the nation's
top junior college basketball players to participate in the 2014 NJCAA
National Men's Basketball All-Star game. Albert became MCC Coach Steve
Schmidt's 18th All-American for the Mott Bears' program. He scored 1,256
career points over his two-year Mott career and averaged 24.4 points per
game, eighth best in the country, with 4.5 assists this season to lead MCC
to a 25-6 overall record. According to Coach Schmidt, "I've enjoyed coaching
him and he truly deserves to be a First-Team All-American."
MCC's Faculty receives state's prestigious
Campus Compact Award
MCC Accounting Instructor Alana Ferguson was recently honored
with a Community Service-Learning Award from Michigan Campus
Compact, a coalition of college and university presidents committed
to fulfilling the public purpose of higher education. This prestigious
biennial award is the highest Michigan Campus Compact bestows
on faculty and staff in the state of Michigan. This award recognizes
her for helping MCC students to be involved in learning through
community service. Ferguson provides her Accounting students with
real life experiences through the unique service learning project with
the IRS Volunteer Income Tax Assistance Program. This program
offers free tax preparation to low- and moderate-income residents who
are unable to prepare their own tax returns. MCC Accounting students
apply their growing knowledge of tax theory through direct service
to residents. Over the past four years, MCC students have assisted
hundreds of local residents and brought back thousands of dollars to
the community.
Film Students win Award
Mott College Media Arts and Entertainment Technology students Cindy
May and Deshawntray Coleman were named winners of the Jon Cockerill
Rising Filmmaker Award. Both were awarded GoPro cameras for their essay
submissions at a ceremony held June 6 in front of the Capitol Theater. The
award is named after the late Jon Cockerill, a promising Flint film maker
and MCC film program graduate who recently passed away.
MCC Student Composers Perform at St.
Paul's Episcopal Church
Student composers from Mott Community College had their work
performed at a recital of new works St. Paul's Episcopal Church in
downtown Flint. The original student works included pieces for piano,
voice, saxophone, percussion ensemble, and an instrumental chamber
ensemble. The pieces were performed by music students from Mott
College. "I'm very excited about this opportunity for our composers
to reach out and engage directly with the community," said Dr. Bill
Withem, music professor and composer at MCC. "The students have
a chance to work with their peers to organize, rehearse, and present
a concert off campus. This is a unique opportunity for a two-year
community college, let alone any four-year college. Musical composition
is part of the new Associate of Fine Arts in Music at MCC. Any music
student in the community interested in taking applied composition as
part of the AFA Music Program at MCC is encouraged to contact Dr. Withem at bill.wi[email protected] or 810-232-3505.
MCC among five colleges to offer transfer opportunities for automotive students
Mott Community College is among a select group of Michigan community colleges in a pilot program to allow students in automotive technology
programs to transfer among the schools with no loss of credits or repetition of course work as they pursue their certifications and degrees. The Automotive
Technology Articulation Agreement allows students in automotive technology programs to transfer among Mott Community College, Delta College,
Grand Rapids Community College, Lansing Community College and Montcalm Community College. These programs were chosen for the pilot because
they already adhere to nationally recognized automotive technician training standards. "Michigan's auto industry is roaring back, and now more than
ever our state's future and economic vitality depend on a workforce with the necessary talents and training for the jobs of today and tomorrow," stated
Nigel Francis, senior vice president of the Automotive Office at the Michigan Economic Development Corporation. "This agreement is both a great start
in providing Michigan's automotive tech students with the best possible path for success, and a stellar example of the public, private and academic
collaborations that are vital to having the workforce we need to drive Michigan's auto industry forward."
Questions about the Mott Community College programs
described in this magazine can be directed to the MCC
Admissions Office at (810) 762-0200. Visit the college
website at www.mcc.edu for more details about MCC
and its more than 100 career programs. Comments or
questions about this publication can be directed to the
MCC Office of Public Information at (810) 762-0455.
To advertise in CareerFocus, please call
(810) 762-0456.
Publisher.........................................Dr. M. Richard Shaink,
President, Mott Community College
Editor.............................................................Michael Kelly
Photography................................................. Michael Tews
Visit MCC on the web at
www.mcc.edu
Table of Contents
2
6
Careers in Science are
Waiting for You
Advanced Manufacturing is
Experiencing a Shortage of
Skilled Workers
Mott Community College Board of Trustees
Lenore Croudy, Chair
Dr. John Snell, Vice Chair
Albert Koegel, Treasurer
Sally Shaheen Joseph, Secretary
Michael Freeman, Trustee
Mathew Norwood, Trustee
Rafael Turner, Trustee
Mott Community College Executive Cabinet
Dr. M. Richard Shaink, President
Dr. Amy Fugate, Vice President,
Office of Academic Affairs
Larry Gawthrop, Chief Financial Officer
Scott Jenkins, Vice President, Office of Administration
and Student Services
Mark Kennedy, Chief Human Resources Officer,
Human Resources Department
CareerFocus is published twice a year by Mott Community
College, 1401 East Court Street, Flint, MI 48503 in
partnership with Academic Marketing Services.
All rights reserved. No part of the material printed
may be reproduced or used in any form or by any
means, electronic or mechanical including photocopying,
recording or by any information storage retrieval system
without the permission of the publisher.
8
10
Get into one of today's
Hottest Careers: CADD
New MCC Corrections
Training Program Preps
Graduates for
High Demand Jobs
© 2014 Mott Community College
On the go?
Read CareerFocus anytime on your mobile
device, computer or tablet at
mcc.mycareerfocus.org
It's the easy way to
access Mott Community
College resources and
get on the path to a new
career.
I
12
810-762-0200 www.mcc.edu I Mott Community College
New agreement makes
transfer between Michigan
colleges and universities easier
CareerFocus I Summer 2014
I1
Careers in Science are
Waiting for You
Have you ever sat in a mathematics or science class wondering why you would need
this information and what the course had to do with a future career? If so, you're
not alone. There is a decline in graduates with degrees in the sciences, math and
technology, but many occupations are growing more dependent upon skills taught
in these degree areas. Some studies predict students will not have the appropriate
skills for several types of jobs when they seek employment, and the lack of interest in
these subjects will cause a shortage of workers in critical areas. Currently, there is a
nationwide initiative to get more students involved in these subjects by re-emphasizing
how math and science skills are useful in everyday life and discussing exciting career
paths in science, math, engineering and technology.
Science touches our lives in many
ways -- in medicine, computers,
military defense, and textiles, to
name a few. As new fields of science
and technology emerge, so do new
career opportunities. The physical,
life, earth, applied, and engineering
sciences provide stimulating and
enriching opportunities for those with
training in Science.
A solid foundation in mathematics
and the sciences teaches you valuable
problem solving and analytical skills
necessary for success in any career.
These skills are critical to you as an
adult, whether you are reviewing
the terms of a home loan, creating a
2
I Summer 2014 I CareerFocus yearly budget, saving for retirement
or negotiating the terms of a car loan.
Skills learned in such classes as
geometry, calculus and physics are
now necessary for an increasing
number of in-demand professions
that are integral to sustaining our
health care, renewable energy and
information technology industries,
among others.
The world is changing. Today, we
rely on math and science in ways
we could not imagine 30 years ago.
Innovations in technology help us
communicate across the globe with
ease through satellites, the Internet
and cell phones. These and many
other devices help us work more
efficiently and give us the capability
to work with individuals in all
corners of the globe. We are able to
pay bills online, submit our taxes
online and order everything from
medication, groceries and gifts from
our computer. Advances in medicine
and engineering allow us to detect
diseases earlier, find cures and
perform new procedures.
To keep up with the growing demand
for a workforce with specialized
technical skills and knowledge,
students need a solid foundation in
math and science to prepare them
Dr. Richard A. MacKenzie
for college and the workplace. An
increasing number of well-paying jobs
require a minimum of an associate's
degree, and companies are seeking
employees who possess unique skill
sets.
MCC alumnus Dr. Richard A.
MacKenzie, an Operations Geologist
with the ExxonMobil Exploration
Mott Community College I www.mcc.edu
I 810-762-0200
Women in Science
"One of the things that I really strongly believe in is that we need to have more girls
and women interested in math, science, and engineering. We've got half the population
that is way underrepresented in those fields and that means that we've got a whole
bunch of talent that is not being encouraged."
President Barack Obama
"First, find what
you are passionate
about, what you
love to do, and do
it. Second, stand
out, take every
opportunity to
find mentoring,
leadership,
professional
experiences, and
above all learn."
Company, described how his time at
Mott Community College laid the
foundation for an exciting career
in Science. "MCC was the perfect
transition from the military to
college," Dr. MacKenzie related, "It
gave me the opportunity to discover
exactly what type of career I wanted
to pursue, and then gave me the
opportunity to find the branch of
science that was most interesting to
me."
According to MacKenzie, "Going to
MCC was integral to preparation
for a professional science career
Continued on page 4
I
The development of world-class
talent in science, technology,
engineering, and mathematics
(STEM) is critical to America's
future. According to a White House
report, "Supporting women STEM
students and researchers is not
only an essential part of America's
strategy to out-innovate, outeducate, and out-build the rest of the
world; it is also important to women
themselves. Women in STEM jobs
earn 33% more than those in nonSTEM occupations and experience
a smaller wage gap relative to men.
And STEM careers offer women the
opportunity to engage in some of the
most exciting realms of discovery
and technological innovation.
Increasing opportunities for women
in these fields is an important step
towards realizing greater economic
success and equality for women
across the board."
Mott Community College's science
programs under the direction of
Johanna Brown, Dean of the MCC
Science and Mathematics Division,
and Dr. Amy Fugate, Vice President
of Academic Affairs, has taken a
supportive and nurturing attitude to
encouraging success for all students.
Kim Rogers, who transferred to
Kettering University after studying
at MCC and is currently working
at General Motors Flint Assembly,
had some concerns when she
began her education. "As a nontraditional student returning to
the academic world, I was very
nervous and anxious about how
I would be received by my peers,"
she recalled. "My classmates were
very receptive. We all had similar
interests and it was pretty much
the same group of students together
throughout my academic career
at MCC. We all still remain close
friends."
too much and try not to get behind.
Stay focused and determined. Utilize
your resources: your classmates are
in it with you and your professors
are there for you."
MCC graduate Samantha Mason
is working as a designer at the GM
Tech Center in Warren. She found
that MCC had properly prepared
her for her career. "It's still a male
dominated field. There are five
women out of 50 people in the group
I work in, but I don't have any
problems. Being a woman is not a
handicap."
According to Mason, "I definitely
don't have a problem being a woman
in the industry."
feedback and, most importantly,
the encouragement that helped me
to stay focused and to pursue my
childhood dream."
Her advice for others considering a
career in science? "Try not to take on
Women in STEM jobs earn 33% more
than those in non-STEM occupations
and experience a smaller wage gap
relative to men.
"I was very apprehensive about my
age and being foolish in thinking I
could attend Kettering University
and become an engineer," Rogers
said. "Through the relationships
developed with my instructors at
Mott College, I received constructive
810-762-0200 www.mcc.edu I Mott Community College
CareerFocus I Summer 2014
I3
What is STEM?
Science, Technology,
Engineering and Mathematics,
or STEM, is an initiative
focused on strengthening the
educational pipeline that leads
to STEM careers in order
to fill workforce needs. The
growth of many industries
in the United States, as well
as the development of new
ones, is dependent upon
engineers, mathematicians
and scientists. Decreased
numbers of graduates pursuing
these fields could threaten our
competitiveness in the global
market and slow our economy.
The Bureau of Labor Statistics
projects that employment
in science and engineering
occupations will grow 70%
faster than the overall growth
for all occupations and average
earnings for STEM workers was
70% more than the national
average.
How You Can Begin
a Career in Science,
Mathematics or
Technology
Explore programs and
certificates that lead to great
careers at Mott Community
College. We have several
degrees that will lead you to a
STEM career:
• Applied Science and
Engineering Technology
• Certificates available that
lead directly to employment
• Computer Information
Systems
• Engineering Science
• Mathematics
4
I Summer 2014 I CareerFocus Careers in Science are
Waiting for You Con't
Continued from page 3
in two very important ways. First,
as a scientist I was mentored and
encouraged by Professor Frederick
DeGroot throughout my Mott
College career. He was the most
influential person in my decisions
to follow through on my education
to my PhD. The second way MCC
was significant in my science career
was the opportunities for leadership
and excellence. I was mentored in
a professional setting and was able
to learn how a large organization
behaves. This is especially important
at a large company such as
ExxonMobil. I took advantage of
every possibility at MCC to learn
leadership."
From his perspective, today's
students should think clearly about
their career plans. "First, find what
you are passionate about, what you
love to do, and do it. Second, stand
out, take every opportunity to find
MCC grad Adam Monroe.
mentoring, leadership, professional
experiences, and above all learn."
MacKenzie recalled when he was
a young job applicant and about
the man who hired him "He was
impressed with all of the leadership
roles I had through my college
education starting with Mott College.
Later it helped to have my Master's
degree funded by the National
Science Foundation while teaching
in an 8th grade classroom and my
Ph.D. funded by NASA while working
at the Kennedy Space Center, but all
that started with my foundation at
MCC."
MCC graduate Adam Monroe went
on to earn a degree in mechanical
engineering from Kettering
University and is employed at
Key Safety Systems in Sterling
Heights where he works on airbag/
steering wheel development. Monroe
encouraged current students to
take advantage of the opportunities
available at MCC. "Use the help that
Mott College offers," he advised. "I
spent a lot of time with other
students in the MCC Math
Empowerment Center.
We would each work on
problems together and
then compare what we did
right or wrong. Also if you
are unsure about a problem
then don't be afraid to ask
the teacher for help. I know
one student who spent more time in
Professor DeGroot's office than in the
class room. It was not because his
class was hard, but they just wanted
to double check every problem and
example and Professor DeGroot was
happy."
Kim Rogers also began at MCC and
transferred to Kettering University.
MCC grad Anthony Napolitano.
She praised MCC for giving her
the foundation she needed. "The
way Mott College provided handson use in the physics and chemistry
labs brought classroom theory
into practice and helped develop
and improve technical research
and testing skills. The small class
sizes promoted building new
relationships and friendships with
classmates through classroom
work and study groups
developed and improved
communication
and listening skills
necessary for working
as a team.
"Being able to build
relationships with
instructors, I was able to get
the assistance and encouragement
to continue when frustrated with or
having difficulties grasping a hold on
concepts," Rogers stated.
Anthony Napolitano is in his final
year at UM-Flint, completing his
degree in Human Biology and then
going on to medical school after that.
He also found Mott College to be a
Mott Community College I www.mcc.edu
I 810-762-0200
Kelly Johnson: From MCC to Outer Space
Numerous graduates of Mott
Community College have gone on to
notable careers, from U.S. Senator
Don Riegle to Federal Judge Paul
Gadola. In Science, one of the most
famous graduates of MCC is the
aeronautical engineer and designer
Clarence "Kelly" Johnson.
critical step in finding his path to a
career in medicine.
"I came to MCC after having a
very difficult time at a university,"
Napolitano recalled. "I was very down
on myself and wondered if I was
really cut out for a college education
and ultimately a successful career.
Having dreamed of being a doctor
since childhood, I refused to give up
on that dream."
According to Napolitano, "MCC gave
me renewed faith in myself and in
my abilities as a student of science.
Class sizes were not overwhelming,
professors were very welcoming, and
all of that made the material easier
and more fun to learn. After spending
3 years at MCC, I am more confident
than ever that I can be a successful
physician. MCC gave me the tools
to make what I have to learn not so
intimidating."
"There were many pivotal moments
during my time at MCC that I
consider significant in my decision to
follow a career in science," Napolitano
said. "However, there was one specific
person that I consider my most
significant supporter. I went into Dr.
Ali Hekmati's microbiology class still
slightly intimidated and doubting
myself. Within a week of being in that
class, those doubts and feelings of
intimidation disappeared. He is one of
the most enthusiastic and supportive
teachers I have ever encountered in
all the years I have gone to school. He
is so passionate about what he does,
and so intelligent that it could easily
intimidate students. But he does
not boast about his intelligence. He
is so much more concerned with his
students and that their intelligence
grows. His sense of humor made
learning so much more fun, which
was very refreshing in a class that
consists mainly of discussing and
handling bacteria."
Michael Kelly
I
Johnson was only 13 years old
when he won a prize for his first
aircraft design. In his autobiography
(More Than My Share of It All),
he described coming to Mott
College (then named Flint Junior
College): "I entered Flint Junior
College. In junior college, I was
able to take engineering courses
for the first time. I studied physics,
mathematics, and calculus. I
reached the point where I could
tutor in calculus and make some
money. I loved mathematics and
still do. It was a very good junior
college, and I received a solid
background for my more advanced
university courses later."
Graduating from Mott College,
Johnson went on to the University
of Michigan, where he received a
Master's Degree in Aeronautical
Engineering and began a
legendary career designing
airplanes. During World War
II, he designed the speedy P-38
Lightning, which pummeled
destroyers and intercepted enemy
fighters and bombers from Berlin
to Tokyo; late in the war his
team developed America's first
operational jet fighter, the P-80,
in less than six months. Then he
delivered the famed Constellation
aircraft, which revolutionized
commercial aviation. By 1955,
Johnson and his
secret division of
engineers launched
the world's first
dedicated spy
plane, the U-2, just
nine months after
receiving an official
contract.
In 1964, President
Lyndon Johnson
presented Kelly
Johnson with
the Medal of
Freedom, the highest
civil honor the
President can bestow. The President
said, "Kelly Johnson epitomizes
the highest and finest goal of our
society, the goal of excellence. His
record of design achievement in
aviation is both incomparable and
virtually incredible. Any one of his
810-762-0200 www.mcc.edu I Mott Community College
many airplane
designs would
have honored
any individual's
career."
In 1974, Kelly
Johnson was
enshrined the
the Aviation
Hall of Fame for
creating innovative
technical
concepts that significantly advanced
aircraft design, performance, and
reliability and for helping to achieve
supersonic flight and space flight. the National Security Medal. It
was the first time an aeronautical
engineer had been awarded the
medal. In White House ceremonies
the medal was presented for
"Exceptional meritorious service
performed in a position of high
responsibility that has made an
outstanding contribution to the
National Security of the Nation". From MCC to Outer Space, Kelly
Johnson is a great example of where
you can go with the foundation of a
science education at MCC.
Michael Kelly
In1983, President Ronald
Reagan presented Kelly Johnson
CareerFocus I Summer 2014
I5
Advanced Manufacturing is Experiencing a
Shortage of Skilled Workers
This part of the world was built on manufacturing.
From the early days of the carriage industry through
the golden days of General Motors, Flint and Genesee
County always knew how to make things.
Although industry has changed,
Southeast Michigan is still a center
of manufacturing but in a new and
different way. We are now in an era
of Advanced Manufacturing.
The demand for Advanced
Manufacturing occupations grew by
99.4% between 2007 and 2012.
Advanced Manufacturing has been
described as an industrial process
that "increasingly integrates new
innovative technologies in both
products and processes. The rate
of technology adoption and the
ability to use that technology to
remain competitive and add value
define the advanced manufacturing
sector." Another author states:
"Advanced manufacturing centers
upon improving the performance of
U.S. industry through the innovative
application of technologies, processes
and methods to product design and
production." According to a recent report by the
Workforce Intelligence Network
(WIN), "Advanced manufacturing
is the long-term bread and butter
industry of Southeast Michigan."
The new demands of Advanced
Manufacturing have created a labor
shortage of skilled workers. WIN
states that "Southeast Michigan
has more demand for skilled trades
labor, such as CNC machinists and
welders, than almost anywhere
else in the country." There were
more than 15,000 online postings of
available jobs for skilled workers and
technicians in Michigan.
As advanced manufacturing
continues to grow, it increases the
need for high skill, high demand and
high wage careers in manufacturing.
One key element in this new world is
the need for a high level of technical
skills on the part of workers. Experts
predict that by 2018, 63% of job
openings nationwide will require at
least some college education. This
usually means the need for advanced
skill training from technical
programs at a community college.
Advanced
manufacturing is
the long-term
bread and butter
industry of
Southeast
Michigan.
Mott Community College has
been one of the state's leaders in
preparing workers for successful
careers in Advanced Manufacturing.
Through such MCC programs as
Machine Tool Technology, Mechanical
Operations Technology, Electronics
and Electrical Technology, Robotic
Programming and Control, Computer
Aided Drafting and Design (CADD),
Welding and Industrial Technology,
students and workers are given the
skills needed for these new jobs.
One area that Mott has been working
hard to meet the demands of industry
is the Machine Tool Technology
program. A new faculty member has
been hired, new equipment has been
purchased and the curriculum is
6
I Summer 2014 I CareerFocus Mott Community College I www.mcc.edu
I 810-762-0200
MCC gets $55.8 million
Manufacturing Software
Grant from Siemens
At a press conference held at Ford Field in Detroit with U.S. Senator Carl
Levin and Congressman Sander Levin in attendance, Siemens Industry
announced a $55.8 million in-kind software grant to Mott Community
College. MCC Students will now be able to learn on cutting edge
product lifecycle management (PLM) software used throughout global
manufacturing. The announcement was made during the 2014 Automotive
Summit at the Manufacturing in America Symposium.
being improved to meet the industry
needs.
knowledge so I can help someone
else."
Elvin Caldwell, program coordinator
for Machine Tool Technology and
Mechanical Operations Technology
at Mott College described some of
the changes that are in process.
"Mott has purchased new equipment
that will enable students to learn
the technical skills that are getting
them employed in the industry. Many
students get job offers while still
in the program. Students learn the
foundation of precision machining,
programming of CNC (Computer
Numerical Control) milling machines
and turning centers with G & M
Codes, metallurgy, and programming
with Mastercam software."
The opportunities are still there.
According to Simpson, Weber
Automotive has hired 400 people
since October and is still hiring.
Simpson herself has been working
seven days a week for the last two
years because of the demand for
her skills. Her company is offering
hiring bonuses to make the job more
attractive.
Tia Simpson of Flint, a current
student in MCC's Machine Tool
Technology program, found herself
in demand, taking a position
at Weber Automotive in
Auburn Hills "Mott
College prepared
me tremendously,"
Simpson related,
"I enjoy coming to
MCC with its smaller
class size and more
personal attention. I
knew my teacher was
trying to help me. I wasn't
just a number. Mott gave me a great
learning experience. It is hands-on;
we all got to ask questions, it was
very interactive."
"Business is booming," she said with
a smile, "and Mott College prepared
me for that."
Currently Southeast Michigan is
home to nearly 15,000 Advanced
Manufacturing machinists, with over
800 machining and CNC related
positions posted in the Southeast
Michigan region in the last year.
In every group there are more jobs
available than trained workers to
fill them. Demand for first-line
supervisors of production and
operating workers increased
by 94.6% between 2007 and
2012.
"The Occupational Outlook
Handbook" describes some of
the kind of jobs in demand.
When she began her new position at
Weber from MCC, she found herself
ready for her new responsibilities. "I
was very prepared," said Simpson.
Computer Numerical Control (CNC)
programmers develop the programs
that run the machine tools. They
often review three-dimensional
computer-aided/automated design
(CAD) blueprints of a part and
determine the sequence of events
that will be needed to make the part.
This may involve calculating where
to cut or bore into the workpiece.
At Weber, Simpson has been working
on producing engines for Ferrari,
transmission casings for Land
Rover and transmission housings
for the Ford F-150 truck. "Mott
College prepared me for that," she
stated. "Many of my colleagues
weren't prepared as I was. I had the
Computer control programmers and
operators use computer numerically
controlled (CNC) machines to
produce a wide variety of products,
from automobile engines to computer
keyboards. CNC machines operate
by reading the code included in
a computer-controlled module,
I
"Mott Community College has a long and productive history working
with Siemens and is honored to be selected for this software grant," said
Mott College President M. Richard Shaink. "We believe that partnerships
like this will allow the college to better understand and update programs
that prepare the future workforce for success. We are excited about the
new capacity this brings to the region and the opportunity to further
expand our work in design, PLM and digital manufacturing. We see this
technology as a critical element of the innovation enterprise that will lead
to the development of new and better products and ultimately to new and
better jobs for the greater southeast Michigan region."
810-762-0200 www.mcc.edu I Mott Community College
which drives the machine tool and
performs the functions of forming
and shaping a part formerly done by
machine operators. CNC machines
use the same techniques as many
other mechanical manufacturing
machines but are controlled by a
central computer instead of a human
operator or electric switchboard.
precise specifications. Machinists
first review electronic or written
blueprints or specifications for a job
before they machine a part. Next,
they calculate where to cut or bore
into the workpiece—the piece of steel,
aluminum, titanium, plastic, silicon,
or any other material that is being
shaped.
Machinists use machine tools, such
as lathes, milling machines, and
grinders, to produce precision metal
parts. Although they may produce
large quantities of one part, precision
machinists often produce small
batches or one-of-a-kind items. They
use their knowledge of the working
properties of metals and their skill
with machine tools to plan and
carry out the operations needed to
make machined products that meet
Median wages for machinists are
$22.88 per hour, while median
salaries for CNC Machine Tool
Programmers are $26.07 per hour. The demand for such skilled workers
is shown by the fact that there
were 15 job postings for each CNC
programmer applicant and 2 job
postings for each operator applicant
in Southeast Michigan.
Michael Kelly
CareerFocus I Summer 2014
I7
Get into one of today's
Hottest Careers: CADD
Mott Community College is on the cutting edge of technical product design,
frequently referred to as Computer Aided Drafting and Design (CADD or "CAD and
Design"). Mott has been a hot bed for companies looking for technical designers, and
it was selected by the State of Michigan as one of the two colleges to be the model
for the Michigan Advanced Technician Training (MAT2) in Technical Product Design.
Mott was also a recipient of a $55.8 million product lifecycle management software
grant from Siemens that will be used by the CADD Program.
MCC Professor Dennis Hughes,
Program Coordinator for the
CADD program, fields a lot of calls
from employers across the region
looking for highly-skilled people to
fill job openings. He helps connect
companies that are hungry for highlyskilled individuals to fill positions in
CADD with students and graduates
of the CAD and Design program.
CAD and Design basically involves
the use of computer aided design
software to design objects, make
plans and drawings, used by
manufacturing companies and in the
construction field.
"We have been consistently receiving
contacts from area employers in
8
I Summer 2014 I CareerFocus search of students from our CAD and
Design program to fill vacant design
positions," Hughes said. "These
employers are interested in current
and future graduates, both with and
without experience."
The demand for Computer Aided
Drafting and Design jobs continues
to grow, as CADD remains one of
the hottest fields in the engineering
arena as the manufacturing and
engineering fields in Southeast
Michigan continue to be revitalized.
The job prospects couldn't be better
for candidates seeking careers in
CADD, and the word is out about
what MCC has to offer.
"I have had recruiters come in
to our classrooms," Hughes said.
"Many companies will hire students
as interns, which allows them the
flexibility to finish their education
and lets the company introduce
potential permanent employees to the
corporate culture. I have not had one
intern NOT get hired," he added.
Additionally, the current shortage of
qualified Engineers in all industries
including automotive, aerospace and
software development, is creating
an engineering technician shortage.
"Industry needs more engineering
technicians to fill in where there are
not enough professional engineers,"
said Hughes.
"Industry is starting to hire now
to offset retirements coming in ten
years," said Hughes. "Companies
need people to have experience and
an understanding of all the nuances
of the field of CADD as the boomer
generation retires. Everybody is
hiring, big companies and small."
According to Hughes, "CADD
is a great career field for detail
oriented, hands-on, problem solvers.
The diversity of problems CADD
technicians get to address on daily
basis is very dynamic. And there are
opportunities to work in any size
company and it is a skill you can take
with you if you change companies."
Mott Community College I www.mcc.edu
I 810-762-0200
Mott's CADD Students
Tackle Engineering
Assignment at GM
Mott College's CADD Associate in
Applied Science Degree prepares
students for entry level design and
engineering technology positions
where CADD systems are used
to drive the concurrent design
and manufacturing environment.
The complete product lifecycle is
addressed from concept to the end of
the product's useful life. The Siemens
Teamcenter® software that was
part of the $55.8 million grant from
Siemens will be used to help teach
product lifecycle management. Mott
will be one of the only community
colleges in the country teaching the
software. Mott has a partnership with
Siemens that goes back more than 15
years.
Along with the Associate Degree
in CADD, students can also earn a
Certificate of Achievement in CAD/
CAM in CADD-Mechanical or in
CADD-Architectural and a Certificate
of Achievement. CADD students at
MCC also have a unique opportunity
to sharpen their skills in MCC's
state-of-the-art Digital Fabrication
Laboratory (FABLAB), a handson laboratory that provides the
technology and modern fabrication
tools designed to support creativity
and innovation, allowing people an
opportunity to turn their ideas into
products.
"We take an applied approach to
teaching the material," said Hughes,
"we introduce real world problems
and open ended assignments so
students have to define the problem
and develop solutions. We also have
a lot of infrastructure that not every
school has, to help us get things
done and that enables us to offer
experiential learning. The advantage
of all these tools is that you have a
dynamic learning environment," he
said.
Samantha Mason was a student in
MCC's CADD program when she was
hired by General Motors before even
completing her degree. GM allowed
her to continue her studies and earn
I
her degree while working at the GM
Tech Center in Warren as a Floor
Console Designer. She found that
the MCC program prepared her for a
successful career.
"The professors keep the environment
professional," Mason said, "which
prepares you for the work place. The
Mott program is a great program. I
can't say enough good things about
it. I loved it way more than I thought
I was going to. The professors are
really helpful. They will challenge
you if you need to be challenged and
if you need more help they are more
than willing to help you. I can't say
enough good things about it."
Real world problems are brought to
the classroom for students in Mott
Community College's Computer
Aided Drafting and Design (CADD)
program. Students in Dennis
Hughes' CADD class worked on
a 'real world' problem for the
GM Flint Engine Plant that had
electronics and mechanical design
students working together.
General Motors presented students
in the CADD 205 and Electrical
235 classes with a current problem
in its High Feature V6 engine
crankshaft. According to Kevin Holt,
Controls Engineering Supervisor
at the General Motors Flint Engine
Operations, "A recent production
concern had led the class to design
an automated fixture to detect
the presence of balance holes in
the crankshaft. The additional
constraints of project budget,
functional space and product
selection were included in the scope
of the project."
"This project allowed students to
work in a team environment to
develop a solution," Holt explained.
"Having the electrical students
work with the mechanical students
simulated our engineering
environment. We could see that each
student had their role in the success
of their design. The teams had to
react to suppliers not responding in
a timely fashion or ideas that were
proved to be not viable."
"In the end," Holt stated,"each
team was able to develop a solution
MCC Professor Dennis Hughes
for us. We were able to review the
proposals and feel that several
are viable solutions that General
Motors could incorporate."
According to Professor Hughes,
"Students who worked on the
project were able to step into
the GM facility without missing
a beat because our labs at Mott
College are like the real world.
They give students an opportunity
to experience an actual work
environment like the GM plant."
Job prospects in the CADD field
have never been better, in part
because a number of workers
left the industry during the last
manufacturing downturn. Many
companies in Michigan project that
as many as 70% of their design
staff may be eligible for retirement,
according to Hughes.
MCC graduate Samantha Mason
"The Mott program
is a great program.
I can't say enough
good things about
it."
Samantha Mason, MCC grad
and GM designer
Mason has experienced the strong
demand for her skills in the job
market. "There are definitely lots of
810-762-0200 www.mcc.edu I Mott Community College
job openings. Not just here at GM but
at the other car companies,
medical facilities and other
places." CADD is used
in almost all areas of
manufacturing, such
as aerospace, defense,
medical, automotive,
office furniture,
construction, and home
product design.
Gil Martinez, an experienced
engineer who works as a Resourcer
for Talascend a global engineering
resource company that helps
industry find qualified candidates
for engineering positions, praised
Mott College's CADD program. "In
my opinion, Mott has the best
program because they have
the training program and
the hands-on application
in the shop area, which
allows them to see not
only how to draw but
what it takes to make it,"
Martinez said.
For more information about
CADD programs at MCC, call Dennis
Hughes, CADD program coordinator
at (810) 762-0500, email the MCC
Technology Division at [email protected]
or visit www.technology.mcc.edu.
Michael Kelly
CareerFocus I Summer 2014
I9
New MCC Corrections Training Program
Preps Graduates for
High Demand Jobs
The job market for corrections officers in Michigan is booming, and Mott Community
College student Steven LaMay of Flint is already reporting for duty.
LaMay, who is studying Criminal
Justice at MCC, recently completed
Michigan Department of Corrections
(MDOC) training enabling him to
begin work as a corrections officer
at the Thumb Area Correctional
Facility in Lapeer while continuing
his education.
"There is currently a big hiring push
in corrections due to a large number
of retirements," said Mary Cusack,
Dean of the Fine Arts and Social
Sciences Division at MCC. "Up to
2,500 corrections officer vacancies
are expected to exist in the next five
years. The Michigan Department of
Corrections is hiring up to 30 people
per month to work in its facilities.
It is a huge area of job growth," she
said.
To meet the high demand for
corrections personnel, MCC is
applying to the Michigan Correctional
Officers Training Council (MCOTC)
to become an approved site for the
320-hour Corrections Training
Program beginning with the Winter
2015 semester, which is required
training for individuals interested in
entry level corrections officer jobs at
state facilities.
"The Training Council is working
with four-year colleges and
community colleges statewide to
offer the 320-hour training program
and recruit candidates," said Cusack.
"We're excited with the prospect
of offering that opportunity in this
community."
MCC already offers the Law
Enforcement Regional Training
Academy (LERTA), a 15-week
intensive training program that
prepares students to take the Law
Enforcement Licensing Examination.
The LERTA training program,
commonly known as a "police
academy," meets the Michigan
Commission on Law Enforcement
Standards (MCOLES) training
requirements. The new Corrections
training program would be offered
at the LERTA facility at MCC's
Southern Lakes Branch Center in
Fenton.
"It takes a lot of infrastructure to
offer the MCOTC's Corrections
Training," said Cusack, "MCC is able
to leverage our existing resources
because of our partnership with the
police academy. Additionally, we are
well-situated to ensure that students
have access to jobs locally due to
our proximity to the prison facilities
around us."
Not only is the corrections field
growing, the demand for female
corrections officers is extremely
high. "It is a great field for women,"
said Cusack, "there are many
opportunities for women at facilities
that house female offenders as
well as other facilities within the
Department of Corrections."
Applicants for jobs as corrections
officers must complete a minimum of
15 credits of approved coursework.
They then go through the
Department of Correction's recruiting
process to attain approval to attend
the training academy.
Candidates must first complete six
weeks (280 hours) of training, which
includes classroom content about
To meet the high demand for
corrections personnel, MCC is applying
to the Michigan Correctional Officers
Training Council (MCOTC) to become
an approved site for the 320-hour
Corrections Training Program.
10
I Summer 2014 I CareerFocus Mott Community College I www.mcc.edu
I 810-762-0200
"There is currently
a big hiring push in
corrections due to
a large number of
retirements."
Mary Cusack, Dean of the Fine Arts
and Social Sciences Division at MCC
"The great thing about this program
is that you don't have to be done with
school to get a job. These programs
enable you to get a job and continue
to go to school to finish a degree
program."
corrections processes and procedures,
physical conditioning and defensive
tactics, and equipment and firearm
training. Upon successful completion,
candidates are offered a position at
a state correctional facility. When
they accept the position, they become
employees of the Department
of Corrections, and receive two
additional weeks of paid training
through the college.
Upon completion of the final two
weeks of training, candidates
report to their employer/facility
for two months of on-the-job
training. The final step is an eightmonth probationary employment
period to complete the initial year
of employment, according to Jai
Deagan, Michigan Correctional
Officers Training Council Liaison.
MCC currently offers the 15-credit
certification program in Corrections
that qualifies students to apply for
entry-level jobs as corrections officers.
In Fall of 2014, MCC is adding a
31-credit Certificate of Achievement
and an Associate of Applied Science
in Corrections. Analyzing trends
in corrections employment, Cusack
and Jimmie Baber, Criminal Justice
& Corrections Program Coordinator
at MCC, developed the curriculum
for the Corrections degree to give
students more opportunity for career
advancement and career transition.
Steven LaMay
recommended 17 credits or minimum
15 credits, they work through the
recruiting and approval process
to be accepted into the training
academy. While they work through
that process, they can be completing
another semester of coursework.
"After those two semesters, students
have earned the Certificate of
Achievement," said Cusack.
Students who successfully complete
the corrections training academy
earn an additional 13 credits toward
"Retirement at a relatively early
age is common for people working
in corrections," said Cusack. "If they
start this career young and put in 25
years, they may be back in the job
market in their late 40s and early
50s. We developed an associate's
degree corrections curriculum
that will enable them to pursue a
bachelor's degree and have a new
career after retirement," she said.
their degree. The final seven classes
in the curriculum can be
completed online or on
campus, giving students
maximum flexibility
to finish the associate
degree while they are
working.
"The great thing about
this program is that you
don't have to be done with
school to get a job," said LaMay.
"These programs enable you to get
a job and continue to go to school to
finish a bachelor's degree program."
"Occupational experience is not
enough anymore," said Baber.
"You need a four year degree
to move into another area
of criminal justice after
working in corrections."
Students who continue
on for a bachelor's
degree while working in
corrections might consider
related human service fields
such as sociology, social work,
counseling and criminal justice.
"A bachelor's degree will help you
move up professionally. It opens up
opportunity for promotions within
corrections as well as the opportunity
for career changes," Baber added.
"It's a good time for corrections.
There is an opportunity to move up
quickly and make a good salary,"
Cusack said. "But we hope that
students think long-term, that
they continue their education, and
combine that with their experience
in corrections to bring about positive
changes in the field of human
services."
Dawn Hibbard
The Corrections Program was
designed to help students achieve
success in steps. After completing the
I
810-762-0200 www.mcc.edu I Mott Community College
CareerFocus I Summer 2014
I 11
MICHIGAN TRANSFER AGREEMENT
New agreement makes transfer
between Michigan colleges and
universities easier
The days of wasting time and money on credits that don't
transfer may soon be over.
The Michigan Transfer Agreement
(MTA) goes into effect with the Fall
2014 semester and guarantees that
a block of general education credits
from Mott Community College will
transfer to any public university
But while the MTA is guaranteed to
transfer, universities can still require
higher-level general education
courses, especially those that are
major-specific.
in Michigan and many private
institutions as well.
"It doesn't preclude institutions from
having additional requirements, but
they cannot nit-pick at those block
courses," according to Fugate.
It is the first statewide initiative to
streamline the transfer process since
1973 and will be the first ever to be
received by every public school in the
state.
While it will make the process of
transferring simpler, some students
may find the requirements of the
MTA more challenging than the
MACRAO agreement.
The MTA will replace the 40-year-old
Michigan Association of Collegiate
Registrars & Admissions Officers
(MACRAO) transfer agreement.
While the MACRAO agreement had
various levels of participation, every
four-year and two-year school in
Michigan has agreed to sign
on to the MTA, according
to Dr. Amy Fugate, Vice
President of Academic Affairs
at Mott Community College.
Unlike many other states,
there has been no streamlined
process for students in Michigan
who wish to transfer, making the
system inefficient for students,
often wasting their time and
money.
The idea for the MTA was
generated by the state
legislature. In 2012 the
Community College
Appropriations
Bill included
language
that called
for the creation
of a 14-member
committee to
"develop a process
to improve the
transferability of core
college courses…"
The committee was composed of five
representatives from community
colleges (including MCC's
Fugate), five representatives
from universities and four
legislators. The school
representatives were chosen
regionally. Its goal: to draft
12
I Summer 2014 I CareerFocus Dr. Amy Fugate
an agreement which no school can
take exception to in the future.
It's important to recognize what a
huge accomplishment this agreement
is, Fugate said.
In the first committee meeting, some
of the representatives didn't think it
was a possibility for their schools, she
said, but after a few more meetings
they got on board.
"I think they realized that it really
does make it easier for everyone,"
Fugate stated.
In the last four decades, a lot of the
universities have not accepted the
MACRAO agreement, she said. Many
MACRAO-receiving institutions have
created provisos, or exceptions, to the
agreement. A university might accept
the agreement but require a student
retake one or more of the courses any
way.
The basis of the MTA is to begin
with a universal agreement, so that
universities will have no reason to
create these provisos, eliminating the
surprises and subsequent frustration
for students when they are ready to
transfer.
The MTA will transfer as a block,
with no course-by-course transfer
process, Fugate said. "This means
that a significant part of your general
education classes are completed."
With the MACRAO agreement,
grades in all of the courses had to
average at least a 2.0. In the MTA, a
student must achieve at least a 2.0 in
each course, Fugate pointed out.
In the MACRAO agreement, you
could avoid math; in the MTA you
cannot and an additional science
requirement has also been added to
the MTA.
Students may have to work a little
harder for the new agreement,
Fugate said, but they can know
that it's worthwhile because it's
guaranteed to count.
"The MTA is very good news for
Mott College students," according to
Chris Engle, Registrar at MCC. "It
means that students will have all of
the information about what will or
will not transfer up front, which they
really deserve as the consumer."
For students who have been working
towards transferring with the
MACRAO agreement, there will
probably be some overlap before
the MACRAO is eliminated. "There
is still a lot of work to be done
before the rollout next fall, but the
committee and the schools are on
track to make it happen," Fugate
said.
This Fall, life for transfer students is
going to get a lot easier.
Mott Community College I www.mcc.edu
Michael Kelly
I 810-762-0200
Mott Community College.
Your College, Your Community.
45%
On average, community and
technical college tuition costs
less than
of all
U.S. college students
attend a community or
technical college.
50%
of public university tuition.
Community and
technical colleges train
of nurses.
60%
80%
of first responders
-including emergency medical technicians,
firefighters and police–receive training at a
community or technical colleges.
50%
Almost
of all military veterans
in college attend a
community or
technical college.
Taxpayers get a return
of about $1.70 for every
dollar spent on community
and technical colleges.
For more than 90 years, Mott Community College has served our community with top quality higher education at
the most affordable cost available. Ranked one of the ten best community colleges in America, MCC is accessible,
affordable and transferable. Whether your goal is a one-year career certification, a two-year associate's degree or to
transfer on to complete a bachelor's degree, MCC has an option that can work for you. Locations in Flint, Fenton, Clio,
Lapeer and Howell give you convenience while classes offered days, evenings, weekends and online make sure you
can work college into your busy life. Get started at www.mcc.edu or call (810) 762-0200.
The Time
is Now.
Mott Community College
is the Smart Choice to
Prepare for Your Career.
Prepare for your future with one of
Mott College's over 90 career programs.
Classes are conveniently located at any
of our five sites: Flint, Fenton, Clio,
Lapeer, and Howell.
Flint • Fenton • Clio • Lapeer • Howell
810-762-0200 • www.mcc.edu
Registration going on now!