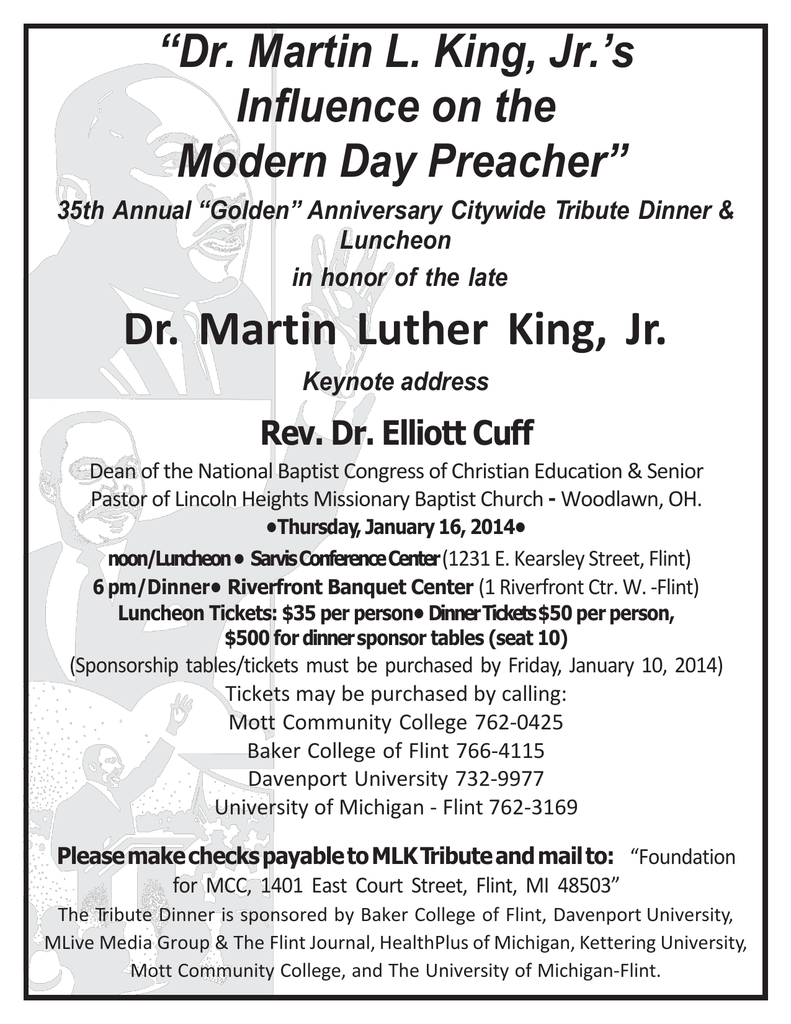 "Dr. Martin L. King, Jr.'s
Influence on the
Modern Day Preacher"
35th Annual "Golden" Anniversary Citywide Tribute Dinner &
Luncheon
in honor of the late
Dr. Martin Luther King, Jr.
Keynote address
Rev. Dr. Elliott Cuff
Dean of the National Baptist Congress of Christian Education & Senior
Pastor of Lincoln Heights Missionary Baptist Church - Woodlawn, OH.
•Thursday, January 16, 2014•
noon/Luncheon • Sarvis Conference Center (1231 E. Kearsley Street, Flint)
6 pm/Dinner• Riverfront Banquet Center (1 Riverfront Ctr. W. -Flint)
Luncheon Tickets: $35 per person• Dinner Tickets $50 per person,
$500 for dinner sponsor tables (seat 10)
(Sponsorship tables/tickets must be purchased by Friday, January 10, 2014)
Tickets may be purchased by calling:
Mott Community College 762-0425
Baker College of Flint 766-4115
Davenport University 732-9977
University of Michigan - Flint 762-3169
Please make checks payable to MLK Tribute and mail to: "Foundation
for MCC, 1401 East Court Street, Flint, MI 48503"
The Tribute Dinner is sponsored by Baker College of Flint, Davenport University,
MLive Media Group & The Flint Journal, HealthPlus of Michigan, Kettering University,
Mott Community College, and The University of Michigan-Flint.