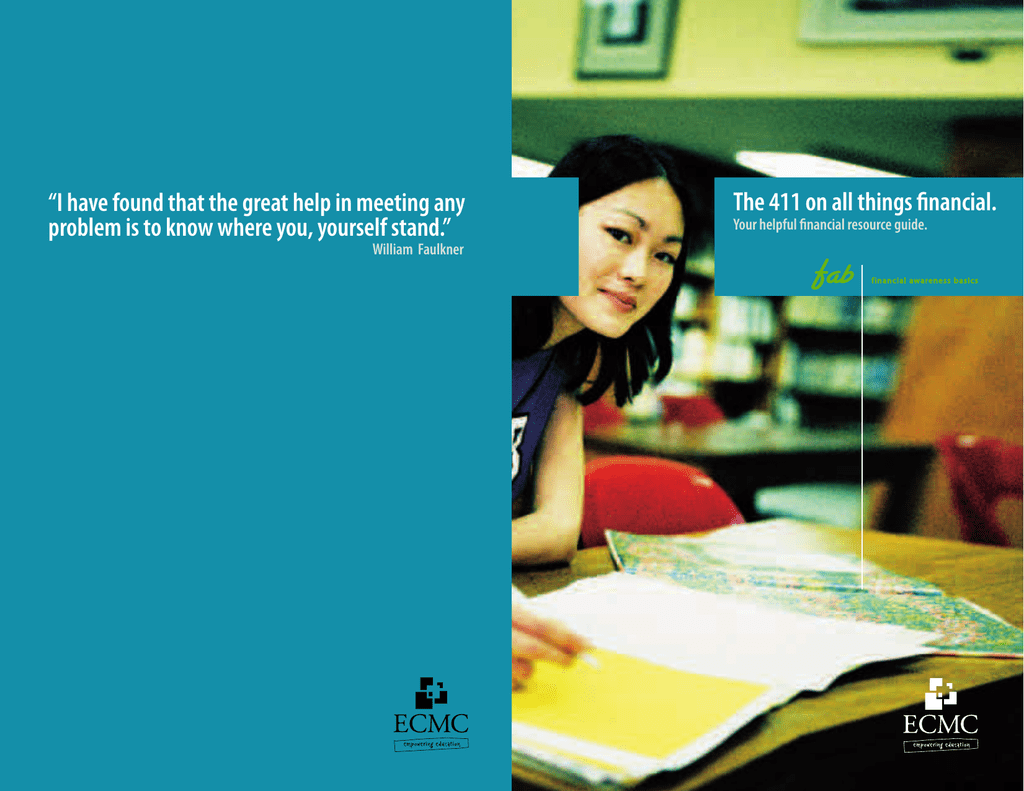 "I have found that the great help in meeting any
problem is to know where you, yourself stand."
William Faulkner
The 411 on all things financial.
Your helpful financial resource guide.
Credit cards:
Money management:
www.bankrate.com The site that has rate information for credit cards, mortgages and much more.
This is an excellent site for learning how to manage credit.
www.mymoney.gov The U.S. government's website for financial education.
Credit rating and credit scores:
http://www.homemoneyhelp.com/ This site is a very good resource for simple ways to save money
on day to day living and has articles on every money management topic imaginable.
www.annualcreditreport.com The central site where you can order a free copy of your credit report
from each of the three major credit bureaus.
www.money.msn.com A mainstream site that breaks down the basics of money management –
always has new content and provides interesting articles on budgeting.
www.myfico.com The site for the company that developed the FICO score. Find information here on
what goes into a score and offers ways to improve it.
Student loans and financial aid
The major credit reporting bureaus:
www.equifax.com For fraud alerts call 1-888-766-0008.
www.experian.com For fraud alerts call 1-888-397-3742.
www.transunion.com For fraud alerts call 1-800-680-7289.
Debt management:
www.nfcc.org The site that provides information on setting up debt repayment plans including
referrals to agencies meeting National Federation for Consumer Credit standards.
www.nolo.com The site that has information on statute of limitations on debt, declaring
bankruptcy and other information about consumer rights and law.
Identity theft
www.ecmc.org This site has information about the federal student loan programs, rules and
regulations and a way to look up your loans.
www.finaid.org The site for no-nonsense, comprehensive information on financing your education.
www.nslds.ed.gov The site for the U.S. Department of Education's central database where you can
look up your federal student aid information including grants and loans.
www.fafsa.ed.gov The official site for filling out the Free Application for Federal Student Aid
(FAFSA). You can also check your FAFSA status and make corrections to a processed FAFSA.
General resources for students
www.campusblues.com This site has great general information designed to facilitate student
awareness and use of school resources. There's a little bit of everything here from handling depression
to career counseling.
https://www.optoutprescreen.com The site where you can opt out of pre-screened credit offers for
five years or permanently. You can also call 1-888-5-OPT-OUT (1-888-567-8688).
www.studentresources.net This is a helpful site for sorting through the ins and outs of obtaining
insurance as a college student.
www.consumer.gov/idtheft The Federal Trade Commission's official site on dealing with identity
theft. This site includes information on what to do if victimized and an affidavit to be filled out in the
event that your personal financial information is stolen.
www.students.gov The official gateway to information and resources available to students from the
U.S. government.
http://www.privacyrights.org/identity.htm The site with great information on preventing identity
theft as well as some of the latest consumer advocacy issues affecting students across the country.
www.mapping-your-future.org A site dedicated to providing students and families information on
college planning, financial aid, financial literacy and careers.
Scholarships
www.fastweb.com The site that offers free scholarship search service.