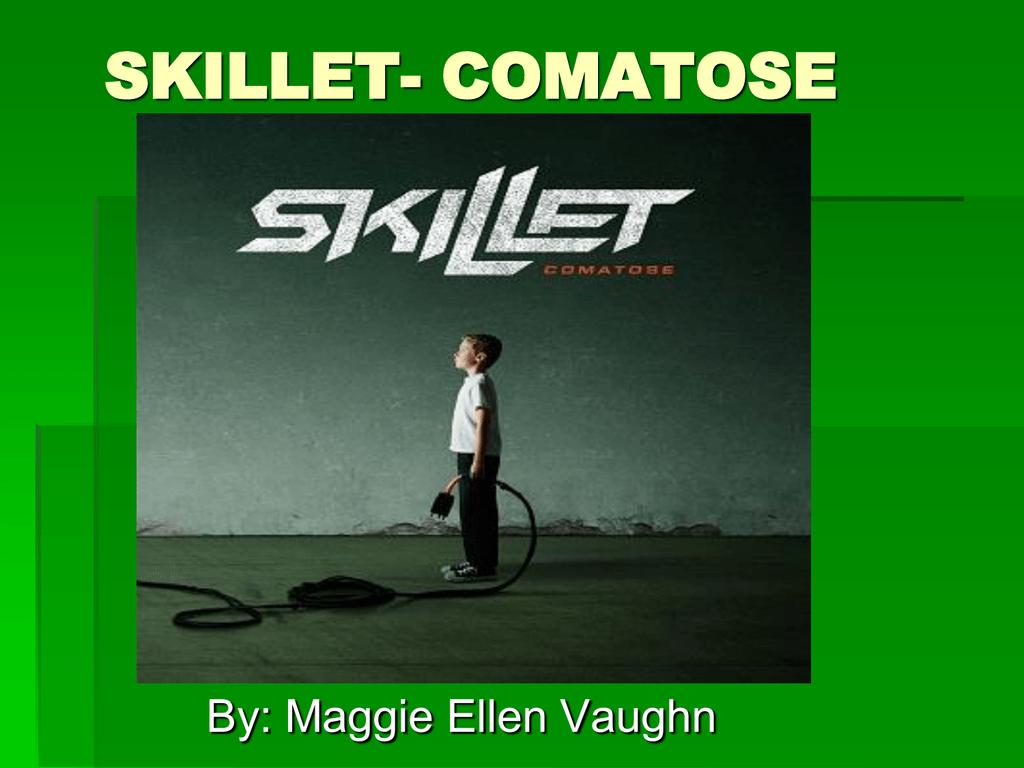 SKILLET- COMATOSE
By: Maggie Ellen Vaughn
BACKGROUND INFO.
Skillet is a Christian rock band from Memphis,
Tennessee.
The members of the band consists of John
Cooper, Korey Cooper, Jen Ledger, and Ben
Kasica.
They have released 8 albums and have had 2
Grammy nominations. The album comatose
was released October 3, 2006.
The definition of comatose- to be affected by a
coma-unconscious, sluggish, inactive, apathy.
AUDIENCE
 THE AUDIENCE
COULD BE
ANYONE
LISTENING TO
THE MUSIC OR
PURCHASING IT
IN STORES OR
ONLINE.
POV-INTENTION
 THE INTENTION OF
THE PICTURE IS TO
SHOW OUR
CULTURES
RELIANCE AND
DEPENDANCE ON
TECHNOLOGY AND
HOW WE HAVE
BECOME PASSIVE
AND INACTIVE IN
OUR EVERYDAY
LIVES DUE TO THE
ADVANCING
TECHNOLOGY.
FOCUS
The focus of the
picture is the boy in
the middle holding the
extension cord. The
boy is also the only
thing in the
foreground. The
background is a dark
color that gradually
becomes lighter as
you move across the
picture.
TECHNIQUE
1.Why is the extension
cord shown
unplugged?
2.Inclusion- What if the
photographer had
added what the boy
was looking at?
3.Why is a young child
used in the photo and
not an adult?
1.
The unplugged extension cord represents our ever growing
society that now technology extends past the old days of when
you unplug the cord that the light will go off. Now it can keep
going without any form of electrical cord. It represents that even
with it unplugged there may be no way of escaping the outside
influences of the media and technology.
2.
If the photographer had added what the boy was looking at you
would lose this sense of wonder and you wouldn't have to
interpret the picture. Now you have to formulate your own view
on the picture. It stimulates the thinking process.
3.
Because children are easier to persuade and manipulate.
Adults have been here long enough to create their own opinions
and cannot be persuaded simply by the media. Some can but
most don't.
APPEALS
LOGOS- This picture appeals to
your logic because in today's
society technology is constantly
changing and the media
continues to be a big influence
on people and there lives.
PATHOS- This picture appeals to
you emotions because in this
generation it is easy to rely on
or be influenced by the media
and technology. Also this being
a Christian band I can look at it
from a religious view. As
Christians we should not enter
this "Comatose" state but we
should be active. That goes for
everyday society as well.
bibliography
 "Skillet | Biography." Lyrics, Song Lyrics –LyricsFreak.com. Web.
28 Oct. 2010.
<http://www.lyricsfreak.com/s/skillet/biography.html>.
"Skillet – Comatose [Review] « Nothing Is Sound." Nothing Is
Sound. Web. 28 Oct. 2010.
<http://arabianfox.wordpress.com/2006/10/12/skillet-comatosereview/>.