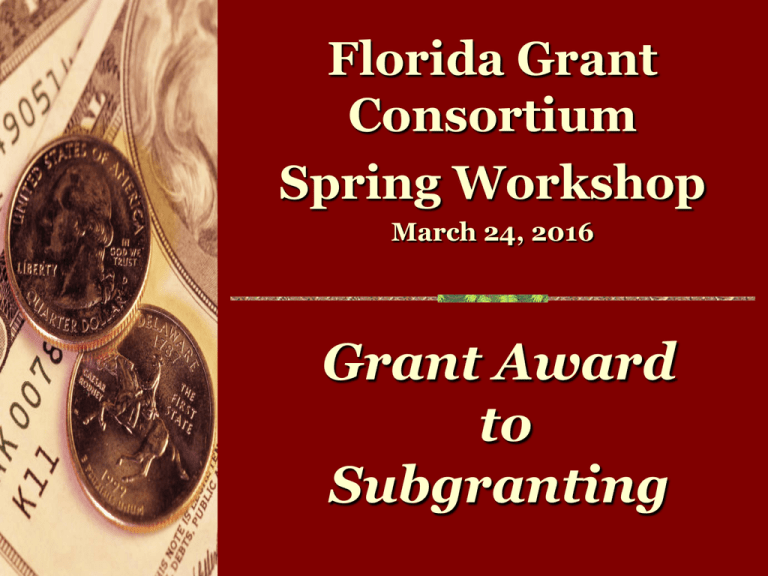 Florida Grant
Consortium
Spring Workshop
March 24, 2016
Grant Award
to
Subgranting
Key Terms
Fiscal Responsibility
Accountability
Documentation
The Process
Provider
(Recipient/Subrecipient)
State Agency
Executed
agreement
Agency receives invoice and verifies service delivery.
Payment Request is forwarded to the
Department of Financial Services (DFS)
DFS audits payment requests.
Three Planning Steps
Determine your Goals and
Objectives

What is it that you are trying to accomplish?
How does it relate to your programs goals?
State Financial Assistance
• Section 215.97 Florida Statutes
• Project CSFA # (Catalog of State Financial
Assistance)
• Compliance Supplement
• Any Applicable Florida Administrative
Code
• State Agency rules, policies, etc.
Federal Funds –
Additional Regulations
1. Project CFDA # (Catalog of Federal
Domestic Assistance)
2. Super Circular: 2 CFR 200
Three Planning Steps

Review Programmatic and
Fiscal Information from Prior
Agreements
( If adequate monitoring has not occurred, this information
may not exist)
Three Planning Steps
Select an agreement
type (method of
payment)
Agreement Types

Fixed Price – 1/12, Quarterly

Fixed Rate – Per hour, Per client

Cost Reimbursement

Combination
NOTE: Agreements with Recipients or Sub-Recipients –
The method of payment is merely a means of
disbursing funds to the provider, funds must still
be accounted for.
Section 216.3475, F.S.
A person or entity that is awarded
funding on a non-competitive basis
may not be paid more than the
competitive market rate.
Price Vs. Cost
Price Analyses
Cost Analyses
• The process of examining
and evaluating proposed
price without evaluating its
separate cost elements.
• The process of reviewing and
evaluating each of the cost
elements.
• Objective is to verify that the
overall price is fair and
reasonable (Market Price).
• Actions:
– Compare proposed
prices (ITB, RFP,
Quotes, etc.)
– Compare proposed price
to previous prices or to
prices of similar
programs.
• Objective is to determine that
proposed costs are allowable,
reasonable, and necessary.
• Actions:
– Determine that proposed
costs are allowable
– Evaluate necessity for and
reasonableness of proposed
costs
– Compare to actual costs
previously incurred for the
same services.
Expenditure Guidelines
Attorney General Opinion #078-101 states an agency must have expressed or
implied statutory authority to expend state
funds.
An agency cannot delegate to a provider an
authority the agency does not possess. If an
expenditure is unallowable for an agency, it
is generally unallowable for the provider.
Reference Guide For
State Expenditures
• Provides guidance to the Bureau of
Auditing and state agencies as it
relates to various categories of
expenditures.
• Does not cover all situations. Some
situations will be addressed on case by
case basis.
•Found at :
http://www.fldfs.com/aadir/
Questionable Expenditure
Examples:
•
•
•
•
•
•
•
•
Candy
Alcohol
Banquets
Decorations
Greeting Cards
Gift Cards
Lobbying
Personal Cellular
Telephones
•
•
•
•
Fund Raising
Promotional Items
Entertainment
Meals not in
accordance with
Section 112.061FS
Note: some of these
items may be
allowable with
statutory authority.
Questionable Expenditure
Examples:
•
•
•
•
•
Microwave Ovens*
Refrigerators*
Coffee Pots*
Portable Heaters*
Fans*
*For the personal convenience of
staff.
• Flowers
• Congratulatory
Telegrams
• Refreshments
• Office Parties
Note: some of these items may be
allowable with statutory
authority.
Price and Cost Analyses
Additional Considerations:
 Competition (2 or more responses) usually establishes
price reasonableness.
 Fixed price and fixed rate agreements with vendors that
have been competitively procured usually do not
require further price or cost analysis.
 Agreements with recipients generally do require a cost
analysis regardless of the procurement or payment
methods used. (CFOM #3, 2014-2015)
 Cost reimbursement always require cost analysis.
 Single Source and other non-competitive procurements
require a price and/or cost analysis. The objective is to
negotiate an agreement of a type and a price that provides
the greatest incentive for efficient and economical
performance.
Constructing the Agreement
Chief Financial Officer's Memorandum
No. 03 (2014-15)
Purpose –
1. To provide clarification to existing laws,
rules and regulations, and
2. To specifically detail minimum
accountability requirements for Federal
Domestic Assistance and State Financial
Assistance funding.
Chief Financial Officer's
Memorandum No. 03 (2015-16)
Minimum Accountability Requirements
Sub-Recipient of Federal Funds
Vendor – Federal Funds
Recipient of State Financial Assistance
State Universities & Community Colleges
Procurement
Constructing the Agreement
Require the provider/subs to:
Maintain both cost and programmatic
records
Have an adequate cost accounting
system
Submit a financial status report
Return all unused funds
Ensure that all costs are reasonable,
allowable, allocable and documented
Provide repayment for all disallowed costs
Monitor the sub
Constructing the Agreement
All Terms and
Conditions
Constructing the Agreement
Specific
Scope of Work
Constructing the Agreement
Availability of all
records for
inspection.
Constructing the Agreement
Financial
Consequences
For
Non-Performance
Of Services
Constructing the Agreement
Sub-Contracting/
Sub-Granting
Terms
Constructing the Agreement
Timing, Nature,
Substance Of All
Reports
Constructing the Agreement
Payment
Terms
Scope of Work
The Scope of Work is the
most important part of
your agreement.
Scope of Work
When developing the Scope of Work, give
careful consideration to the fact that we will
have to verify the delivery of all tasks/services
during the monitoring process.

A poor scope of work makes monitoring
very difficult and could jeopardize the success
of the project.

"Proceed with Caution"
•
•
•
•
•
•
•
Offer…
Coordinate…
Collaborate…
Consult…
May…
Should…
Could…
•Up To…
•Use best efforts…
•Promote…
•Assist…
•Support
•Participate…
These words/phrases should not be
used alone. More detail is needed.
Scope of Work

Clearly Established Identify all tasks/services that the
provider is required to perform

Specific –
Specific detailed direction regarding the
delivery/documentation of services

Directly related to the goals and
objectives of the Program
Benefit to the program/state should be clearly
evident.
Deliverables
Are the events
that trigger
payments.
Deliverables
Directly related to scope of work
Specific, quantifiable, measurable, and
verifiable
Be a necessary part of the provider's
performance
Used to measure the provider's
progress
Deliverables
Must be clearly identified in the agreement
along with a description of what constitutes
successful performance
Include minimum
performance standards
Creating Deliverables
Clearly state what tasks/services are
required to be completed to trigger each
payment.*
Clearly state a dollar amount for the
completion of each task/service. Dollar
amounts should be commensurate with the
efforts and market value of the tasks/services
performed.
*Only the performance of tasks/services included in the Scope of Work
should be used in deliverables.
Creating Deliverables
State in specific detail how the delivery of
tasks/services are to be documented.
Identify the minimum performance criteria
Identify timelines for completion and
submission of the deliverables for approval.
Financial Consequences for failure to meet
those requirements.
Payment Terms
Identify the specific information to be included
on each invoice*.
Identify the frequency of payment requests
Identify the documentation that is required to
accompany each invoice and the format in which
it is to be submitted.
Consider providing copies of required
documents as part of your agreement
* Rule 69I-40.002, F.A.C.
Payment Terms
Any of these agreement types may include a provision
for advances. However, advances must be in compliance
with Section 215.422(14) or Section 216.181(16), F.S.
Identify timelines for invoice submission and approval.
Identify financial consequences to reduce
compensation for failing to meet minimum requirements.
Deadline for final payment.
Reports
Agreements should clearly describe the
timing, nature and substance of all reports
the provider is required to prepare.
Report Checklist
Include the date each report is due
List the specific information each report is
to contain
Require a standard format for reports
Prescribe the order that records are
presented in reports
Require documentation to support the
information in the reports be maintained
and made available upon request.
Contain sanctions for failure to submit
reports in a timely manner
Payment Verification
• Section 287.057 (15), F.S. "For each contractual services contract, the agency shall
designate an employee to function as contract manager
who shall be responsible for enforcing performance of the
contract terms and conditions and serve as a liaison with
the contractor. The agency shall establish procedures to
ensure that contractual services have been rendered in
accordance with the contract terms prior to processing the
invoice for payment. "
Payment Verification
• Review invoice for accuracy and completeness;
• Verify that any required supporting
documentation has been submitted;
• Review documentation to gain reasonable
assurance that services have been satisfactorily
provided;
• Approve invoice after all other steps have been
satisfactorily completed.
Questions?