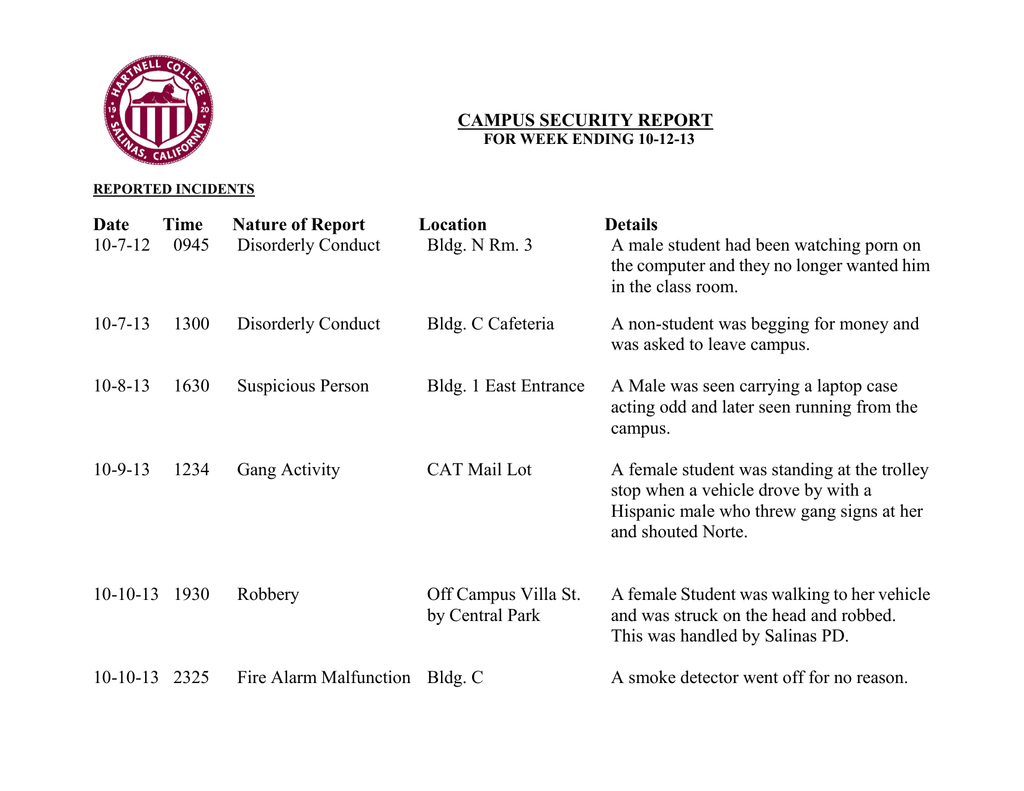 CAMPUS SECURITY REPORT
FOR WEEK ENDING 10-12-13
REPORTED INCIDENTS
Date
Time
10-7-12 0945
Nature of Report
Disorderly Conduct
Location
Bldg. N Rm. 3
Details
A male student had been watching porn on
the computer and they no longer wanted him
in the class room.
10-7-13
1300
Disorderly Conduct
Bldg. C Cafeteria
A non-student was begging for money and
was asked to leave campus.
10-8-13
1630
Suspicious Person
Bldg. 1 East Entrance
A Male was seen carrying a laptop case
acting odd and later seen running from the
campus.
10-9-13
1234
Gang Activity
CAT Mail Lot
A female student was standing at the trolley
stop when a vehicle drove by with a
Hispanic male who threw gang signs at her
and shouted Norte.
10-10-13 1930
Robbery
Off Campus Villa St.
by Central Park
A female Student was walking to her vehicle
and was struck on the head and robbed.
This was handled by Salinas PD.
10-10-13 2325
Fire Alarm Malfunction Bldg. C
A smoke detector went off for no reason.
10-11-13 1204
Vehicle Accident
Lot 1 2nd Level
A student backed into another student's
vehicle.