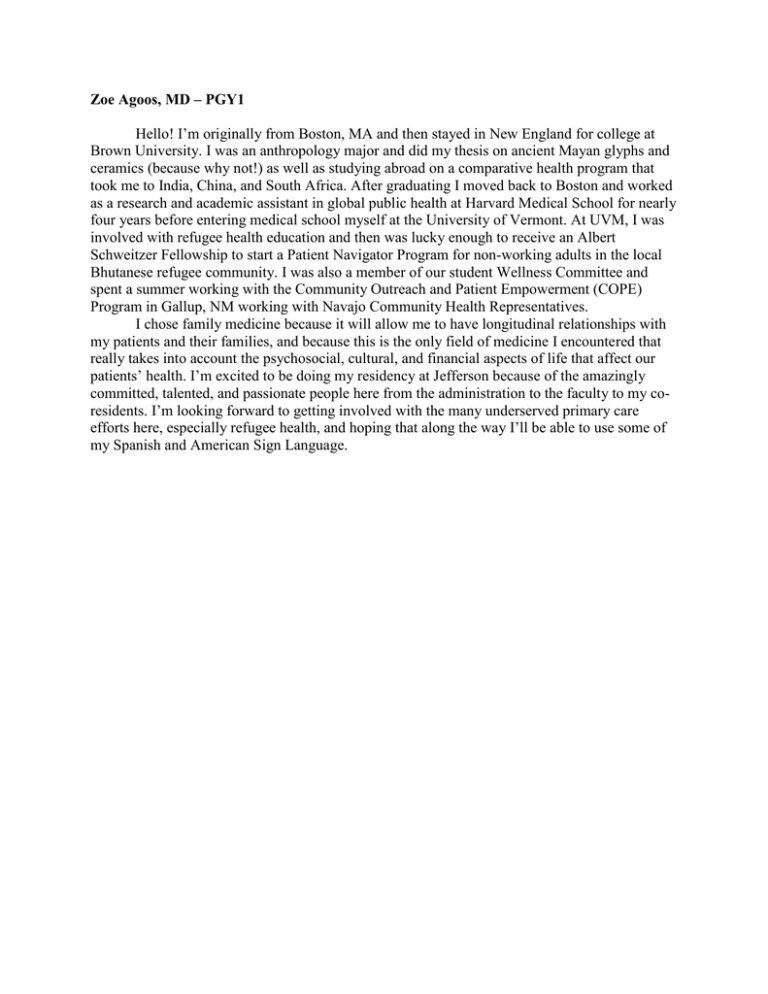 Zoe Agoos, MD – PGY1
Hello! I'm originally from Boston, MA and then stayed in New England for college at
Brown University. I was an anthropology major and did my thesis on ancient Mayan glyphs and
ceramics (because why not!) as well as studying abroad on a comparative health program that
took me to India, China, and South Africa. After graduating I moved back to Boston and worked
as a research and academic assistant in global public health at Harvard Medical School for nearly
four years before entering medical school myself at the University of Vermont. At UVM, I was
involved with refugee health education and then was lucky enough to receive an Albert
Schweitzer Fellowship to start a Patient Navigator Program for non-working adults in the local
Bhutanese refugee community. I was also a member of our student Wellness Committee and
spent a summer working with the Community Outreach and Patient Empowerment (COPE)
Program in Gallup, NM working with Navajo Community Health Representatives.
I chose family medicine because it will allow me to have longitudinal relationships with
my patients and their families, and because this is the only field of medicine I encountered that
really takes into account the psychosocial, cultural, and financial aspects of life that affect our
patients' health. I'm excited to be doing my residency at Jefferson because of the amazingly
committed, talented, and passionate people here from the administration to the faculty to my coresidents. I'm looking forward to getting involved with the many underserved primary care
efforts here, especially refugee health, and hoping that along the way I'll be able to use some of
my Spanish and American Sign Language.