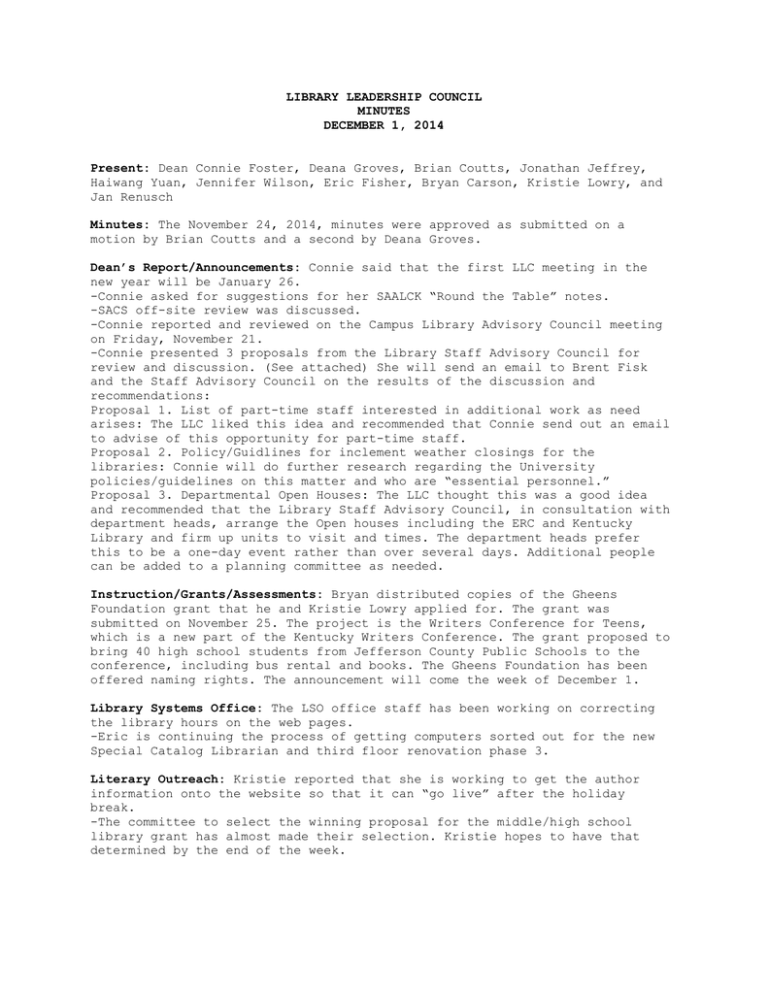 LIBRARY LEADERSHIP COUNCIL
MINUTES
DECEMBER 1, 2014
Present: Dean Connie Foster, Deana Groves, Brian Coutts, Jonathan Jeffrey,
Haiwang Yuan, Jennifer Wilson, Eric Fisher, Bryan Carson, Kristie Lowry, and
Jan Renusch
Minutes: The November 24, 2014, minutes were approved as submitted on a
motion by Brian Coutts and a second by Deana Groves.
Dean's Report/Announcements: Connie said that the first LLC meeting in the
new year will be January 26.
-Connie asked for suggestions for her SAALCK "Round the Table" notes.
-SACS off-site review was discussed.
-Connie reported and reviewed on the Campus Library Advisory Council meeting
on Friday, November 21.
-Connie presented 3 proposals from the Library Staff Advisory Council for
review and discussion. (See attached) She will send an email to Brent Fisk
and the Staff Advisory Council on the results of the discussion and
recommendations:
Proposal 1. List of part-time staff interested in additional work as need
arises: The LLC liked this idea and recommended that Connie send out an email
to advise of this opportunity for part-time staff.
Proposal 2. Policy/Guidlines for inclement weather closings for the
libraries: Connie will do further research regarding the University
policies/guidelines on this matter and who are "essential personnel."
Proposal 3. Departmental Open Houses: The LLC thought this was a good idea
and recommended that the Library Staff Advisory Council, in consultation with
department heads, arrange the Open houses including the ERC and Kentucky
Library and firm up units to visit and times. The department heads prefer
this to be a one-day event rather than over several days. Additional people
can be added to a planning committee as needed.
Instruction/Grants/Assessments: Bryan distributed copies of the Gheens
Foundation grant that he and Kristie Lowry applied for. The grant was
submitted on November 25. The project is the Writers Conference for Teens,
which is a new part of the Kentucky Writers Conference. The grant proposed to
bring 40 high school students from Jefferson County Public Schools to the
conference, including bus rental and books. The Gheens Foundation has been
offered naming rights. The announcement will come the week of December 1.
Library Systems Office: The LSO office staff has been working on correcting
the library hours on the web pages.
-Eric is continuing the process of getting computers sorted out for the new
Special Catalog Librarian and third floor renovation phase 3.
Literary Outreach: Kristie reported that she is working to get the author
information onto the website so that it can "go live" after the holiday
break.
-The committee to select the winning proposal for the middle/high school
library grant has almost made their selection. Kristie hopes to have that
determined by the end of the week.
Marketing: Jennifer reported that the winner of the student scholarship has
been notified and will be attending the senior graduating ceremony to be
recognized. The giant checks have been ordered and are ready for pick up.
-Holiday postcards are due in the next day and should go out this week.
-She has been working with Liberty to get the first library campaign poster
correct and it should be up for the last couple of weeks of school at
circulation.
-Jennifer has been communicating with Dan Forrest regarding statistics that
validate what we do in the Libraries.
-The student Undergraduate Research Award winners are being recognized
tomorrow at 3 pm.
Web & Emerging Technologies: Haiwang reported that the Social Media Committee
is planning for social media trainings starting next semester.
-He has been called upon by the WKU International Office to translate for the
parents of a visiting Chinese student involved in a serious accident and
hospitalized in Nashville.
-Haiwang reported that his book Tibetan Folktales has been published.
Department Reports:
DLTS: Deana reported that Jack Montgomery has accepted an invitation to write
a chapter on Shamanic practices within church liturgy for a book to be
published by Skinner House Press, publishing arm of the Unitarian
Universalist Association of America.
-The Special Formats Cataloger Form 3 has been submitted.
-There are 55 people plus student assistant winners attending the Library
Holiday Luncheon.
-Dean Jones has returned to work.
-Crystal Bowling thanks student supervisors for getting time sheets to her on
time during the holiday schedule. Please be reminded that students should not
work more than 20 hours per pay period as this causes overtime pay.
DLSC: Jonathan reported that the DLSC has submitted a proposal for a mobile
computer lab to the QEP implementation committee. Thanks to Eric Fisher for
helping with costs.
-DLSC is planning a holiday luncheon for their students and volunteers on
Tuesday, December 9.
-DLSC has purchased an excellent 1860 letter from Kentucky abolitionist
William Shreve in which he laments the fact that he has had to change his
postal address from Newport to Covington because he suspects that the "proslavery mobite" Newport postmaster is destroying his mail. In the course of
the letter, he mentions that fellow Kentucky abolitionist Cassius M. Clay had
in fright turned Shreve's name into the authorities.
DLPS: Brian reported that using ACRL Metrics John Gottfried has compared
staffing in WKU Libraries with other public universities in Kentucky using
both ACRL data and data from NCES. In his ACRL comparison WKU ranked 3rd in
the state with 39 professionals staff (FTE), 46 support staff (FTE), 21
student assistants (FTE) for a total of 106 total staff (FTE). When compared
to our 14 benchmarks who reported data to ACRL in 2013 WKU ranked 7th of 14
institutions slightly ahead of UNC Charlotte and slightly behind Ohio
University. The average was 106.21 and WKU had 106. Using NCES data the
benchmark average was 108.65, WKU had 106.
-DLPS will host a book launch reception at 10 am this Friday in Helm 201, for
Charles Smith and Haiwang Yuan on the occasion of the publication of their
newest books, both on November 30. Charles' Dear Sir: Sixty-nine years of
Alfred Russel Wallace Letters to the Editor was published by Siri Scientific
Press in the UK. Haiwang's Tibetan Folktales was published by ABC-Clio Press
in Santa Barbara, CA.
-Rebecca Nimmo is the new part-time Library Assistant at the ERC replacing
Robbie Van Valin who retired in July. Rebecca has a BA in Interdisciplinary
Studies and a second BA in Anthropology both from WKU and has worked for us
as a student in periodicals, documents/law, and the ERC. She begins her
regular appointment on January 5.
-WKU Glasgow Library and the START Center are partnering to stay open late on
Tuesday, December 2 from 4-9:30 pm. They'll provide help with math, writing,
chemistry, Spanish and study research skills along with free food, drinks and
even door prizes.
-Dan Forrest is coordinating our biannual extended study hours prior to
semester exams. The program is sponsored by the SGA and supported by library
faculty and staff. Java City will provide free coffee and snacks on Sunday,
Monday, Wednesday and Thursday nights. The library will be open each night
until 2 am from Sunday December 7 thru Thursday, December 12.
Adjournment: The meeting was adjourned at 11:15 am.
For the Council,
Jan Renusch
Library Staff Council Proposals Nov. 20, 2014
1) We propose the creation of a list of part-time staff who can, in
addition to the hours they work in their own areas, be made available
to work as needed throughout the library whenever there is a temporary
short-term shortage of staff coverage due to illness or vacation.
2) We propose that when inclement weather involving sleet, freezing rain,
or ice is forecast with a high probability that the University
Libraries reduce staffing and offer only essential services as the
decision is made whether to close early. We further recommend that Helm
Library, the VPAL, and Technical Services close, and that circulation
is restricted to Cravens Library which will be staffed by at least one
person from circulation, reference, security, and IT until the decision
to close is determined.
3) Beginning the fall semester of 2015 we propose that each department
have an informational open house to increase the understanding and
awareness of the work done in each area so that student workers, staff,
and faculty who are unfamiliar with the services provided can ask
questions and learn about the procedures or tasks performed in the
various departments.