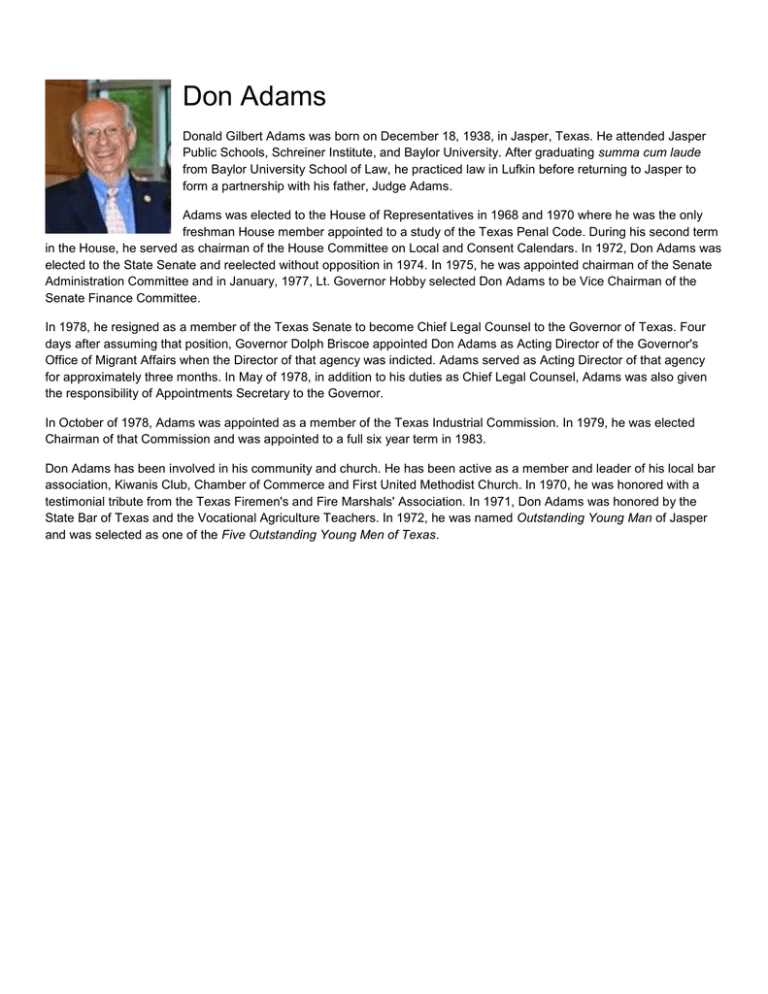 Don Adams
Donald Gilbert Adams was born on December 18, 1938, in Jasper, Texas. He attended Jasper
Public Schools, Schreiner Institute, and Baylor University. After graduating summa cum laude
from Baylor University School of Law, he practiced law in Lufkin before returning to Jasper to
form a partnership with his father, Judge Adams.
Adams was elected to the House of Representatives in 1968 and 1970 where he was the only
freshman House member appointed to a study of the Texas Penal Code. During his second term
in the House, he served as chairman of the House Committee on Local and Consent Calendars. In 1972, Don Adams was
elected to the State Senate and reelected without opposition in 1974. In 1975, he was appointed chairman of the Senate
Administration Committee and in January, 1977, Lt. Governor Hobby selected Don Adams to be Vice Chairman of the
Senate Finance Committee.
In 1978, he resigned as a member of the Texas Senate to become Chief Legal Counsel to the Governor of Texas. Four
days after assuming that position, Governor Dolph Briscoe appointed Don Adams as Acting Director of the Governor's
Office of Migrant Affairs when the Director of that agency was indicted. Adams served as Acting Director of that agency
for approximately three months. In May of 1978, in addition to his duties as Chief Legal Counsel, Adams was also given
the responsibility of Appointments Secretary to the Governor.
In October of 1978, Adams was appointed as a member of the Texas Industrial Commission. In 1979, he was elected
Chairman of that Commission and was appointed to a full six year term in 1983.
Don Adams has been involved in his community and church. He has been active as a member and leader of his local bar
association, Kiwanis Club, Chamber of Commerce and First United Methodist Church. In 1970, he was honored with a
testimonial tribute from the Texas Firemen's and Fire Marshals' Association. In 1971, Don Adams was honored by the
State Bar of Texas and the Vocational Agriculture Teachers. In 1972, he was named Outstanding Young Man of Jasper
and was selected as one of the Five Outstanding Young Men of Texas.