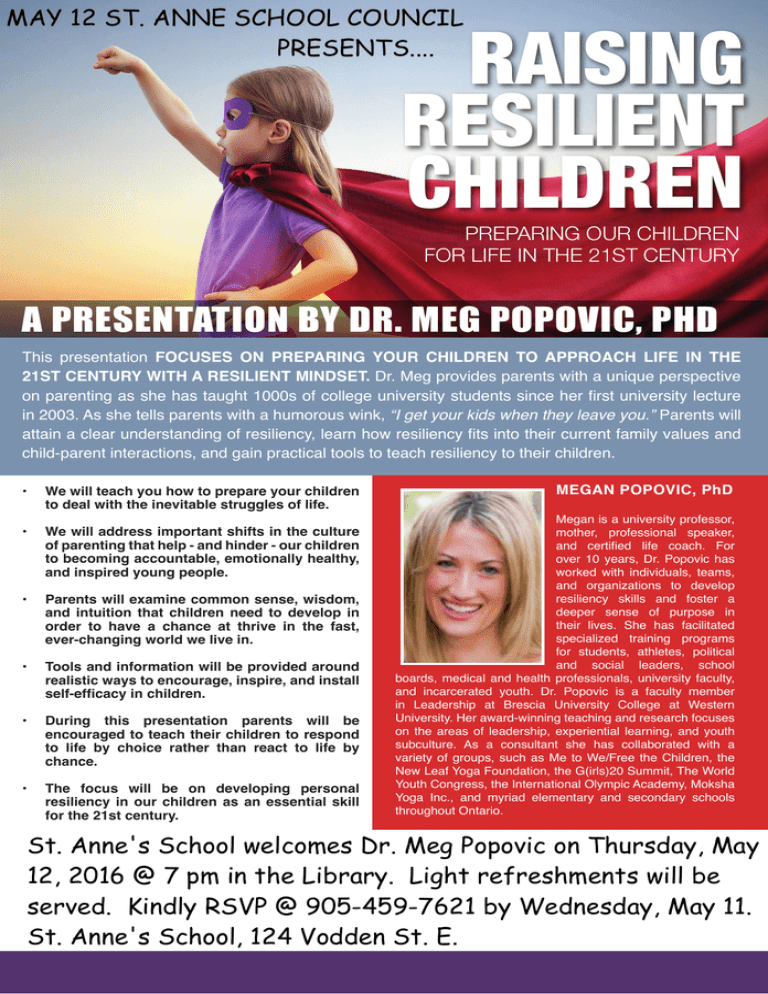 RAISING
RESILIENT
CHILDREN
MAY 12 ST. ANNE SCHOOL COUNCIL
PRESENTS....
PREPARING OUR CHILDREN
FOR LIFE IN THE 21ST CENTURY
A PRESENTATION BY DR. MEG POPOVIC, PHD
This presentation FOCUSES ON PREPARING YOUR CHILDREN TO APPROACH LIFE IN THE
21ST CENTURY WITH A RESILIENT MINDSET. Dr. Meg provides parents with a unique perspective
on parenting as she has taught 1000s of college university students since her first university lecture
in 2003. As she tells parents with a humorous wink, "I get your kids when they leave you." Parents will
attain a clear understanding of resiliency, learn how resiliency fits into their current family values and
child-parent interactions, and gain practical tools to teach resiliency to their children.
•
We will teach you how to prepare your children
to deal with the inevitable struggles of life.
•
We will address important shifts in the culture
of parenting that help - and hinder - our children
to becoming accountable, emotionally healthy,
and inspired young people.
•
Parents will examine common sense, wisdom,
and intuition that children need to develop in
order to have a chance at thrive in the fast,
ever-changing world we live in.
•
Tools and information will be provided around
realistic ways to encourage, inspire, and install
self-efficacy in children.
•
During this presentation parents will be
encouraged to teach their children to respond
to life by choice rather than react to life by
chance.
•
The focus will be on developing personal
resiliency in our children as an essential skill
for the 21st century.
MEGAN POPOVIC, PhD
Megan is a university professor,
mother, professional speaker,
and certified life coach. For
over 10 years, Dr. Popovic has
worked with individuals, teams,
and organizations to develop
resiliency skills and foster a
deeper sense of purpose in
their lives. She has facilitated
specialized training programs
for students, athletes, political
and social leaders, school
boards, medical and health professionals, university faculty,
and incarcerated youth. Dr. Popovic is a faculty member
in Leadership at Brescia University College at Western
University. Her award-winning teaching and research focuses
on the areas of leadership, experiential learning, and youth
subculture. As a consultant she has collaborated with a
variety of groups, such as Me to We/Free the Children, the
New Leaf Yoga Foundation, the G(irls)20 Summit, The World
Youth Congress, the International Olympic Academy, Moksha
Yoga Inc., and myriad elementary and secondary schools
throughout Ontario.
St. Anne's School welcomes Dr. Meg Popovic on Thursday, May
12, 2016 @ 7 pm in the Library. Light refreshments will be
served. Kindly RSVP @ 905-459-7621 by Wednesday, May 11.
St. Anne's School, 124 Vodden St. E.