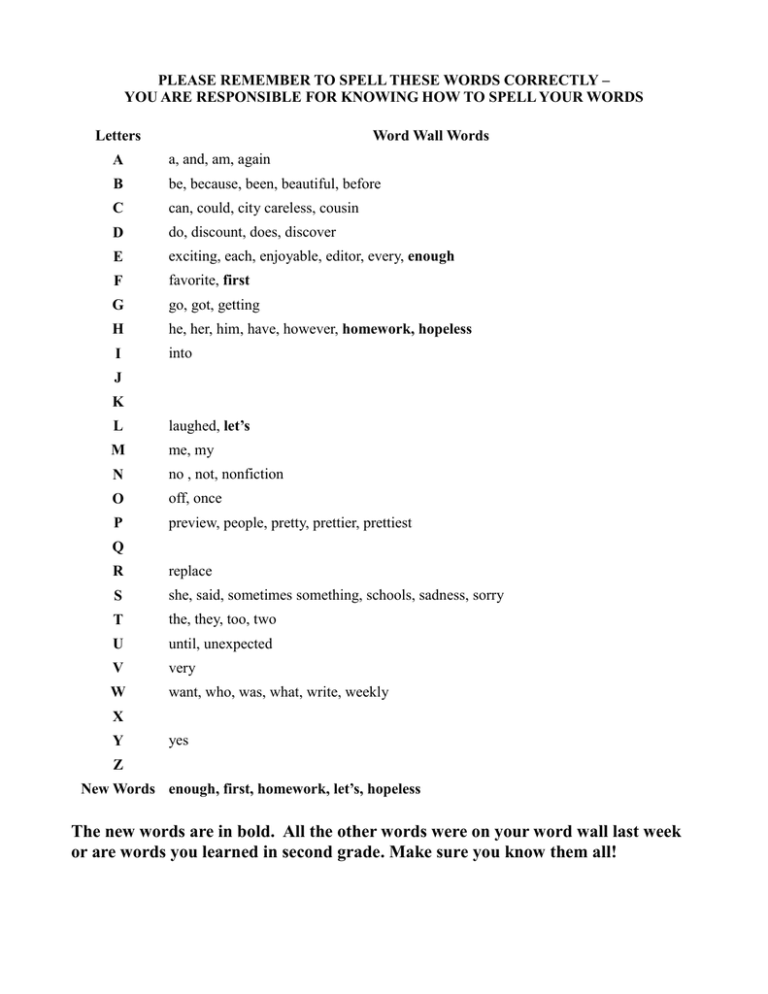 PLEASE REMEMBER TO SPELL THESE WORDS CORRECTLY –
YOU ARE RESPONSIBLE FOR KNOWING HOW TO SPELL YOUR WORDS
Letters
Word Wall Words
A
a, and, am, again
B
be, because, been, beautiful, before
C
can, could, city careless, cousin
D
do, discount, does, discover
E
exciting, each, enjoyable, editor, every, enough
F
favorite, first
G
go, got, getting
H
he, her, him, have, however, homework, hopeless
I
into
J
K
L
laughed, let's
M
me, my
N
no , not, nonfiction
O
off, once
P
preview, people, pretty, prettier, prettiest
Q
R
replace
S
she, said, sometimes something, schools, sadness, sorry
T
the, they, too, two
U
until, unexpected
V
very
W
want, who, was, what, write, weekly
X
Y
yes
Z
New Words enough, first, homework, let's, hopeless
The new words are in bold. All the other words were on your word wall last week
or are words you learned in second grade. Make sure you know them all!