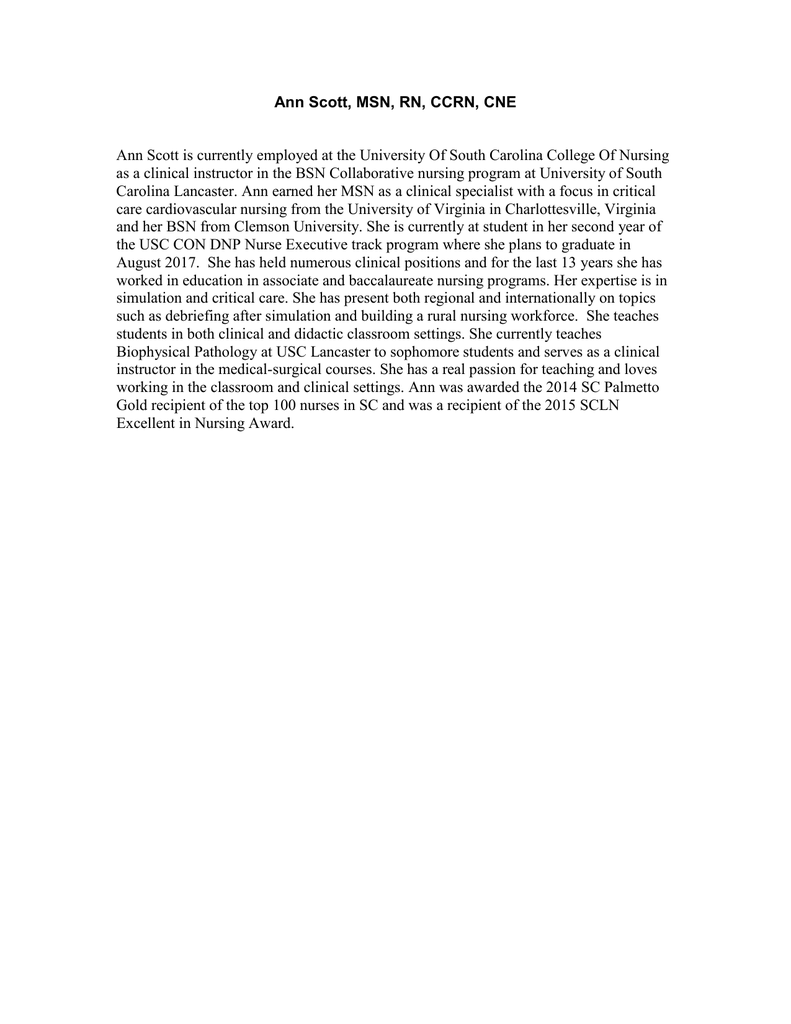 Ann Scott, MSN, RN, CCRN, CNE
Ann Scott is currently employed at the University Of South Carolina College Of Nursing
as a clinical instructor in the BSN Collaborative nursing program at University of South
Carolina Lancaster. Ann earned her MSN as a clinical specialist with a focus in critical
care cardiovascular nursing from the University of Virginia in Charlottesville, Virginia
and her BSN from Clemson University. She is currently at student in her second year of
the USC CON DNP Nurse Executive track program where she plans to graduate in
August 2017. She has held numerous clinical positions and for the last 13 years she has
worked in education in associate and baccalaureate nursing programs. Her expertise is in
simulation and critical care. She has present both regional and internationally on topics
such as debriefing after simulation and building a rural nursing workforce. She teaches
students in both clinical and didactic classroom settings. She currently teaches
Biophysical Pathology at USC Lancaster to sophomore students and serves as a clinical
instructor in the medical-surgical courses. She has a real passion for teaching and loves
working in the classroom and clinical settings. Ann was awarded the 2014 SC Palmetto
Gold recipient of the top 100 nurses in SC and was a recipient of the 2015 SCLN
Excellent in Nursing Award.