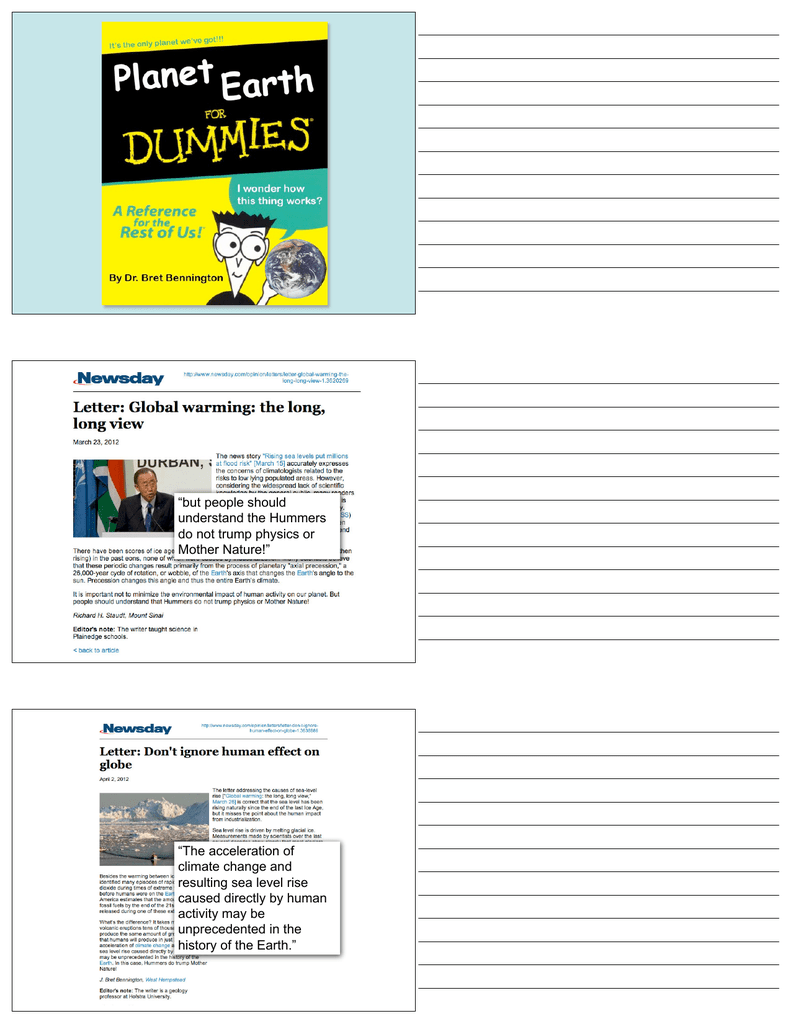 "but people should
understand the Hummers
do not trump physics or
Mother Nature!"
"The acceleration of
climate change and
resulting sea level rise
caused directly by human
activity may be
unprecedented in the
history of the Earth."
4
"There are no passengers on spaceship Earth. We are all crew."
- Herbert Marshall McLuhan
Unit 1: The Composition, Structure
and Functioning of Planet Earth
• Earth Systems
• Earth Materials and Resources (elements and minerals)
• Structure of Planet Earth
• Earth's Interior Machine
• The Magnetic Field
Unit 2: Understanding the Dynamics of Earth's Lithosphere –
Plate Tectonic Theory and the Scientific Method
• The Rock Cycle
• Continental Drift
• Seafloor Spreading
• Plate Tectonics
Unit 3: Earth Systems and the Control of Climate
• The Carbon Cycle
• Earth's Climate System
• Global Warming and Climate Change
Geosphere
Atmosphere
Hydrosphere
Biosphere
"Civilization exists by geological consent, subject
to change without notice."
- Will Durant (U.S. Historian)
•
•
•
•
•
•
•
•
•
Energy resources
Public Policy
Water resources
Mineral commodities
Agriculture
Climate change
Hurricanes
 Health
 Insurance
 Sustainability
Foreign Policy
 Political Instability
 War
Earthquakes
Flooding
Mass Wasting
Earth is the "Goldilocks" planet - just right.
Terrestrial Planets
Venus
• Too hot!
• No water
• Thick CO2
atmosphere
Earth
•Just right for life.
• Lots of water
• Moderate
nitrogen / oxygen
atmosphere
Mars
•Too cold.
•Little water
• Thin CO2
atmosphere
• almost as large as the Earth.
• very thick atmosphere of carbon
dioxide and sulfuric acid - NO
WATER.
Venus - too
hot!
• hottest planet: 890° F at surface.
• Surface pressure = 90 atm
• geologically active (fewer craters)
- shield volcanoes.
• Two relatively elevated regions
("continents") - Ishtar and
Aphrodite terra.
• Several broad depressions
(planitia).
•
Most Earth-like of all
planets.
•
Very thin carbon dioxide
atmosphere, .01 Atm.
•
Cold: -200° F to 40° F. CO2
freezes at the surface.
•
Water and carbon dioxide ice
- possible liquid water
underground.
•
•
Shield volcanoes.
•
Sedimentary strata.
Mars - too
cold!
Evidence for ancient rivers,
oceans, and lake basins.
Questions for Discussion
How else is the
Earth different
from Mars, Venus,
and the Moon?
Barringer Meteor Crater, Arizona
•50,000 years old
•1200 meters across, 750 meters deep
•Iron meteoroid - app. 50 meters diameter, 300,000 tons
•Impact speed 26,800 mph (12 km/sec)
•Excavated 175 million tons of rock
•Fireball from impact scorched everything up to 10 km
Peekskill Fireball, Oct. 9, 1992
Peekskill Meteorite
The Earth is a water-rich planet
Liquid
Vapor
Solid
Water erodes rock
Tungurahua volcano
Ecuador
Active volcanism
Mt Everest, Himalaya
Mountain Belts
- extensive linear
tracks of folded and
uplifted crust.
Continents and Ocean Basins
Hypsographic Curve for the Earth's Surface
Digital Elevation Map of the Moon
What are the most distinctive features of the Moon's
Geosphere?
Mars - DEM
Olympus Mons
Valles Marineris
Tharsis
Hellas Planitia
Ishtar terra
Planitia
Aphrodite
terra
Venus - DEM
Hypsographic Curves - Inner Rocky Planets
Mars
Earth
Venus
Questions to Keep in Mind
Why does the
surface of the Earth
have a bimodal
distribution of
elevation?
What is Earth's
atmosphere so
depleted in carbon
dioxide?
Do Earth's Hydrosphere and Biosphere
have anything to do with the evolution of
the Geosphere and Atmosphere?
How did the Earth end up being such a
nice place to live?